Fulbright Fellow spending fall semester teaching at UAHuntsville College of Business Administration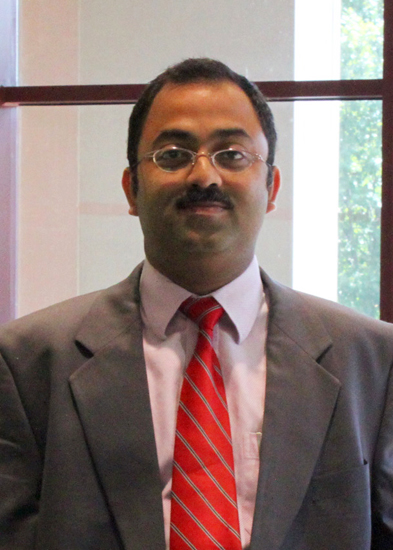 HUNTSVILLE, Ala. — In August, Dr. Ranjan Chaudhuri joined the College of Business Administration at The University of Alabama in Huntsville as a Fulbright Fellow.
Dr. Chaudhuri will spend a semester at UAHuntsville team teaching a marketing course with Dr. Tim Landry and conducting research in his area of specialty, marketing and buyer behavior. During his time as a Fulbright Fellow in the U.S., he will visit other American universities to address issues on Indo-US bilateral interest, especially in the context of managerial education.
Dr. Chaudhuri is an Assistant Professor in Marketing at the National Institute of Industrial Engineering (NITIE), Mumbai and Adjunct Faculty with the Indian Institute of Management Kozhikode. He also served as a Faculty in the Department of Management Studies, Indian Institute of Technology, New Delhi.
"We are honored to have Dr. Chaudhuri with us this fall. He is a distinguished scholar and gifted teacher who will make important contributions during his time with us, " said Caron St. John, Dean of the College of Business Administration.
Dr. Chaudhuri has more than 10 years of industrial, teaching and research experience in the area of marketing sciences, rural marketing and agribusiness management, retail management and services marketing. He has presented research papers and case studies in international symposia in USA, Japan, Thailand, Russia, Pakistan and UAE.
He is the recipient of Ramaswamy P. Aiyar Best Young Teacher Award 2009 conferred by the Association of Indian Management Schools (AIMS), AIMS International Management Researcher of the Year 2010, Dewang Mehta Best Teacher in Retail Management 2010, Dewang Mehta Best Teacher in Marketing Management 2009, DNA Award 2010 for Outstanding Teaching Pedagogy and Dainik Bhaskar 2010 Award for the Best Professor in Marketing Management. He is also the recipient of Jawaharlal Nehru Memorial Award, 2001 for best published paper in the Journal of the Institution of Engineers (India), Interdisciplinary Division.
Just this month, the Higher Education Forum (HEF), an advocacy group of more than 3,500 individuals and Institutions concerned with issues and challenges in the landscape of higher education in India, recognized Dr. Chaudhuri with the Best Young Teacher in India Award on the occasion of Teacher's Day, which is celebrated in September every year in India.
Dr. Chaudhuri is in the Editorial Board of International Journal of Advances in Management, India, IEM International Journal of Management & Technology, India. Dr Chaudhuri is on the Reviewer's Board of International Journal of Modeling, Measurement & Control, Association of Modeling and Simulation Techniques in Enterprises (AMSE), France, International Journal of Management and Technology, South Africa and International Journal of Electronic Marketing and Retailing, USA.
Dr. Chaudhuri authored/coauthored more than 70 publications in referred national and international journals and conference proceedings, one monograph published by a leading International Publisher in Germany and contributed chapters in four books.
He is visiting Huntsville with his wife Sumana, daughter Roshni and son Sohan. He may be reached at Ranjan.Chaudhuri@uah.edu or ranjanchaudhuri@hotmail.com
You may also be interested in:
For more information,
contact Ray Garner
256.824.6397
(256.UAH.NEWS)
ray.garner@uah.edu