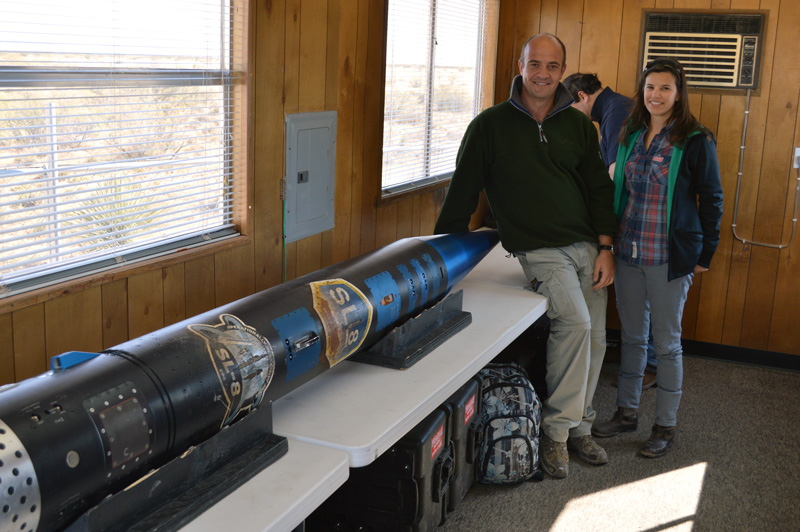 HUNTSVILLE, Ala. (Nov. 21, 2013) - The University of Alabama in Huntsville (UAH) could soon play a major role in solving a vexing refueling problem NASA would need to resolve in order to fly long-distance missions to places like Mars.
The university could become the center of interaction between NASA and European scientists doing advanced work on the problem. If a pilot program launched by the director and deputy director of the university's Propulsion Research Center (PRC) comes fully to fruition, UAH would be the clearinghouse for work in space refueling tank research.
Refueling spacecraft is a critical part of NASA's planning for a mission to Mars. One solution is to preposition fuel tanks in space so that spacecraft can refuel in flight similar to the way airplanes do it. Scientists are looking to hydrogen as a preferred fuel for long-distance trips like to Mars.
But the "hydrogen gas station" approach brings challenges. Cryogenic liquid fuel inside the tank can be vaporized and form bubbles with even small amounts of heat. As little as five watts of heating from the sun or other sources at hot spots on the tank can cause the super-cold fuel to form bubbles, some data shows.
Bubbles are bad for refilling the tanks in space and for refueling spaceships. The solution is to eliminate them or to move them away from the fill and discharge pipes of refueling tanks so they will not be a problem.
Enter Dr. Ricard González-Cinca of the Universitat Politècnica de Catalunya-BarcelonaTech (UPC), a Spanish engineering university, who had previously spent at year at UAH in the former Center for Systems Studies.
Dr. González-Cinca is doing advanced research using ultrasonic waves introduced by transducers to control the bubbles in hydrogen fuel so they don't corrupt the pipes. His research has found that bubble dynamics can be managed by ultrasonic waves.
We've got the flight data, and nobody else has got flight data in this area. This is huge. It puts us way ahead of the game.
Richard Tyson
Deputy director
UAH Propulsion Research Center
"Depending on the size of the bubbles, they will go to the node or the antinode of the sine wave," Dr. González-Cinca said in an interview while visiting Huntsville. Ultrasounds make bubbles oscillate, which generates an additional pressure field which can attract like-sized bubbles nearby. Small and large bubbles arrange themselves in parallel planes along the ultrasonic wave, after which they can be moved safely away from tank inlet or outlet pipes.
"You can even make them collapse by using a high enough amplitude," said Dr. González-Cinca. "That is why we are working on the development of the technology to determine what is the right amplitude."
European experiments
He has conducted experiments throughout Europe, using sounding rockets, parabolic flights, large diameter centrifuges and drop towers in locations ranging from Spain, Germany, the Netherlands and France to Sweden. From Spaceport America in New Mexico, NASA conducted the first suborbital fuel bubble test flight using small-frequency oscillations on Nov. 12 in the framework of the Flight Opportunities program. The next NASA test is in June and will use the same type ultrasonics researchers want to eventually use in space.
So far, all research has been done in gravity and hypergravity conditions. The goal is to get an experiment to fly in conditions under which actual refueling tanks will exist, without gravity's influence, aboard the International Space Station (ISS).
"The window to fly these experiments on the ISS is 2020 or before," Dr. González-Cinca said. "It will be paced by the levels of investment."
UAH roles
Possible UAH partnership roles include facilitating the progression of testing through the test flight program and contributing student talent to the research endeavor.
"UAH could be a link between NASA and us and could become as involved as it wishes in the project," said Dr. González-Cinca.
"We can help our national space program overcome a big problem and be able to invite our students in on the solution," said Dr. Robert Frederick, director of the PRC.
The PRC's pilot program has started low-level investment in getting these types of experiments aboard the ISS, said Richard Tyson, PRC deputy director, a former Aries I and II Program Office technology manager who has 50 years of NASA experience. Further investment will be needed to build a program of the caliber being contemplated.
Most of the NASA cryogenic fluids research done over the past decade has been in non-hydrogen based products, Tyson said.
"My feelings were that to go to Mars, we had to use hydrogen," he said. But the space agency's decision to study bubble behaviors of other fuels first and then to begin anew studying hydrogen has put it behind, he maintains. "I found that the most advanced work being done in bubble management was being done at the Spanish institute by Dr. González-Cinca."
Now flight data shows that the research by Dr. González-Cinca and coworkers can solve NASA's bubble problem, Tyson said. "We've got the flight data, and nobody else has got flight data in this area," he said. "This is huge. It puts us way ahead of the game."
A partnership marries UAH's management strengths to a Spanish research program that is already in a very advanced state, Tyson said.
"We do not have the hardware and we do not have the performance record that would cause me to be confident about putting in a proposal of our own" for NASA research in this area, he said. "But I'd love for our students to be involved in this. The first thing that will happen is, they'll go and be a part of a flight program."
While UAH has had test flight programs before, having a project that's vital to future advanced space flight graduate through a series of flights to an ISS test flight would be very attractive for graduate students considering attending UAH, he said.
"You'll get an influx of students who are capable and they'll see the fruition of their research in an actual flight program that extends out to the International Space Station," Tyson said, adding that the program's length means that years of successive UAH graduate students could be involved and participate in a student exchange program with UPC that would provide them with research experience in Europe.
"We can capitalize on that and move our students from the fundamental work they have been doing and into flight experience programs," Tyson said. "I think that this is very consistent with the university's strategic vision. It's got a great goal and objectives that are both academic and problem-solving."
---
You may also be interested in: