UAHuntsville researcher's football rankings place championship loser Notre Dame at No. 1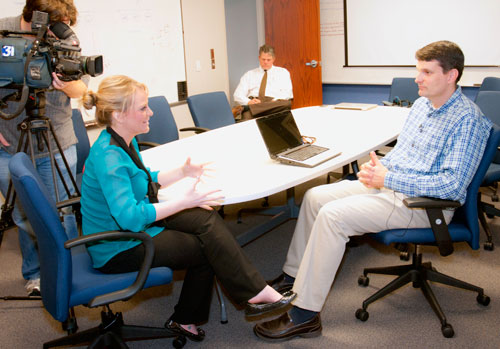 When University of Alabama in Huntsville Senior Research Scientist Dr. Wes Colley talks about his college football ranking system, one thing comes across loud and clear: "It's simple. I don't have a 'tweak factor' in there."
But when his system, known as Colley's Bias Free Matrix Rankings, ends the season by being the only one of the six ranking systems in the Bowl Championship Series (BCS) that continues to rank Notre Dame No. 1 even after a 42-14 National Championship loss to Alabama – well, that draws attention.
Dr. Colley, who works at the UAHuntsville Center for Modeling and Simulation, told WAAY-TV Channel 31's Holly Thrasher in an interview taped for the evening news Thursday, Jan. 10, that the reason the Fighting Irish ended up No. 1 in his matrix is simple. With all games played it turns out that Notre Dame and Alabama each have one loss, and Notre Dame's strength of schedule remains slightly better than Alabama's
Dr. Colley's system, which has been a part of the BCS since 2001, doesn't account for chronology or the status of any game—the SEC Championship Game counts no more than a game played in September. Colley points out that Alabama's record of seven wins against teams .500 or higher in their own season records, came in second to Notre Dame's tally of eight wins against teams with .500 or better records. Ironically, the Tide's own strength hurts when comparing the team's losses: Notre Dame's loss to Alabama isn't quite as bad as Alabama's loss to Texas A&M.
"Though it's in the SEC, Alabama managed to play some of the conference's poorer teams this year, including Tennessee, Missouri, Arkansas and Auburn," Colley said. "My system is not trying to say who will win tomorrow but who has had the best record against the best overall competition."
In Dr. Colley's matrix, No. 1 Notre Dame defeated opponents who ended up 99-69 on their seasons for a 59 percent win percentage, while the No. 2 Crimson Tide beat opponents who were 95-84 for a win percentage of 53 percent.
"In my system, you can play such a bad team that even if you win, it can hurt you, which is exactly what happened to the Tide with Western Carolina (a 1-10 team in the lower Football Championship Subdivision)," Dr. Colley said. But the main job of his system isn't to provide a final ranking of teams but rather to rank them during the season leading up to the National Championship game, he said. The National Championship "is just another game" in his system.
Colley's Bias Free Matrix Rankings can be found online at www.colleyrankings.com and he encourages fans to visit, click on the teams and find out how he has arrived at his conclusions. "Go to the website and click on Notre Dame and Alabama and see why they are ranked that way," Dr. Colley said. "The nice thing about my system is, because it is so simple, you can always verify it is working."
But regardless of his system's result, when Dr. Colley was asked by The New York Times whether Notre Dame was better than Alabama, he said, "Absolutely not."
He got into college football rankings when in graduate school, as he became increasingly dissatisfied with the rankings provided in the New York Times. Eventually the SEC took note and came calling – a call Dr. Colley took one day at MIT Lincoln Laboratory. He was invited into the BCS.
"The short answer is," he says. "I don't know how they found me."
For more information,
contact Dr. Wes Colley
256-824-4625
Wes.Colley@uah.edu
OR
Jim Steele
256-824-2772
Jim.Steele@uah.edu
---
You may also be interested in: