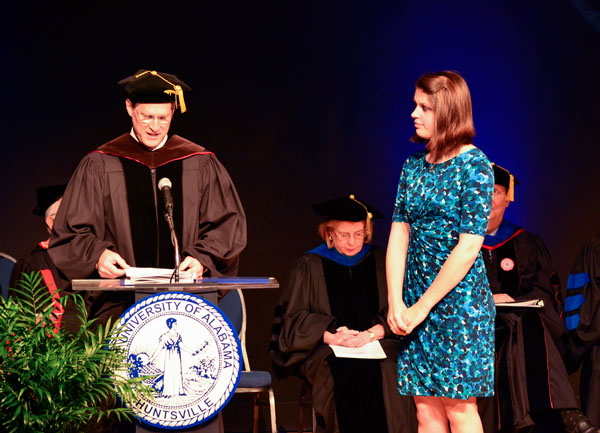 HUNTSVILLE, Ala. (May 5, 2014) - Before Taylor Childers Whisenant began attending The University of Alabama in Huntsville (UAH), she laid the groundwork for her academic future. The Limestone County native and West Limestone High School graduate turned down several award offers from other universities - deciding to accept a scholarship from UAH, and declaring a major in civil engineering.

As a high school student, Whisenant graduated with a 4.26 grade point average and actively participated in the Student Government Association, Scholars Bowl, and more importantly The FIRST® (For Inspiration and Recognition of Science and Technology) Program. FIRST, a national program was designed by inventor Dean Kamen to inspire school age youngsters interest and participation in science and technology.
"I was an intern for the civil engineers of Limestone County when I was in high school, and this position led me to pursue a career in engineering…UAH was the obvious choice for a degree in civil engineering, so I enrolled in the fall of 2009," Whisenant said.
She was two years into her engineering curriculum at UAH when she flipped the script and switched her major to education. Whisenant describes her change in direction as a "call to teach."
"I realized how much I love to learn and share what I know, and I knew that I wanted to be the same sort of guide and encourager that my teachers were for me. Now, I cannot imagine doing anything else with my life. From engineering to education, I have had a wide variety of classes, teachers, and experiences at UAH. Overall, I have had positive experiences here. I have met some of my best friends...have had some awesome job opportunities, and have had the opportunity to learn from some wonderfully talented professors."
Whisenant said there is a "stigma" attached to teachers…"we are not intelligent and education is an easy academic major. I heard this a lot when I changed my major - still, others suggested that I couldn't handle the engineering curriculum and I was choosing an easy road to graduation.
"That is far from the truth," she said. "The UAH Teacher Education Program has been challenging, but I feel that I am well-prepared for my career. Teaching is difficult but rewarding, and it is both an art and a science. You can only be taught so much on how to teach; some of the traits of a good teacher are just innate, going back to teaching being a calling. In the end, always be open to new ideas, and never stop learning."
"Taylor is the type of student of which all professors dream: intelligent, inquisitive, organized, and passionate. She has shown herself to be a leader among her peers as she has taken on multiple leadership roles. Taylor has demonstrated that she is truly committed to becoming an expert educational professional," said Dr. Derrick W. Smith, assistant professor of education at UAH.
Whisenant' future endeavors include combining teacher education with STEM (science, technology, engineering, math) programs to teach school age children.
"I love the FIRST program and have continued my involvement by working with FIRST Robotics Competition (FRC) teams and FIRST LEGO League (FLL) teams. I currently mentor Arab High School's FRC team. I primarily act as a guide for student team members in the areas of fundraising, community involvement, imagery, and robot driving," Whisenant explained. "In addition, my husband and I will be taking over as the operational partners for FLL in Alabama this year. This means we will be responsible for coordinating FLL robotics competitions for elementary students in Alabama. Whisenant is also helping set up some FLL teams at Arab Elementary School, where she is completing her student teaching. "I hope to have opportunities to incorporate FLL and LEGO robotics in my own classroom in the future."
In addition to her work with FIRST, Whisenant is a junior board member for the Asperger Connection, a local nonprofit that raises funds for local young adults with Asperger Syndrome (AS). "I offer an educator's perspective on the board, and I am hoping to apply what I am learning about services for people with AS in the classroom someday."
As a student and soon to be teacher, Whisenant shares her thoughts for needed improvements in education. "I think that the people who make the rules for example legislators and administrators need to understand that there are more important things in life than a neatly bubbled-in answer choice. I think schools should encourage areas of creativity and character, even though those are more difficult to "grade." Also, children are not made from cookie cutters; they are all vastly different with a variety of experiences and thoughts that are all equally valid. If we do not acknowledge these ideas, the future will lack the innovative and resourceful citizens that we need."
As she prepares to enter the world as a professional educator, Whisenant looks forward to helping continue grow FIRST robotics in Alabama by continuing her work with FLL teams and FIRST Robotics Competition teams. "I want to ensure that any school districts in which I work (or any neighboring districts) are involved with FIRST in whatever ways possible. I want to help mentor local teams and help find mentors and funding for new teams. I want to use what I am learning about service providers for people with AS to help any future students of mine with the disorder."
Whisenant graduates from UAH on Sunday, May 4. She is hoping to land a job with the Arab City School System. Her certifications will be in both general and special education for kindergarten through sixth grade.
" I would prefer to work in special education, but I think that I would be happy within any of the areas in which I will be certified," she said. "In the future, I would like to attend graduate school. I am particularly interested in the new UAH master of education program, and especially the special education: Autism Spectrum Disorders concentration."
Whisenant received the UAH Departmental Honors in Education and the UAH Department of Education Award for Outstanding Undergraduate Achievement. In addition, she was named to the College of Liberal Arts Dean's List for the past two years, and also received the 2014 Alabama FLL Volunteer of the Year Award.