Dual degree curriculum no match for aspiring Nepalese pharmacologist
HUNTSVILLE, Ala. (June 4, 2013) - Recent graduate Prajwal Paudel was not your average science student at The University of Alabama in Huntsville. In fact, said Dr. John D. Fix, dean of UAH's College of Science, "we have a lot of remarkable students, but Prajwal was officially the most remarkable this past year."
What made him so unique? Over the course of his four years, Paudel managed to co-publish nine scholarly papers (with three more in press), work as a teaching assistant for the Department of Chemistry, tutor his peers at the university's Student Success Center, and win both the 2012 Department of Chemistry Highest Academic Achievement Award and the 2013 College of Science Highest Academic Achievement Award - all while maintaining a 3.94 GPA.
But ask him how he accomplished all that, and Paudel will say only this: "I followed my interest and did the best I could. I just like to learn and explore and see what my capacity is. I don't feel like I'm doing work when I'm learning things."
Born in Nepal, Paudel and his family moved to Alabama in 2002 so that his father could pursue a Ph.D. in agriculture. And although they later settled in Delaware, where his father now teaches, Paudel decided to return to the South and attend UAH for his undergraduate degree.
"I picked UAH because of finances and location," he said. "I had a presidential scholarship and a couple of departmental scholarships. And it's around Research Park, so I thought that would be a great setting."
Originally, he continued, he planned to major in just chemistry. "Then I realized I wanted a more practical understanding of chemistry, like how we're actually making products in everyday life," he said. "Plus, I love math and science."
That led him to chemical engineering. But rather than doing a double major, he ended up pursuing a dual degree. "They're two different, separate degrees," he said. "There is crossover in the introductory chemistry classes, but the College of Engineering has its own courses in chemical engineering."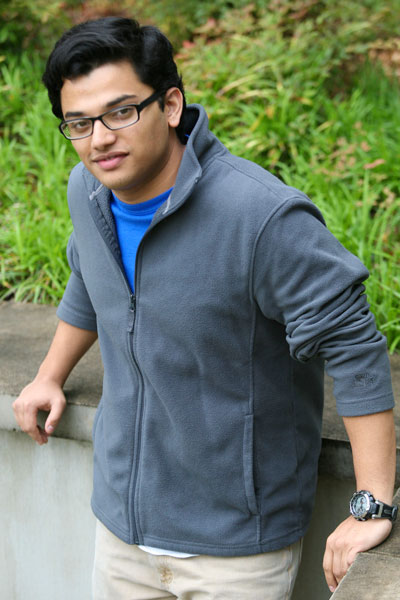 Michael Mercier | UAH
Prajwal Paudel, recipient of the 2013 College of Science Highest Academic Achievement Award.
Outside of the classroom, Paudel began doing research for the Natural Products Drug Discovery Group, a collaborative research effort between UAH's Departments of Chemistry and Biological Sciences. Funded by the National Institutes of Health, the group's work focuses on finding and harvesting medicines from tropical rainforest plants in Australia, Costa Rica, and the Bahamas.
Paudel, however, wanted to expand the effort to Nepal. So he and fellow Nepali, graduate student and researcher Prabodh Satyal, approached group co-founder Dr. William Setzer about the idea. Dr. Setzer agreed, and in 2010, Satyal went to Nepal to collect plant samples, first extracting and then importing only their essential oils to avoid regulatory issues.
We have a lot of remarkable students, but Prajwal was officially the most remarkable this year.
Dr. John D. Fix
Dean of UAH's College of Science
"These oils are pure compounds mixed together, so we analyzed them here and did biological screenings on them," said Paudel. "Based on what chemicals dominated the essential oils, known as chemotypes, we compared the species to see if there were diversions of the same plant from species worldwide."
That analysis eventually led Paudel and Satyal to publish of a series scholarly papers in such well-known periodicals as the Journal of Chemical and Pharmaceutical Research, the Journal of Bioresource Technology, and the Journal of Natural Pharmaceuticals.
The pair also presented several of these papers at conferences and symposia both here and abroad, including at the International Symposium of Essential Oil in Portugal, the Society for Economic Botany 2012 Annual Meeting in Maryland, and the 245th American Chemical Society National Meeting & Exposition in Louisiana.
As a result, said Paudel, "I've been exposed to a lot of practice in writing and understanding what it takes to write and publish a manuscript - and not just publishing it but presenting it." And for much of that, he said, he credits Dr. Setzer.
"He's awesome," said Paudel. "He helps you a lot. And all the papers we published, he helped us tremendously with the writing and the scientific portion. He really takes care of his students."
Paudel, in turn, paid it forward as a tutor for the Student Success Center, always giving "100% when working with his peers who came in for tutoring," said Valerie Johnson, tutor coordinator. "He was able to find ways for students to enjoy working on the material while building better study skills and strategies for the course."
And in what little spare time he had left over, Paudel wrote articles for the Nepal Children Education Fund newsletter, Gyan, and shadowed a physician at the Athens-Limestone Hospital to learn the importance of patient and doctor communication - all while maintaining a 4.0 in chemistry.
So it came as no surprise that Paudel ultimately went on to receive both the 2012 Department of Chemistry Highest Academic Achievement Award and the 2013 College of Science Highest Academic Achievement Award. At least, that is, as no surprise to everyone but Paudel himself.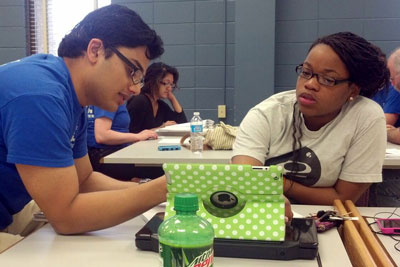 As a volunteer tutor as the Student Success Center, Paudel assists students with their coursework.
"I am very humbled that I won the award. I think I was trying to balance the engineering and the chemistry and I was still working in a research lab. Those two are heavy programs and I did pretty well in them," he said. "But I didn't intend for this to happen."
As for what's next for this academic superstar now that he has earned not one but two undergraduate degrees? Paudel said he hopes to go to graduate school. "I'm looking at pharmacology, where you can do drug design and testing," he said. "There are good things with working in a lab and working with people, and I think I'd like to have that balance in the future."
In the meantime, he plans to head back to Delaware to spend the summer with his family. Only this time he won't be returning in August for the new semester, a bittersweet realization for any new graduate.
"I'm going to miss UAH," he said. "When I look back, when I first came here, I didn't know anything. All I knew about science were from books. But all the great people here and the possibility of the future - UAH has taught me a lot and given me a lot of skills."
---
You may also be interested in: