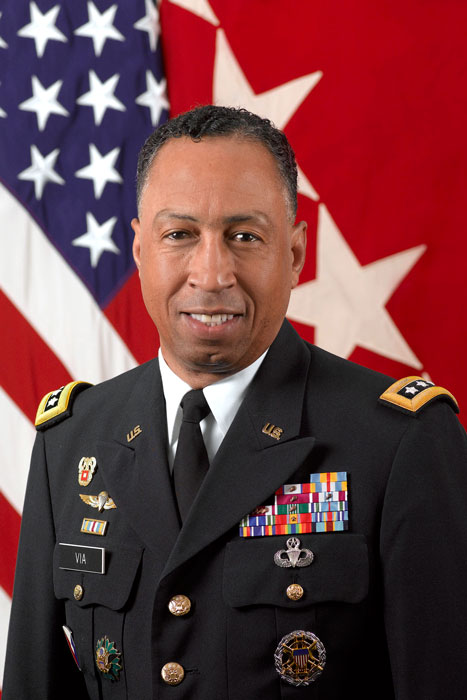 HUNTSVILLE, ALA. (April 14, 2014) - General Dennis L. Via, Commander of the U.S. Army Materiel Command on Redstone Arsenal, is scheduled to deliver the University of Alabama in Huntsville (UAH) commencement address on Sunday, May 4. The ceremony begins at 2 p.m., and will be held in the Von Braun Center Propst Arena in downtown Huntsville.
UAH is expected to award more than 800 diplomas at its spring graduation ceremony - 578 bachelor's degrees, 197 master's degrees and 27 doctoral degrees. General Via will be awarded an honorary doctorate from UAH during the ceremony.
The U.S. Army Materiel Command (AMC) is the Army's premier provider of materiel readiness to ensure dominant land force capability for the U.S. Warfighter and our allies.
General Via's prior assignment was as AMC's Deputy Commanding General. He deployed to Southwest Asia in October 2011 as the Commander, AMC Responsible Reset Task Force with the mission of leading the strategic integration of the Materiel Enterprise for the Retrograde of equipment and materiel out of Iraq at the conclusion of Operation New Dawn. Prior to that, he served as Director for Command, Control, Communications and Computer Systems, J-6, The Joint Staff, Washington, D.C.
A native of Martinsville, Va., General Via was commissioned on May 18, 1980, in the Signal Corps after graduating as a Distinguished Military Graduate from Virginia State University. He holds a master's degree from Boston University, and is a graduate of the U.S. Army Command and General Staff College (class of 1991) and the U.S. Army War College (class of 1999).
The General's command assignments include the 82nd Signal Battalion, 82nd Airborne Division, Fort Bragg, N.C.; Third Signal Brigade, III Armored Corps, Fort Hood, Texas; Fifth Signal Command, United States Army Europe and Seventh Army, Mannheim, Germany; and the United States Army Communications-Electronics Life Cycle Management Command and Fort Monmouth, Fort Monmouth, N.J.
His key staff assignments include Aide-de-Camp to the Chief of Staff, Allied Forces Southern Europe, Naples, Italy; Operations Officer, J-6, Armed Forces Inaugural Committee, Washington, D.C.; Division Chief, Joint Requirements Oversight Council, Office of the Deputy Chief of Staff, G-8, United States Army, Washington, D.C.; Principal Director for Operations, Defense Information Systems Agency/Deputy Commander, Joint Task Force-Global Network Operations, United States Strategic Command, Arlington, Va.
His awards include the Defense Distinguished Service Medal; the Distinguished Service Medal with Oak Leaf Cluster; Defense Superior Service Medal; Legion of Merit with Oak Leaf Cluster; Defense Meritorious Service Medal with four Oak Leaf Clusters; Army Commendation Medal with Oak Leaf Cluster; Joint Service Achievement Medal; and the Army Achievement Medal. He is authorized to wear the Master Parachutist Badge, Joint Staff Identification Badge, and Army Staff Identification Badge.
General Via is married to the former Linda A. Brown of Warsaw, Va. The Via's have two sons, Brian and Bradley.
There will be a reception immediately following the ceremony in the East Hall of the Von Braun Center. If you have specific questions about the UAH spring commencement ceremony, please call Peggy Bower at 256.824.6337 or email her at bowerp@uah.edu.
For more information, contact:
Joyce Anderson-Maples,
256.824.2101
maplesj@uah.edu
---
You may also be interested in: