sPRING 2013


SATURDAY, mAY 4, 2013;

10 a.m.


VON BRAUN CENTER-PROPST ARENA
The ceremony will include students who have applied for graduation and will complete all degree requirements for the Spring semester.

Doctoral, Master, and Bachelor degrees presented.
MSFC director Patrick Scheuermann to give UAH spring commencement address
Patrick Scheuermann, Director of NASA's Marshall Space Flight Center, is scheduled to deliver the University of Alabama in Huntsville (UAH) commencement address on Saturday, May 4. The ceremony begins at 10 a.m., and will be held in the Propst Arena at the Von Braun Center in downtown Huntsville.
UAH is expected to award 860 diplomas at its spring graduation ceremony - 630 bachelor's degrees, 194 master's degrees and 24 doctoral degrees. Patrick Scheuermann (pronounced Sherman) will be awarded an honorary doctorate from UAH during the ceremony.
Scheuermann was named director of NASA's Marshall Space Flight Center in September 2012. As director, he leads one of NASA's largest field installations, with nearly 6,000 civil service and contractor employees including those at NASA's Michoud Assembly Facility in New Orleans, and an annual budget of approximately $2.5 billion.
He manages a broad range of propulsion, scientific and space transportation activities contributing to the nation's space program.
Prior to his appointment at Marshall, Scheuermann served as director of NASA's Stennis Space Center near Bay St. Louis, Miss., from 2010-2012.
He was deputy director at Stennis from 2008 to 2010, and served as associate director from 2007 to 2008. Scheuermann was chief operating officer of NASA's Michoud Assembly Facility in New Orleans, where he was responsible for day-to-day management and operation, and led the facility's recovery in the aftermath of Hurricane Katrina in 2005.
From 1998 to 2000, Scheuermann served in Washington as a legislative fellow for U.S. Senate Majority Leader Trent Lott of Mississippi.
Additionally, Scheuermann served in various roles with the nation's space agency, including project manager at Stennis for NASA's Reusable Launch Vehicle program, project manager for the National Aerospace Plane project, and the lead mechanical engineer for the National Launch System Program. Scheuermann joined NASA in 1988 as a propulsion test engineer at Stennis.
He is a native of New Orleans, and a graduate of the University of New Orleans. Scheuermann and his wife, the former Sarah Melissa Lee of Pearl River County, Miss., have a son and daughter, Chandler and Christina.
---
Candidates' Instructions
No tickets required for guests. Please notify your family and friends that the doors will open exactly one hour prior to the scheduled ceremony time. Guests, family members and spouses are not permitted in the assembly or robing areas and should go directly to the arena.
Candidates will need to arrive at the Von Braun Center one hour prior to the scheduled ceremony time.
---
Fundraising Floral: Preorder flowers for your Graduate! click here
Arena Layout (updated 4/30/13): click here
Spring 2013 Participants: click here
---
Schedule of Events

Time

Action Item

Location

9:00 a.m.

Students check-in

East Hall

9:00 a.m.

Doors open for guests

Propst Arena

10:00 a.m.

Cememony begins

Propst Arena
Commencement Dates and Deadlines
Line Up and Procession
Students should report to their college line-up area in the Von Braun Center East Hall no later than one hour prior to the ceremony. You will receive a line-up card indicating your number in line and be instructed by University staff about when and where to line up. Your line-up card is the key to get you across the stage.

Who may participate in Commencement
Fall Commencement: Students who have completed degree requirements in the Summer semester, as well as those who have applied for graduation and will complete all degree requirements for the Fall semester.
Spring Commencement: Students who have applied for graduation and will complete all degree requirements for the Spring semester.
Doctoral candidates must notify Graduates Studies in order to participate in the ceremony.
What to Bring to Commencement
Degree candidates should purchase their caps and gowns from the University Bookstore prior to the ceremony and must bring them, along with their tassels, to Commencement. Students should not bring purses, cell phones, etc., into the Von Braun Center. Personal items may not be left in the assembly or robing areas during the ceremony.
Academic Regalia
Commencement is an occasion marking a special time in a student's academic career. Appropriate attire for the occasion is a black academic gown and mortarboard with no personal accessories or messages. Undergraduate student members of academic honor societies may wear the insignia or honor cord of that academic honor society. Flowers, personal jewelry, pins or cords from social fraternities and sororities are not to be worn on academic robes. (See approved list below). All graduates participating in the ceremony must wear their academic regalia.
Caps and Gowns
Caps and gowns may be purchased at Grad Fair or in the University Bookstore Monday through Friday 8:30 a.m. to 5:00 p.m. Doctoral candidates, please pre-order your cap and gown at least a month prior to the ceremony.
Tassels
White – Liberal Arts
Gold – Science
Orange – Engineering
Apricot – Nursing
Drab – Business
Old Gold – Doctoral
UAH Honor Cords
University Honors
UAH Honor Cords, for those undergraduates who are eligible, have been purchased by the University and will be available at the Von Braun Center during the robing process. Graduation honors are not bestowed upon students receiving Masters or Doctoral degrees; therefore graduate degree recipients do not receive or wear honor cords.
Notice: Honors indicated in the program are based on grades for semesters completed prior to the last semester. Actual honors for all completed work will be subsequently calculated and will appear on the official transcript and diploma.
Undergraduates
Graduation with honors at the baccalaureate level requires a minimum of 60 semester hours at UAH. Honors will be determined by the grade-point average for the last 60 semester hours of coursework taken at UAH or the overall GPA for all coursework taken at UAH, whichever is higher. The academic terms containing the last 60 hours of coursework taken at UAH will be identified, and the GPA of all UAH courses taken during those terms to satisfy graduation requirements will be computed and the honors will be determined as follows:
If the GPA computed as above is 3.90 or above, the student graduates summa cum laude.
If the GPA computed as above is 3.70 or above (but below 3.90), the student graduates magna cum laude.
If the GPA computed as above is 3.40 or above (but below 3.70), the student graduates cum laude.
School of Graduate Studies
Graduate students should not wear honor cords. The hood adorned with the college colors represents their academic accomplishments recognized by the university.
Approved Academic Honor Societies
Students graduating with university–wide and academic honors who are members of the following organizations may wear the cords, ribbons, collars, jewelry, etc., described below on their robes at Commencement.



University Honors




Summa Cum Laude, Magna Cum Laude, and Cum Laude

Gold Cords
(will be distributed at the ceremony)


Janet Waller

University Honor Societies

Alpha Epsilon Delta

Purple and pink cords

Debra Moriarity

Alpha Lambda Delta

Gold, red and white cords

Joseph Taylor

Omicron Delta Kappa

White, black and blue twisted cords

Ina Warboys

Phi Kappa Phi

Blue and gold cords with fringed tassels

Jeffrey Neuschatz

Sigma Xi-Scientific Research Society

Blue and white cords with tassels

Debra Moriarity

Nat'l Society of Leadership & Success

Platinum and black cords

Kacey Schaum & Beth Wilson

Delta Epsilon Iota

Blue and gold cords with tassels

Kellee Crawford

Business Administration

Beta Alpha Psi (Accounting/Finance)

Red and black cords, pins

Charlie Hickman & Gene Bryson

Beta Gamma Sigma (Business)

Blue and gold cords with tassels

David Berkowitz

Engineering

Alpha Pi Mu (Industrial & Systems Engineering)

White satin and gold stole

James Swain (temporarily)

Eta Kappa Nu (Electrical Engineering)

Gold braided cord with royal blue and scarlet tassels

Aleksandar Milenkovich

Omega Chi Epsilon (Chemical Engineering)

White satin collar (officers) / Maroon & white cord/rope (members)

Jeffrey Weimer

Pi Tau Sigma (Mechanical Engineering)

Teal and burgandy cords (see national website)

Don Wallace

Sigma Gamma Tau (Aerospace Engineering)

Stole with red shoulders and white satin tips

Jason Cassiby

Tau Beta Pi (Mechanical Engineering)

White satin collar and embroidered with bent in orange

Don Wallace

Liberal Arts

Alpha Kappa Delta (Sociology)

Teal cord

Mitch Berbrier

Alpha Psi Omega (Theatre)

Light blue and gold intertwined cords

David Harwell

Kappa Delta Pi (Education)

Teal green and purple cords

Mary Piersma

Kappa Pi (Art)

Purple and cold cords

Jill Johnson

Lambda Pi Eta (Communication Arts)

Red and white cords

Eletra Gilchrist

Phi Alpha Theta (History)

Madonna red and blue with multi-colored tassel at each end

Molly Johnson

Phi Sigma Iota (Foreign Languages)

Purple and gold cords

Linda Maier

Pi Sigma Alpha (Political Science)

Medallions red ribbons

Anne M. Choup

Psi Chi (Psychology)

Blue and gold cords

Jodi Price

Sigma Tau Delta (English)

Red and black braided cords, 2"medallion attached to red ribbon

Julie Early

Nursing

Sigma Theta Tau

Purple and white cords

Mark Reynolds

Science

Sigma Pi Sigma (Physics)

Green and ivory tassels and cords

Robert Preece

Greek Honor Society

Order of Omega

Gold and white cording

Jamie Hart Superczynski

U.S. Armed Forces Veterans

Red, white and blue cording

Larry Cantor
Updated 05/02/2013
Grad Fair
Grad Fair will be held on Tuesday, February 26, 2013 from 4:00 p.m. until 7:00 p.m. and Wednesday, February 27, 2013 from 11:00 a.m. until 2:00 p.m. in the University Bookstore. Representatives from numerous departments will be available to assist degree candidates (undergraduate and graduate) with all aspects of graduation, including cap and gown ordering, degree checkout and Commencement details.
The following University offices will provide information at Grad Fair:
Alabama Credit Union
International Student and Scholar Office
Office of Alumni Relations
Office of Career Services
Office of Student Financial Services
Office of the Dean of Students
Office of the Registrar
School of Graduate Studies
University Bookstore


We look forward to seeing you at Grad Fair!
Future Grad Fair Dates:
Fall 2013- October 1 and 2, 2013
Spring 2014- February 25 and 26, 2014
Diplomas
Receiving Your Diploma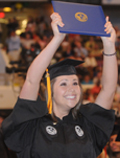 Diplomas are ordered after all degrees have been awarded. Degrees are awarded once all grades have been turned into the Office of the Registrar.
Please note it takes approximately 6-8 weeks
to receive your diploma.
An email will be sent to the student's UAHuntsville account once the diplomas have been ordered and then again after they have been mailed.

Students will receive their diploma via the mail so please make sure that your permanent mailing address is updated upon graduation.


Instructions
1.) Login to your Banner Self-Service account
2.)Then select Personal Information and Update Addresses/Phones
3.) Next, in the Type of Address to Insert drop down menu select Permanent Mailing Address and submit
4.) Finally, update your address/phone and submit.

Proof of Graduation
Once degrees have been awarded students may request their official transcript through Charger Central as proof of graduation.

Dimensions
Doctoral diploma: 11" X 14"
Masters diploma: 8.5" X 11"
Bachelor's diploma: 8" X 10"

Information Stated on Diplomas
Students Name
Graduation Date
Degree
University Honors (Undergraduates only)