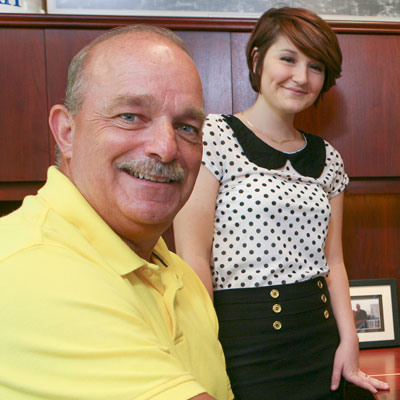 HUNTSVILLE, Ala. (August 29, 2013) - It's back to school time at The University of Alabama in Huntsville (UAH) and campus is teeming, with new students moving into their residence halls and professors returning to their offices in preparation for a new semester of classes.
But less visible to the unwitting observer are UAH's support staff members, who are working long hours to make sure the university is ready to meet the needs of its entire population. That includes ensuring that buildings are heated and cooled and that utilities are properly supplied to all facilities; that grounds are tidy and safe; and that the classrooms, offices, and hallways are clean and free of trash.
Mark Cowherd, UAH's Executive Director of Facilities, oversees many of these essential personnel. "Under my umbrella, including stockroom, custodial, maintenance, construction, and grounds staff, are 120 employees," says Cowherd. "And we do a whole lot behind the scenes to keep things operational."
Case in point, ensuring the proper functionality of the university's Central Plant, which develops and pumps chilled and hot water through underground piping to many of the buildings on campus. "The Central Plant is critical," says Cowherd. "If it goes down, research could be lost. Students could be displaced from their residence halls. Classes could be canceled."
That's why the HVAC team keeps a close eye on the plant's performance, starting with software that constantly monitors real-time data. "First thing in the morning, members of the team will review our Building Automation System to see what's on, what's not on, and what should be on," he says, "so in case something didn't start, we can take corrective action."
But ideally, he says, things won't come to that; over the years, several fail-safes have been incorporated into the system so that a seamless transition can be made should one part of the Central Plant go down. A perfect example is the plant's 6,000-gallon fuel oil tank, installed as an energy savings project in 2011 to back up the university's two fire-tube boilers.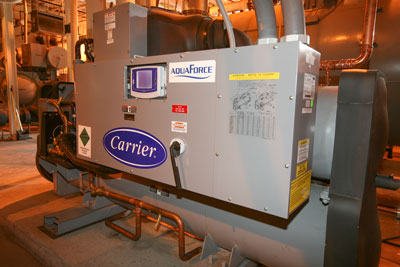 "The fuel oil tank adds redundancy for heating in case of a natural gas outage," says Cowherd. "And one unexpected benefit is that the stored fuel can be pumped into drums and transported to standalone emergency diesel generators during periods of crisis." Which is exactly what happened in the wake of the April 27 tornadoes in 2011, when the county's electrical infrastructure was wiped out.
"We had enough fuel to power the generators for eight days during that outage," he says. "So while other schools sent their students home, we took fuel out of the tank and put it in generators around the campus, providing our students with energy and allowing the UC cafeteria to serve food."
But Cowherd isn't just interested in planning for emergencies; he also takes great interest in energy efficiency and sustainability. As a Certified Energy Manager for over 25 years, he knows almost everything there is to know about how small changes can yield big savings.
The Central Plant's two 500-horsepower boilers, for instance, are the most efficient fire-tube boilers in Alabama, says Cowherd. "They also meet California's low nitrous oxide standards, so we're really proud of those twins."
And that fuel oil tank? It allowed UAH to switch to a different natural gas rate schedule with Huntsville Utilities, resulting in a savings of nearly $75,000 per year in natural gas costs.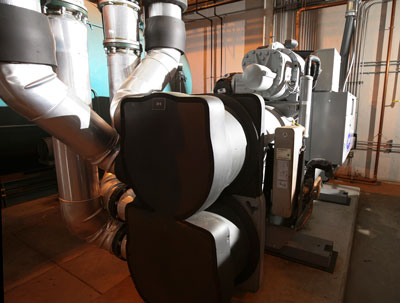 He even managed to obtain approval to create the university's first Campus Energy Manager position. "It sounds simple but it's a broad task," he says, including making sure construction and renovation plans adhere to the LEED silver standard and tracking and projecting energy consumption and cost.
There's one initiative, however, that easily outpaces all of these in terms of savings for both the university and the environment: Cowherd's recent installation of two electricity-powered 200-ton heat machines/chillers, which he is currently relying on to produce hot water.
That might seem counterintuitive, when the cost of the electricity used by the heat machines is higher than that of the natural gas used by the boilers. But Cowherd isn't simply exchanging one for one. Instead, he is capturing and reusing the byproduct of the heat machines - chilled water - to squeeze every last drop out of the energy he's paying for.
"We're putting that chilled water into the primary chilled water loop, thereby lessening the load on the chillers we already have dedicated to providing chilled water," he says.
The result? More than 430,000 tons of cooling that the Central Plant's chillers did not have to produce. Not to mention the approximately 1,000,000 gallons of domestic water that were not evaporated into the atmosphere and did not require chemical treatment.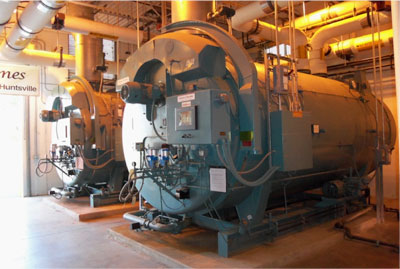 He adds that the process cannot be used year-round because the heat machines can only generate a maximum of 138° water, whereas 180° water is needed in the winter months. But, he says, "for the other eight or nine months, the boilers can stay off, thereby saving energy and extending their life span."
In total, the process yields a savings of $200,000 per year, adding to Cowherd's running energy savings total of almost $650,000 since February of 2010. It's an impressive amount - and one that grows with each passing day, but he refuses to take credit for himself.
"I really feel that we just have a really good team of employees here at UAH, from the stockroom, to grounds, to construction, to maintenance," he says. "Our team members care deeply about their work, and try every day to make quiet contributions that make the university a better place."
And that behind-the-scenes approach is just the way he likes it. "If the phone doesn't ring," he says, "it's a compliment. That means everything is quiet, because our team has been busy."
---
You may also be interested in: