HUNTSVILLE, Ala. (August 20, 2013) - Classes aren't just starting for The University of Alabama in Huntsville (UAH); they're also starting for the Rise School of Huntsville, a non-profit preschool that uses a balanced, multi-disciplinary approach to teach children both with and without developmental disabilities.
The school, which was previously located at Trinity United Methodist Church on Airport Road, will now sit on the UAH campus thanks to an agreement signed last week by UAH president Dr. Robert A. Altenkirch, Rise co-founder Jerry Lee, and Rise director Caroline Bradford.
"UAH is honored to support Rise's effort to provide high-quality early childhood education in an integrated environment, and we're also excited about the unique experiential learning opportunities that Rise will offer our nursing and education students," says Dr. Altenkirch. "It's a true collaboration, and we're proud to partner with Rise to help meet the needs of our community."
Like Dr. Altenkirch, Jerry Lee is also "very excited" about the partnership. "We are not only getting a new home for our children and teachers, but we are gaining a foundation from which to build upon," he says, adding that the new location will "further facilitate the collaboration between higher education and preschool education to maximize new learning strategies."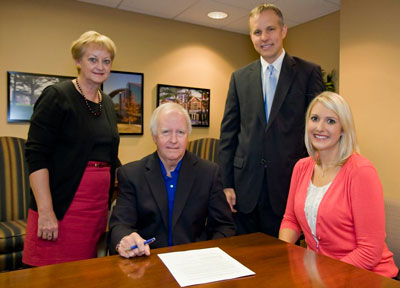 The Lees were inspired to found the Rise School of Huntsville after their son Jonathan was turned down by local preschools "because of his intellectual and physical disability caused by his Down syndrome," says Lee. "For our family, the school represents redemption. It's a model that stands to change the culture of our community where everyone is accepted regardless of their unique challenges."
Bradford says that children can enter the program as early as six weeks and graduate by age five or six depending on their readiness for kindergarten. Classes are led by a master's-level teacher and assistants, and have an adult-child ratio between 1:2 and 1:4.
"The school is also unique in that therapy services such as physical, occupational, speech, and music therapy blend seamlessly into the curriculum," says Bradford. "These services cultivate the greatest potential for learning, and the culture of the school empowers the children to learn life skills not measured by any diagnostic tool, such as manners, respect, sharing, and following directions."
Ultimately, it is this multidimensional foundation that will allow Rise's students to seamlessly integrate into their next educational experience. And who knows? Perhaps one day they will return to UAH for the start of classes once again, only this time as undergraduates.
---
You may also be interested in: