Music Department receives 37 pianos from AB Stephens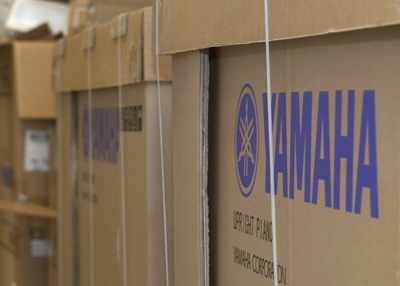 HUNTSVILLE, Ala (October 5, 2012) — Christmas came early for The University of Alabama in Huntsville (UAHuntsville) Music Department, with 37 new Yamaha upright, grand and electronic pianos from AB Stephens Piano Store.
"For some years now, the UAHuntsville Music Department has enjoyed a dynamic partnership with AB Stephens which allows us to have a perpetually new inventory of pianos each year for student and faculty use," said Dr. C. David Ragsdale, the interim Music Department chair. "Through this special and generous arrangement with our friends at AB Stephens, we receive new Yamaha pianos each year in August," said Ragsdale, who also serves as the director of bands, and associate professor of music at UAHuntsville.
The university professionally maintains and tunes the pianos throughout the year, and at year-end hosts a piano sale for AB Stephens where the pianos are sold to the public at reduced prices.
"Relationships like the one we have between our college and AB Stephens is representative of community cooperation and collaboration that is critical to our success. Working with AB Stephens and other local businesses aids our mission as educators, enriches our students' lives and provides opportunities for the community to enjoy rich cultural offerings held on campus," said Glenn T. Dasher, Dean of the UAHuntsville College of Liberal Arts and Professor of Art & Art History.
Ragsdale said, this year, due to the expansion of the music facilities, an increased number of practice and teaching studios, and the addition of rehearsal rooms for instrumental and choral ensembles, the department required, and received a record inventory of pianos.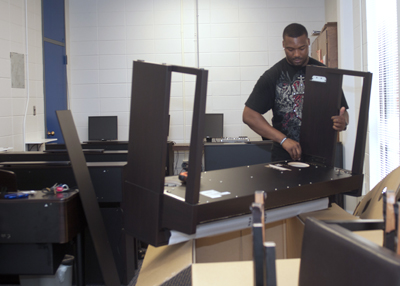 "Having high-quality instruments available to our students and faculty is essential to high-caliber teaching and learning. For instance, our piano teaching studio features side-by-side grand pianos to assist professors in the demonstration of technique and musical interpretation," Ragsdale explained. "We also offer a dedicated grand piano practice room for piano majors as well as a keyboard lab stocked with 13 Yamaha Clavionovas where class piano instruction occurs for non-music majors at UAHuntsville."
Ragsdale noted too, that every practice room in the Music Department features an upright Yamaha piano while the choral and instrumental rehearsal rooms boast Yamaha grand pianos.
"We are fortunate and grateful to have access to both the quality and quantity of new pianos provided to us by AB Stephens and Yamaha, whose sponsorship and generosity is integral to the success of music teaching and learning at UAHuntsville," Ragsdale said.
You may also be interested in:
For more information
Joyce Anderson-Maples (256) 824-2101
maplesj@uah.edu