Green Office Certification
The Facilities and Operations recognizes the efforts of staff and faculty to minimize waste by offering a Green Certification Program. This program is strictly voluntary. Participating offices will receive a certificate and will be recognized on the Facilities and Operations website for their efforts.
There are four levels of certification, which are outlined below. To receive certification, a minimum of 75% of office members, including the program director must participate. Departments must comply with every item on the checklist for the level in which they request certification unless it is not applicable to their operations.
GREEN LEADER
Each group requesting Green Certification must have a Green Leader.

Primary

contact for Green Certification

.

Notify Facilities Management if the Green Leader contact information changes

.

Send an email to group members prior to holidays and breaks reminding them of the steps for holiday shutdown to save energy. This information will be emailed to the Green Leader from the Energy Office

.

Help Facilities Management with auditing of space to ensure all requirements of Green Certification are followed.
Instructions for Green Leaders:
Present the program to your office.

Decide as a group which level of certification your office will achieve.

Download the

Green Certification Application

.Each team member will download and complete the appropriate checklist for the level your department plans to achieve:

This should be completed by the Green Leader.
Once completed please save the form and email a copy chargersforsustainability@gmail.com. Please call

(256) 824-6242

with problems/questions.

When all items are received, the Green Leader will receive notification that the department has received Green Certification.
LEVEL 1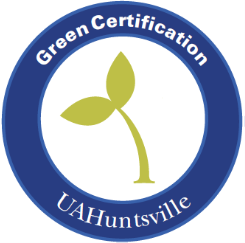 Energy Conservation
Make a conscious effort to turn off all lights when not in use during office hours and at the end of the day. Include your office area as well as common areas such as restrooms, break rooms, conference rooms, and storage areas.
Any maintenance issues such as lighting controls that are not functioning properly, leaking toilets, etc. should be reported to the Work Order Desk at (256) 824-6490. If issues remain unresolved, contact UAHuntsville Energy Manager at (256) 824-6242 or

vanessa.ennis@uah.edu.



No individual space heaters, open windows in winter, or plugging of air conditioning/heating vents should be used to adjust room temperatures. If space temperatures are outside of the energy guidelines, notify the Work Order desk by completing the form at http://facilities.uah.edu/wodesk or calling 256-824-6490. Energy guidelines are:
Summer (air conditioning) Winter (heating)
Occupied Space 74-76 degrees F 69-71 degrees F
Unoccupied Space 85 degrees F 55 degrees F
Turn off monitors and manually send computers into stand-by or hibernate or turn off when not in use.
Enable power management settings on computers. Contact your network administrator for assistance.
Register any "open loop" water cooling systems with the UAHuntsville Energy Manager. In an open loop system, water used to cool a process goes into a drain rather than being circulated and reused.
If thermostats are manually controlled, make sure settings comply with the UAHuntsville energy guidelines.
All new appliances, equipment, computers, etc. must be ENERGY STAR certified. If you need help, contact the Energy Manager at (256) 824-6242 or

vanessa.ennis@uah.edu.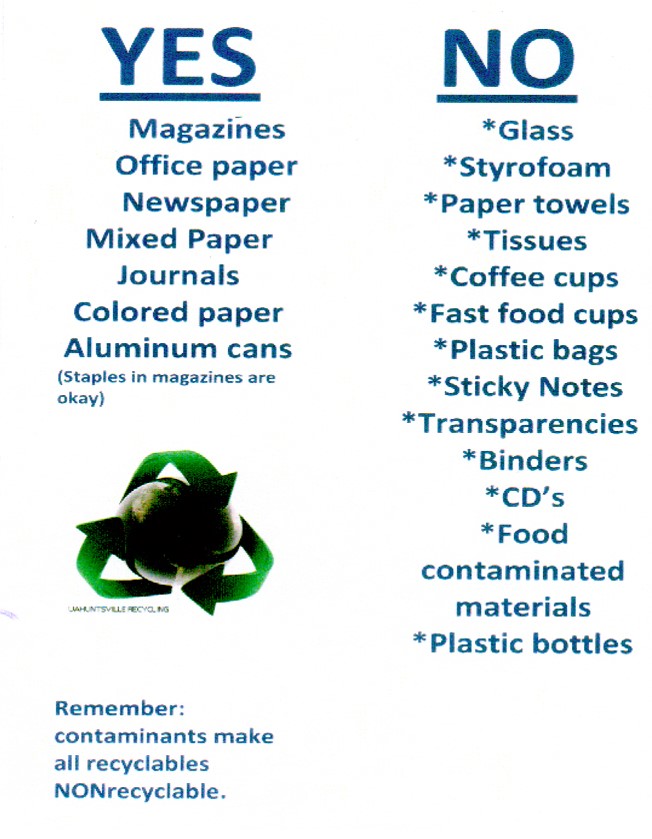 Recycling/Waste Reduction
Each office has a desk-side recycling bin.
Review proper recycling practices with staff to ensure everyone is aware of the process and acceptable items.
Contact Shipping & Receiving when disposing of office furniture and equipment to see if it can be salvaged and reused elsewhere.
Before purchasing new furniture, check with Shipping and Receiving to see if any surplus items can be reused instead.
Two sided printing and copying should be used whenever possible.
Any newsletters are offered in electronic version, and print copies are reduced as much as possible.
LEVEL 2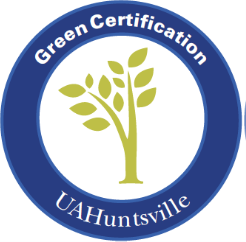 All Level 1 requirements must be met.
Energy Conservation
Designate one individual to turn off lights, check/setback thermostats, and turn off any equipment in common spaces (printers/copiers, etc.) at the end of the day. If this person plans to be out, he/she will designate someone to do this.
Add reminders at light switches to turn off lights when not in use, if applicable.
Label manual thermostats with acceptable temperature settings, if applicable.
Enable sleep mode to all copiers and printers after five minutes of inactivity.
Use stairs instead of elevator
Use compact fluorescent or LED lamps in office lamps and task lighting.
Recycling/Waste Reduction
Recycle toner cartridges for laser printers/copiers. Call (256) 824-6315 for pickup.
Eliminate plastic bottled beverages at office events by using aluminum cans or reusable drink containers.
Recycling bins are used at events and meetings sponsored by your department.
Two sided printing and copying is set as a default on office computers.
Label copy machine to remind users to print on both sides of page.
LEVEL 3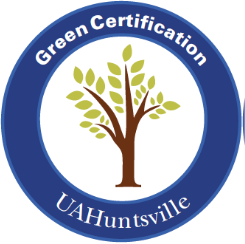 All Level 1 and 2 requirements must be met.
Energy Conservation
Examine networked printers and other electronic devices to see if they can be consolidated.
Use power strips or unplug office equipment, microwaves, coffee makers, and other small appliances at the end of the day.
Recycling/Waste Reduction
At least one recycling collection bin is available for small electronic waste: batteries, cell phones, PDAs, etc. in your office area. Call (256) 824-2171 for pickup.
Use the pdf copier option rather than printing when possible.
Contact publishers to reduce junk mail.
Include the following in your email signature: "Please do not print this e-mail unless necessary. Take Charge, Go GREEN!"
Request that all materials printed from an outside source have at least 30 percent recycled content when budgets allow.
LEVEL 4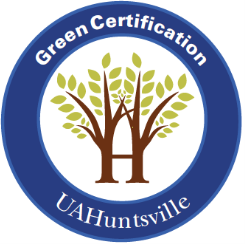 All Level 1, 2, and 3 requirements must be met.
Energy Conservation
Audit lighting and notify the campus Energy Manager of any incandescent lamps (vanessa.ennis@uah.edu).
Close all blinds in evenings to help insulate windows in winter and shade direct sun in summer.
Recycling/Waste Reduction
Reuse paper that has print on one side when possible. Designate a location to keep such scrap paper in copier room for easy use.
Designate an area for sharing of office supplies that can be re-used such as file folders, binders, etc.
Request that all materials printed from an outside source have at least 50 percent recycled content as budgets allow.
OTHER
Encourage at least one other campus department/organization about the Green Certification.
All participants that apply and are approved will receive a framed certificate and will be recognized on the sustainability homepage for their efforts.
When all checklist items are completed, facilities management will conduct an audit of the area to ensure requirements are met. To set up an audit, contact any of the following:
Chargersforsustainability@gmail.com
Haley Hix- Physical Plant Building 110G