Dean's Welcome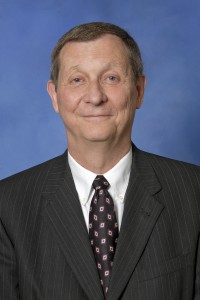 Welcome to our website. I'm Jack Fix, Dean of the College of Science at the University of Alabama in Huntsville. The College of Science is one of five colleges that make up UAH. We have about 1,100 majors in the College of Science, about 800 of whom are undergraduates. About 80% of our undergraduate students are from Alabama. Our graduate students come from across the U.S. and throughout the world. We offer degrees in atmospheric science, biology, biotechnology, chemistry, computer science, mathematics, materials science, optical science, and physics.
The College of Science is known for its personalized instruction and the involvement of students in research. Our undergraduates have done some amazing things, such as designing and building a scientific satellite that is now orbiting the Earth. The College has an unusually large percentage of small classes and over 90% of our classes are taught by permanent faculty members.
The faculty of the College of Science is recognized nationally and internationally in a number of research areas. Students work closely with faculty in optics, astrophysics, atmospheric modeling, software design, structural biology and many other fascinating areas. Because of our location in Huntsville, our students and faculty have unusual opportunities to work with scientists at NASA's Marshall Space Flight Center, the Redstone Arsenal, and in the many high-tech companies located in one of the world's largest research parks - right across the street from UAH.
New developments are always underway in the College of Science. In recent years we have seen the creation of the National Space Science and Technology Center (NSSTC), located next to the campus. NSSTC is a research center in which scientists from government, universities, and private companies work on important problems in atmospheric science, information science, propulsion, space science, and astrophysics. The more than 500 scientists and engineers who make up NSSTC represent one of the greatest concentrations of scientific talent in the nation and is an enormous resource for both the teaching and research missions of the College. We've also built and equipped a state-of-the-art facility for NMR studies of proteins and other biologically important molecules. We are now involved in the planning and design of a new science and technology building that is the future home of the Departments of Biological Sciences and Computer Science as well as teaching laboratories and science classrooms.
Whether you are a prospective student, parent, alumnus, researcher, faculty member, government or industry decision maker - or just browsing - we invite you to explore the College of Science and learn what we have to offer.