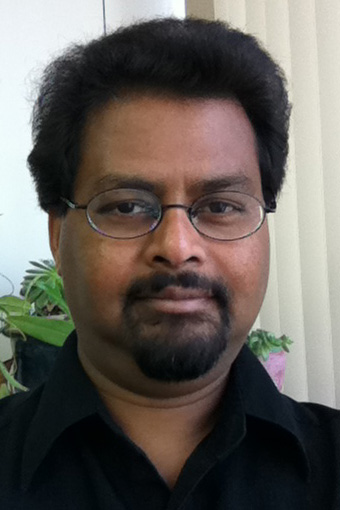 HUNTSVILLE, Ala. (Dec. 2, 2013) - A scientist at The University of Alabama in Huntsville has won a grant from Google to support developing a smart phone app to involve school children and the public in monitoring how our environment is changing.
The app, EnvEye (pronounced n-vie), will let camera-phone users track environmental changes in their own communities, as well as giving both researchers and government agencies a new tool for tracking such things as land use change and erosion.
The almost $36,000 grant will support a graduate student tasked with developing and field testing the phone application, said Dr. Udaysankar Nair, an assistant professor of atmospheric science at UAH.
Using the app, anyone with a camera phone will be able to take a photograph of any area showing conditions in that area, then send that picture and the attached data to a database, Nair said. That data can be valuable to many scientists, including those who use satellite data to track the changing environment.
"For instance, we use satellites to look at how land use is changing and how that is affecting the climate," Nair said. "But, to get the best use from that satellite data we need to know with some precision exactly what is on the ground in at least a few points. Interpreting what an individual pixel of a satellite picture represents is easier if we have detailed information about what really is on the ground in that spot."
It can be difficult to get ground truth data in areas around the world. Nair hopes the app will encourage people to get involved in monitoring the environment, wherever they live. He is working in collaboration with a government agency in southern India that relies extensively on community involvement.
"I really want to get school children involved in this," he said. "Not only would this expose children to being involved in scientific research, but it could also be a very good way to populate this database. We want to try this first with some schools in Huntsville, to let the students map their neighborhoods."
Google Earth Engine Research Awards are one-year awards structured as unrestricted gifts to universities to support the work of world-class full-time faculty members at top universities around the world. The intent of the Google Earth Engine Research Awards is to support cutting-edge geospatial data analysis.
---
You may also be interested in: