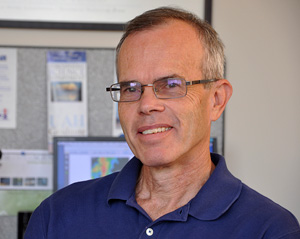 HUNTSVILLE, Ala. (Dec. 2, 2013) - An intrepid atmospheric science department team from the University of Alabama in Huntsville (UAH) has departed Huntsville and is on the road north to track and measure lake-effect snowstorms from the southern banks of Lake Ontario, all in the name of better future weather forecasting.
The UAH scientific team is part of an effort called OWLeS - the Ontario Winter Lake-effect Snow project - that has component teams from six other colleges and universities plus one research center.
"A major objective of the project is to improve the forecasting of these lake-effect systems off the operating models," said Dr. Kevin Knupp, UAH team leader and professor of atmospheric sciences. Models can be refined when compared to actual data collected, sharpening forecasters' ability to pinpoint snowstorms and their effects.
Besides UAH, participants are State University of New York at Oswego, Pennsylvania's Millersville University, the University of Illinois at Urbana-Champaign, Penn State, the University of Wyoming, upstate New York's Hobart and William Smith Colleges and the Center for Severe Weather Research of Boulder, Colo.
The nine-member team -­ including Dr. Knupp and graduate students Ryan Wade, Todd Murphy, Adam Sherrer, Aaron Mayhew, Tony Lyza and Brian Freitag ­- will be active in New York from Dec. 5 through Dec. 21 and Jan. 4 through Jan. 29. Three team members will be stationed with the equipment at all times, and members will rotate duty.
"We're looking forward to the OWLeS project because it's an opportunity to observe a different type of snow storm," said Dr. Knupp. "We're going to be up there looking into the characteristics of the flows inside these clouds, which are relatively small in width yet can deliver tremendous snowfalls."
In other words, he hopes they'll get buried in the white stuff, all in the name of science. With that in mind and understanding that some of his students have never been in that kind of cold climate, Dr. Knupp has carefully dedicated a project fund to buying adequate winter weather wear for some team members.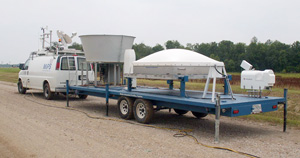 Rock-star equipment
UAH is bringing a full complement of measuring equipment, including the university's upgraded rock-star Mobile Integrated Profiling System (MIPS), which tracks temperature profiles, wind structure, water vapor density, cloud dynamics and cloud classification and structure.
"We were encouraged to participate because of the MIPS system," Dr. Knupp said. "It's an ideal system to look at this type of cloud activity." All MIPS instruments except one, a Doppler wind lidar, have endured winter weather in a previous wintertime project over the Midwest in 2009-2010. UAH has had the Doppler lidar system only since April, and the New York trip marks the first time it has been used in very cold, snowy conditions. "We don't know how it's going to perform in that environment," Dr. Knupp said. "We're going to have to see how it performs and then make adjustments."
At the conclusion of the research period, the cutting-edge MIPS travels to Atlanta, where it will be on display at the American Meteorological Society's annual meeting.
Besides the Doppler lidar, the other MIPSinstruments include:
A 915 MHz Doppler Wind Profiler Radar;
An X-band Profiling Radar that's a form of vertically pointing Doppler radar;
A Microwave Profiling Radiometer to sense the vertical variations of temperature, moisture and super-cooled water in clouds;
A ceilometer laser device to measure the height of the cloud base and the amount of aerosol particulates below the clouds;
A second trailer housing the Doppler Wind Lidar, which analyzes a reflected laser light to measure the turbulence and variation of winds and storms at the surface as they approach from off the shoreline.
UAH researchers will also be monitoring electric fields created by the clouds, which can produce lightning. "We'll get the electric field measurements and correlate that with the updrafts and downdrafts we'll be observing, and with the super-cooled liquid water in the storms," Dr. Knupp said.
Information will be collected on the precipitation itself, as well - the surface particle sizes and types of snow and rain that fall. Dr. Knupp said the team is trying to get NASA to loan it a Snowflake Video Imager to aid in the analysis.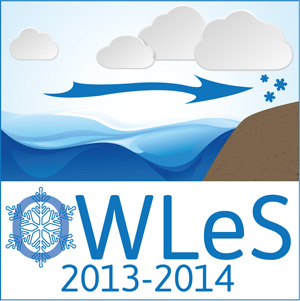 Snow chasers
This isn't UAH's first foray to the Great White North. In 2009-10, the university teamed with the University of Illinois to study snowstorm formation in the Midwest. This time, the OWLeS participants will coordinate their operations from Oswego, N.Y., and deploy to various locations for scientific observations and measurements. It'll be like severe thunderstorm chasing, but with snow, Dr. Knupp said. "Based on what the high-resolution radar images show, that's where we'll park."
Lake Ontario lies on an east-west axis, and Canadian arctic winds sweep across it toward the south, where UAH and other OWLeS participants will have their equipment on the prowl. As the cool winds pass over the warmer water, they pick up heat and water vapor from it and begin to warm. The lift provided by the warming creates clouds as moisture-laden air reacts with cooler air aloft to form clouds - and snow.
"The interaction between the lake and the clouds is really fundamental and what fuels these systems," said Dr. Knupp. "These cloud systems can be quite vigorous, and some scientists will be running operational and research models to validate them against the data collected."
If all goes well, the excursion should test the machinery and deliver some great data that could help forecasters hone their models to better predict snow events and snowfall amounts in the Great Lakes area, but it will also be a test for some of the Southern researchers, as well.
"When we do those experiments right on the lake and that wind blows right off the lake directly from Canada," Dr. Knupp said, "that's going to be cold."
---
You may also be interested in: