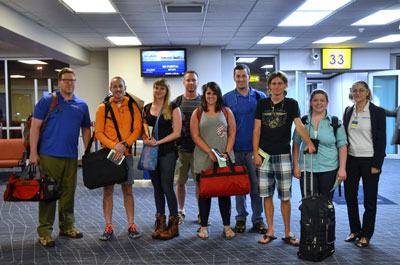 Climate change field studies in the Republic of Panama are being conducted by seven undergraduate student researchers from The University of Alabama in Huntsville (UAH) who are studying atmospheric and earth system science, including minors in biology and mathematics, as part of a cooperative arrangement between UAH and The Water Center for the Humid Tropics of Latin America and the Caribbean (CATHALAC).
Since 2010, UAH and CATHALAC have cooperated to offer a six-credit research and study abroad program focusing on Climate Change and Sustainable Development in Latin America and the Caribbean. This program offers participants professional training, hands-on learning, cultural understanding and experience with how climate change influences sustainable development in the region. Students learn about research methodologies and the use of appropriate technologies to analyze climate change's impacts on natural and human systems in Latin America and the Caribbean.
"The science behind climate change and sustainability are affected by several variables, and there's a lot that needs to be better understood," said Dave Cook, UAH coordinator of student research. "Therefore, we're making an effort to look at projects where current data is lacking. Also, living in the community where they work will help the students to realize that research does not take place in a vacuum. It's important to remember that field research takes place where people live and the results of that research can affect peoples' lives."
The students arrived June 24 and will remain for three weeks. The group has split into two teams that will join current research projects already underway at CATHALAC. After a brief two-day orientation at CATHALAC headquarters in Panama City, the students are now in the field, where they are gathering data on biomass estimation and landslide susceptibility. They are living and working in the rural community of Santa Fe in Veraguas, Santiago, a province located in the central highlands of the country. The students' fieldwork will also be combined with involvement in local community activities and service learning projects with local organizations.
The landslide group of Leigh Baggett, Cameron Kowalski and Robert Graham is looking at qualitative and quantitative assessments of landslide risk. They are trying to determine areas that are vulnerable to landslides, as well as looking at what preparatory variables are present. The quantitative data they collect will help them calculate the hazards and specific triggering variables, such as the amount of rainfall or loss of slope-forming materials necessary to initiate landslides. All these assessments are important because they can be used to save lives where land is being developed and roads built.
The biomass group of Jonathan Chenault, Jeanné le Roux, Kaitlyn Pate and Robert Rossell is trying to estimate the aboveground biomass of the tree species Pinus Caribaea in the La Yeguada Forest Reserve, one of the first attempts at reforestation in Central America. They plan to compare their field data with satellite imagery to estimate biomass. Ultimately, they want to determine a correlation between field measurements and satellite data in order to develop an accurate method of estimating biomass using satellite data alone. With this information they will be able to calculate the carbon stock of the area of study, which is a tool for keeping track of climate change and planning procedures for sustainable development. Calculating carbon stocks is also important for developing countries like Panama hoping to participate in carbon trade initiatives.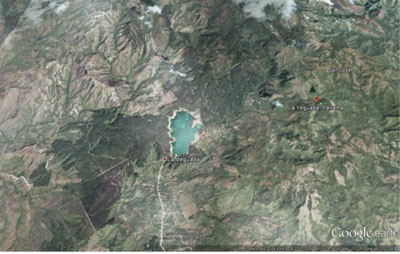 This year's program is led by Dr. Robert Griffin, an assistant professor in the UAH Atmospheric Science Department. Dr. Griffin specializes in remote sensing and geographic information system (GIS) technology. Dr. Tom Sever of UAH's Atmospheric Science Department and Dr. Osvaldo Jordan of CATHALAC also gave lectures during the course.
The program has sent over 40 students from a variety of majors since its start. It offers participants an opportunity to design a research work plan, conduct field research using GIS and remote sensing technologies, integrate lab and field data, as well as document and present their findings. In addition to living and working in the local community, students learn about the latest research methodologies, applications of satellite data and the use of cutting-edge technologies to analyze climate change's impacts on natural and human systems in Latin America and the Caribbean.
This year, the program included five weeks of preparatory coursework on the UAH campus, preparing for the intensive fieldwork to be carried out in Panama. Students will return to UAH for the last two weeks of the semester and present their final findings on the last day of the course.
During the preparatory portion, students received guidance from graduate assistants Africa Flores and Eric Anderson and trained on how to use necessary equipment in the field. In addition, students had 25 hours of Spanish language training from Yalitza LaFontaine of UAH's Intensive Language and Culture program.