Charger Rocket Works invests its USLI hopes in boosted dart design
An innovative "boosted dart" rocket design using some unusual materials will pierce the heavens when The University of Alabama in Huntsville's Charger Rocket Works team competes in the University Student Launch Initiative (USLI) segment of NASA's annual Student Launch Projects at Bragg Farms, 1180 Grimwood Road in Toney on Saturday, April 20, weather permitting.
"Our team's design is unique in a few ways," said Christopher Paaymans, test engineer and safety lead. "Most of the USLI entrants choose to make larger and larger rockets, as this means more propellant and more visual impact. Our team has chosen to use a boosted dart design, utilizing a powered booster stage and an unpowered second stage that coasts to the target altitude of one mile."
The Student Launch Projects begin with opening ceremonies at 7:30 a.m. on April 20, and flights start afterward. Spectators are advised to dress appropriately for the weather and bring chairs, a small cooler with lunch and snacks, sturdy shoes and insect repellant. Food vendors will be available at the launch field, accepting cash only. The rain date is Sunday, April 21.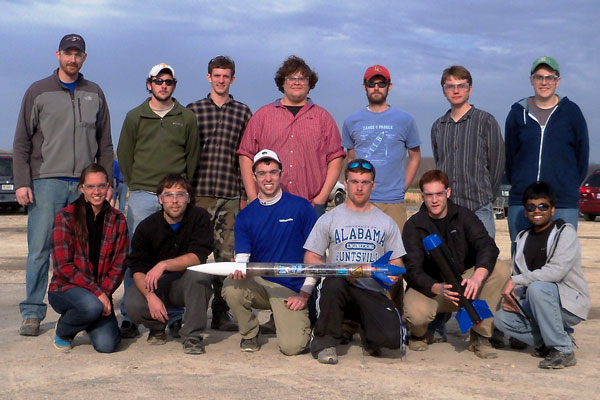 Courtesy photo
From left, Charger Rocket Works is: Front row – Kelsey Williams, Nick Gronou, Spencer Harrison, Westbrook Campbell, Jake Cranford and Amit Patel. Back row – David Lineberry, Corey Silcox, Matthew Denny, Christopher Paaymans, Eric Free, Dean Gillmore and Johnathon Smith.
UAH's launch vehicle is much smaller and faster than most other entrants. "Polycarbonate is being used for the majority of the parts of the dart's airframe, which is an unusual choice in rocketry," Paaymans said. "This allows for a clear rocket that has a rather unique aesthetic."
The team's program manager is Amit Patel. Team leaders also include Kelsey Williams, outreach coordinator; Jake Cranford, propulsion lead; Spencer Harrison, recovery lead; Matthew Denny, payloads lead; and Richard Estes, structures lead.
NASA's Student Launch Projects challenge middle, high school and college students to design, build and launch a reusable rocket to one mile above ground level while carrying a scientific or engineering payload. Prior to the coming competition, the UAH team performed ground tests to ensure subsystem performance, flew a subscale model to verify stability and clean stage separation, and flew three full-scale flights. The second flight used the planned competition motor and flew to 5,241 feet, close to the one mile target.
"Each flight has been instrumental in helping us find ways to improve our launch vehicle," said Patel. "So far we have only had to make minor changes."
TEAMWORK & CLASSWORK
Charger Rocket Works is a combination class and team, said Dr. David Lineberry, team advisor and research engineer at UAH's Propulsion Research Center (PRC).
Historically, UAH participated in USLI through the Charger Rocket Works club. The MAE department began to offer an elective class for students working with USLI and turned it into a two-semester senior design course so students could get academic credit for the competition work. "It's an MAE 490 course in the first semester and MAE 493 in the second semester," Dr. Lineberry said. "Students who take the rocket design section of 490 have preference for the 493 class in the spring."
The nine-month-long USLI competition started as a pilot program through Marshall Space Flight Center, with only UAH and Alabama A&M University involved. UAH built the rocket and AAMU built a payload. The next year both UAH and AAMU built rockets and payloads. From there, the competition evolved to what it is today by first allowing more universities from Alabama and then the rest of the country.
Our team has chosen to use a boosted dart design, utilizing a powered booster stage and an unpowered second stage that coasts to the target altitude of one mile.
Christopher Paaymans
Test engineer and safety lead
Charger Rocket Works
Today, many more universities propose to compete than can be accepted into the competition. NASA establishes high-level design constraints, such as maximum altitude, motor size, vehicle size, and recovery and tracking requirements. Students develop the payload and rocket design within NASA's constraints.
"The UAH team has a mentor, Lucas Kalathas, who has experience building high-powered rocketry," said Dr. Lineberry. "Both Lucas and I offer design suggestions when asked and help to evaluate aspects of the design, and prevent the students from doing something that is dangerous, but both the design and fabrication of the parts are completely carried out by the students. In fact, we both try to not influence the design."
The team receives oversight help with ground testing from the PRC and with fabrication from prototype development specialist Steve Collins in the MAE machine shop. "Students set up and conduct the tests and are the ones doing the actual machining," Dr. Lineberry said.
"The USLI program here at UAH is as close to real world engineering we will get," said Patel. "The most important thing that I will take away from this is the experience of designing to the constraints of a customer and defending our final product in front of a panel of reviewers.
The Alabama Space Grant has provided funding. The PRC provided lab space for fabrication, tools, test hardware and staff support. The Space Hardware Club provided design review and coordinated outreach assistance. Additional support has come from computer systems engineer Jason Winningham, who helped at launches and with design suggestions; and Anthony Edmondson, who has helped the team with UAH financial processes.
"Their support allows us to do what we do best," Patel said. "Win!"
COMPETITIVE SELECTION
Student Launch Projects competition begins in August when NASA issues a request for proposal for teams. NASA selects competition teams, and not all proposals are accepted. Competition teams are scored on three design reviews, their actual flight and a post-launch report. NASA awards teams for Documentations and Presentations, Vehicle Design, Payload, Outreach and Overall Competition. UAH last won the Overall Competition Award in 2010.
"The greatest challenge of managing a team of 15 people has been effective communication," said Patel, who is responsible for the performance of entire team. "Team members must keep in constant contact about any design changes, so that we make efficient use of time, to meet the demanding NASA competition schedule. Any delays and we could miss deadlines."
"The most stressful part of my position has been launch days, as the team has typically been very rushed for time while trying to make sure that all the parts come together for a safe and successful flight," said Paaymans, who ensures the team complies with agency and governmental safety regulations and creates and administers launch procedures. "From the team's perspective," he said, "the biggest challenges have been integrating all the sub-team parts, and working effectively together in a high-stress environment."
USLI introduces students to designing and integrating a complex system based on fixed customer requirements, said Dr. Lineberry. "Students get to see first-hand how a design evolves from concept to application. Students also learn what it is like to work on a multi-faceted design in which they have to rely on peers working other aspects of the design. In the end everything has to fit and perform its function, so learning the importance of communication is a key aspect of the course."
As the team's program manager, Patel is responsible for keeping development on schedule and on budget. The team markets the design and seeks funding to purchase components.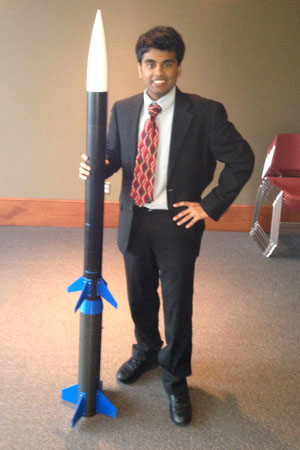 Courtesy photo
Charger Rocket Works' program manager Amit Patel with the team's rocket.
"The approach this year has been to focus on the marketing of our team as much as the engineering," Patel said. "Like any other design group, we must seek funding to build a product. Then, we must be able to demonstrate that it works while meeting the constraints of the customer. Finally, we like to keep our community updated and engaged through outreach."
Because it is a competition, the students have to find ways to make their design stand out from other entries, said Dr. Lineberry. "All of this is stuff they will experience when they get a job, so it does present a very real-world experience."
For his part, Paaymans said he's learned about leading highly motivated engineers.
"A myriad of ideas have been thrown at this project, and it was no easy task to make sure that all the parties involved were satisfied with the synthesis that is our rocket," he said. "I have also gained a direction for where I want to take my continuing education. Through this experience, and working with the PRC and its management, I have found that propulsion is where my interests lie."
---
You may also be interested in: