UAHuntsville research team leads discussion of 2011 tornado disasters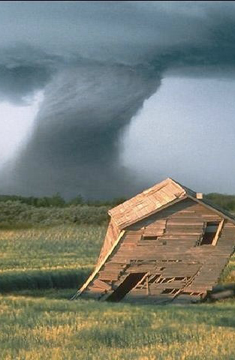 HUNTSVILLE, Ala. (February 1, 2012) -- A team of scientists and students from The University of Alabama in Huntsville participated in a special symposium on 2011's tornado disasters at the annual meeting of the American Meteorological Society last month in New Orleans.
"We looked at all aspects of the disaster itself, from the characteristics of the storms to the sociological issues," said Kevin Knupp, a UAHuntsville professor of atmospheric scientist and the symposium's organizer. The discussion before a standing-room-only crowd featured research presentations about several tornado-related storms, including the April 27 storms in the Southeast and the May 22 tornado that hit Joplin, Mo.
Analysis of the April 27 storms pinpointed several unique things about that storm system, Knupp said, including the "concentration" of tornadoes in a relatively small area.
"The number of tornadoes from that system exceeded the number from the super outbreak of 1974, but the storm covered a much smaller area," he said. "If you do the calculations of the tornado ground tracks, with what we know about their lengths and widths, you find that 1 percent of the entire state of Alabama was affected by tornadoes that day, which is well above the area damaged in other outbreaks."
While major outbreaks like those in 1932, 1974 and April 27 are rare, data about tornadoes is also so rare that it is not possible to confidently say such storms are likely to happen only three times a century, Knupp said. "It's not like predicting a 100-year flood, for instance. We don't have the tornado statistics to determine that yet."
More than a dozen UAHuntsville scientists, faculty and graduate students presented 20 papers during the AMS conference. More information is available on the conference website at http://annual.ametsoc.org/2012/
For more information,
contact Ray Garner
256.824.6397
(256.UAH.NEWS)
ray.garner@uah.edu