HUNTSVILLE, Ala. (Nov. 22, 2013) - The buzzer is about to go off, and with a Chargers' victory on the line, there's guard Josi Saunders driving toward the basket! Or is it Josi? A closer look reveals that it's actually her identical twin sister and fellow Chargers guard Dina Saunders.
That kind of confusion occurs more often than you think it would at The University of Alabama in Huntsville (UAH), whose Athletic Department is home to not one, not two, not three, but four sets of twins!
"I've never heard of anything like it. It's really a coincidence more than planning on our part," says K. Taylor Flatt, UAH's Sports Information Director. "We're just lucky to have so many great athletes, related or not."
So just who makes up this quartet of Charger twins? Let's find out…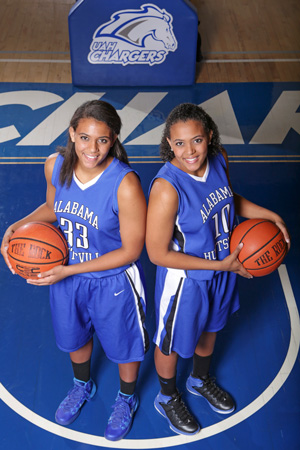 Josi and Dina Saunders
Though Josi says they stopped dressing alike when they were in the first grade, she and Dina are still closer than your average, non-identical sisters. "We're really bad about thinking the same thing and laughing the same time," says Josi. "I just say it's a twin moment!"
Originally, the Huntsville, Ala., natives planned to follow in the career footsteps of their father, an athletic trainer. But since arriving at UAH, the sophomores have followed different paths; Dina, a nursing major, hopes to become a nurse practitioner, while Josi, a foreign language and international trade major, wants to do mission work.
My mom always says God gave me a friend for life, and that's how I think of Josi. I always have a friend.
Dina Saunders
Despite not sharing classes, however, the two see plenty of each other on the basketball court - where Josi says their shared DNA occasionally comes in handy. "We know what the other one is thinking and is going to do," she says, "so it gives us an advantage because we can do something off what the other one does."
And while Dina says Josi is the better player, the two aren't really keeping score; these sisters know that there are more important things in life than winning. "My mom always says God gave me a friend for life," says Dina, "and that's how I think of Josi. I always have a friend."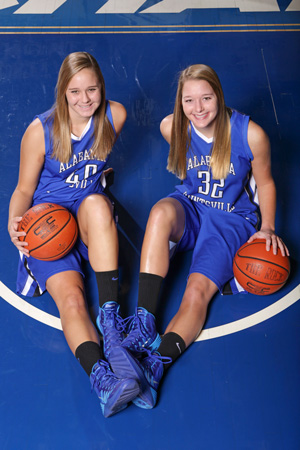 Sara and Halle Jarnagin
Like the Saunders, twins Sara and Halle Jarnagin both play basketball for UAH; Sara is a forward and Halle is a guard. But unlike the Saunders, the Jarnagins are not identical. "Most people can tell us apart," says Halle. "Though for people who don't know us, it's harder to match which name goes with which face."
Twins or not, however, the Brentwood, Tenn., natives intended to blaze their own trail when it came to choosing a college. "We both wanted to be happy and confident about where we were going, not just be with the other person," says Halle. But needless to say, she adds with a laugh, "we narrowed it down to the same school!"
And the same looks likely to happen after graduation, too. In spite of choosing different degrees - Halle is majoring in psychology with plans of becoming an occupational therapist, while biology major Sara has her sights set on medical school - the pair are both destined for a career in healthcare.
"We have an older sister with Down syndrome," says Halle, "so I wanted to do something medical and work with special needs kids." Likewise, says Sara. "I've always really liked the health field and I just really like helping people," she says, "so right now I'm thinking about being a pediatrician."
Clearly, the sophomore twins are in no hurry to part ways - or, for that matter, to make waves. When asked who is a better basketball player, the pair looks at each other and shares a smile. "We play different positions," says Halle, diplomatically.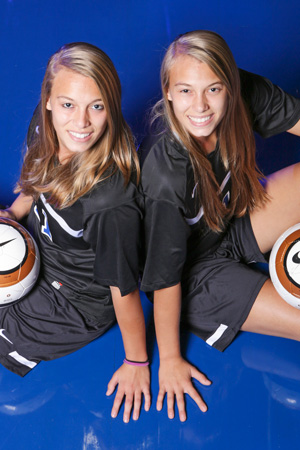 Gillian and Natalie Harding
For junior Gillian Harding, playing soccer at UAH wasn't a choice. It was her destiny. "My dad played soccer here, and my brother played here," say Gillian. "And when I was seven, I promised the coach I would come play here one day."
Fortunately for the Lady Chargers, that promise also meant one more player would be joining the team - Gillian's identical twin sister Natalie. The pair have played soccer together their "whole lives" says Natalie, which gives them an advantage on the field.
"I think it's just the fact we're around each other so much that we know exactly what's going through each other's mind," she says about making plays. And that's just as true off the field as well. The Hardings, who live together at their family home in New Hope, Ala., take the same classes for the same major and have the same career goals.
"We want to open our own horse barn," says Natalie, although Gillian confesses there was a time when she entertained the notion of playing soccer professionally. "You can dream when you're a kid to one day go pro, but it's most likely never going to happen!" she says.
And anyway, she continues, horses are her real love. So instead she'll settle for a game of pick-up between buying, selling, and riding. And you can be sure Natalie will still be right there on the field beside her. After all, says Gillian, "we've always been together. She's my best friend."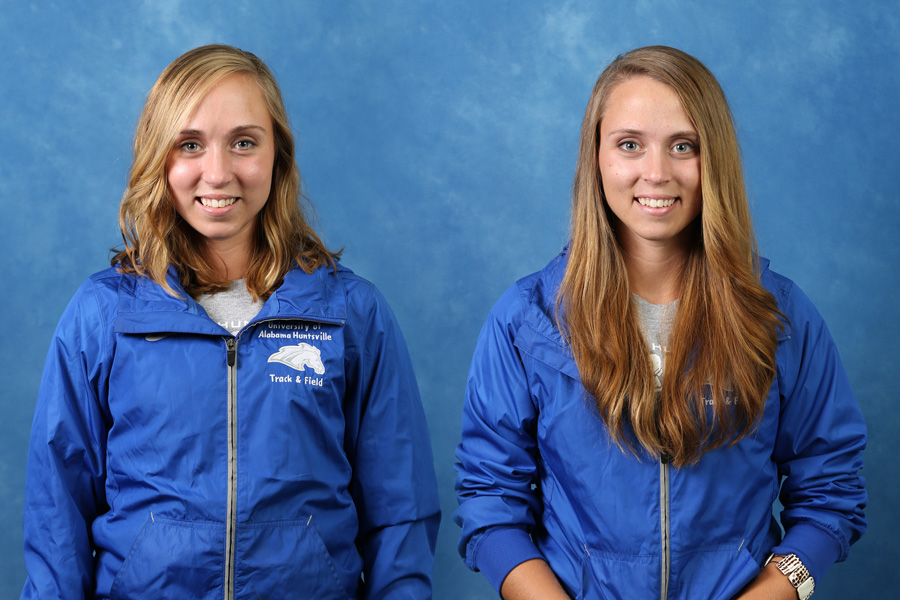 Amber and Heather Powell
UAH seniors - and cross-country runners - Amber and Heather Powell don't know if they're identical or fraternal twins. "My sister and I have never been officially tested to see if we are identical or not," says Heather, "but we seem to be mirror images of each other."
That means that while Amber is left-handed, Heather is right-handed. And while Amber parts her hair on the left side, Heather parts hers on the right. They even have the same moles but on opposite sides.
And then there are the similarities that transcend the physical world. "We have had the same dream on the same night, but from different perspectives," says Amber. "It was the same series of events, but in my dream I saw Heather above me, while in Heather's dream she saw me below her."
As extraordinary as this sixth sense may seem to the average non-twin, however, it's nothing out of the ordinary for the Daphne, Ala., natives. "I honestly feel that any two people who are together as much as twins are together have some form of it," says Heather.
In fact, like their fellow twins, the Powells say that life without their other half is inconceivable. "We don't know what its like not being a twin, so it is just normal for us!" says Amber. Adds Heather, "It's like always having at least one friend who is always there for you."
And while that's something unique to twins, with three other sets wearing the Charger blue and white these days, it's certainly not unique to UAH's Athletic Department!
---
You may also be interested in: