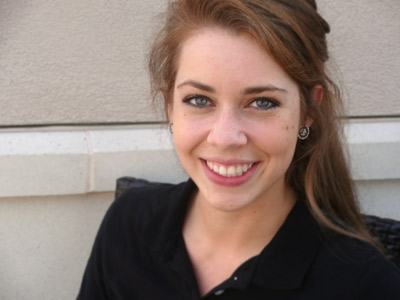 HUNTSVILLE, Ala. (Oct. 15, 2013) - It's a tough economy these days, and finding a good job after graduation is a challenge for most. Fortunately for Chelsea Lavish, however, she got a very early start.
Back in 2008, the Madison, Ala., native was balancing her final year at Bob Jones High School with a part-time job teaching dance. It just so happened that the mother of one of her students was an engineering director at the U.S. Army Aviation and Missile Research Development and Engineering Center (AMRDEC).
"She recommended I try their summer hiring program after graduation," says Lavish. It was perfect timing. Despite her love of dance and her dream of one day being a ballerina, she was contemplating a more practical career in engineering and had already been accepted by the University of Alabama in Huntsville (UAH).
So Lavish applied, and was accepted, to the AMRDEC's program as a summer hire for their Prototype Integration Facility (PIF). And while she says the work was mostly administrative, "it was great for me to be in the environment and learn the lingo, because that was very foreign to me!"
It also confirmed her decision to pursue engineering. Come the fall, she stuck with her original declaration as an industrial and systems engineering (ISE) major and joined UAH's College of Engineering. And by the time her first year drew to a close, she'd already decided to return to the PIF as a summer hire.
This time, however, she pushed for more responsibility. "My second year I asked if I could do something more related to my degree," says Lavish. He request was granted and she ended up helping a co-op student with a lean thinking project, which in turn caught the eye of management.
"They saw that I was interested in working on process improvement projects, and they could see how I could help out using my education," she says. So the following year, when they offered her a co-op position working with the PIF's program management team, she readily accepted.
I know the only reason I got the position I did was because I did the co-op.
Chelsea Lavish
UAH alumna
"The more I worked at the PIF as a co-op student, the more interested I became in finishing my degree and working full time," says Lavish. To do that, she alternated semesters, taking classes in the evening during her work semesters so that she could complete her degree in five years.
"A lot of higher-level engineering classes are in the evening, and I believe they do that on purpose because there are so many people who work, but it was hard!" she says. "If I had gone anywhere other than UAH, which is just so close to AMRDEC, I wouldn't have been able to do it."
But the hard work paid off - literally. "I am the first of four kids, so my parents were definitely glad to have most of my schooling paid for," she says with a laugh. And it led to Lavish being hired on at the PIF full time once she graduated this past May.
"I have a lot of friends who struggled to get a job right after graduation, especially if they didn't have an internship or some kind of work experience on their resume," she says. "I know the only reason I was hired as a full time engineer was because of the experience I had gained in the co-op program."
Lavish now works as a government project lead at the PIF, with responsibilities much greater than when she first came on board as a newly minted high school graduate. But she hasn't forgotten what those days were like, or how thankful she was to be involved in more than just day-to-day operations as a summer hire.
"This past year we had a few summer hires and I pulled one aside to help me review my project budget," she says. "I think she enjoyed that." And Lavish, in turn, is enjoying the opportunity she has to hone not just her engineering skills but also her people skills.
"A lot of people go into engineering thinking that all they're going to do is sit at a desk and design, and some people may," she says. "But I'm finding that it's important for you to have those communication skills. At least in my position it's extremely important! Most of what I do is related to managing communications with people which helps pull everything together to complete the project."
Fortunately that's something the ISE curriculum at UAH prepared her for. "In every ISE class I had, there was a project that we usually had to work on with a group of people and together we would write about the subject and then present it," says Lavish. "This forced us to work at getting our point across, communicating the information to the teacher, and doing this all while working in groups.
Then there is the Lean Six Sigma training she received while an undergraduate. "With Lean Thinking training, I get to be involved in continuous improvement projects for PIF's standard operations. I enjoy these projects because it makes me feel as if my opinion matters to management," she says. "The PIF is a high variety, low volume manufacturing environment, which sometimes I find challenging to apply Lean Thinking concepts."
And when she needs help? Lavish says she still leans on some of her former UAH professors to this day. "I'll email Nic Loyd every once in a while – he taught me a lot of the lean thinking concepts so I'll ask him for advice!"
She has also consulted him about perhaps returning to school and earning a master's degree. "The most powerful combination is a technical degree and business degree, so I've thought about going back to UAH and getting an MBA," she says.
But for a young lady who's already been working for the past five years while getting her degree, Lavish is in no rush to decide. "Since graduation, I feel like I've been taking a break," she says with a laugh.
---
You may also be interested in: