UAHuntsville student Jeremy Raper recipient of prestigious Milken Award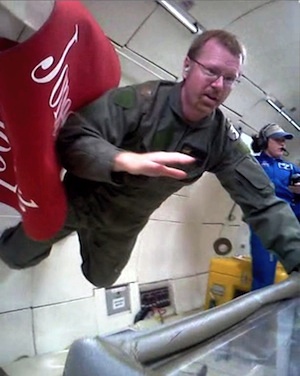 Jeremy Raper's earliest memories of what he wanted to do when he grew up centered on being an astronaut, flying, preaching or teaching. "I have not completed the first two yet, but I have had the opportunity to both preach and teach," he said.
Raper is a physics and engineering teacher and director of the Engineering for Tomorrow Academy at Bob Jones High School (BJHS) in Madison, but he is also a Ph.D. student at The University of Alabama in Huntsville. Raper was recently awarded a Milken Educator Award.
The Milken Educator awards are the nation's preeminent teacher recognition programs having honored more than 2,500 K-12 teachers, principals and specialists coast to coast with over $63 million in individual, unrestricted $25,000 awards.
Raper said his desire to teach was fueled by several committed and compassionate teachers he encountered as a student, including his third grade teacher, Mrs. Bryant, who "taught me to love learning in all aspects of life," and, Mr. Scott, a high school physics teacher who "set my major in college." Raper also considers two BJHS teachers, Mrs. Weyler and Mrs. Geveden, as mentors.
Raper has no idea how he came to the attention of the Milken Award committee, and was beyond speechless when he was honored at Bob Jones High School with the prestigious educators award.
"My understanding is no one I know can nominate me. As they said in the Milken announcement, 'you don't find us, we find you'." So, I have no idea how they found me…. I received the Air Force Association State Teacher of the Year Award last spring. In truth, I don't know, and I just cannot imagine they would pick me over all the other great teachers at Bob Jones, let alone in the entire state of Alabama," Raper said."I am the type of person who likes to fly below the radar …. trying not to stand up and be seen. The students are the real heroes, so I want to see them get the credit they deserve. For me to be called out and brought in front of everyone, that was overwhelming."
Raper was instrumental in establishing the BJHS Engineering for Tomorrow Academy five years ago. The program, he said, was a reply to an alarming set of engineering curriculum statistics.
"At that time, Bob Jones was the number one supplier of students to UAHuntsville, The University of Alabama, The University of Alabama at Birmingham, Auburn University and Calhoun. Many of those students were majoring in engineering, but less than 40 percent would actually finish with an engineering degree. This told me that there was something lacking in their education," Raper said.
"We wanted to give them as much information in high school to prepare them for college. So, I wrote the Principles of Engineering curriculum and submitted this to the Board of Education as a prospective class," he said. They (the Board of Education) agreed, and we began with 17 students learning about the basics of each major engineering field."
From there, BJHS students can take the Advanced Engineering Design class, where they learn how to use Solid Edge, Labview, and Matlab. "The course is designed to give students the soft skills that an employer would want now and years down the road," Raper said. "And lastly, the Engineering Internship class gets the students out of the building and into an engineering company. They work for free, learning how a 'real' engineer works, while providing a necessary service to the company. They are not getting coffee or making copies, they are using the skills learned in the engineering classes to do engineering work," he said.
A native of Louisville, Ky., Raper graduated from Saint Xavier High School (Louisville, Ky.). At St. X, Raper enrolled in advanced placement calculus and physics classes. He was active in the Physics Club and volunteered his time in the library during school hours. Raper graduated from the University of Louisville with a bachelor's degree in physics (minor in mathematics), and he also earned a master's degree in physics with an emphasis in astrophysics.
Raper is in the process of completing his Ph.D., in physics at UAHuntsville. He earned his teaching certificate from the university in 1998. "I had always planned on teaching on the university level, and had an opportunity to do that as a teaching assistant at both U of L and UAHuntsville," Raper said. "However, I met my wife in 1996, engaged in 1997, and married in 1998. So, I switched to high school education and took a job at BJHS in 1998. Without UAHuntsville's fifth year program, I would not have been able to continue with my teaching goals."
Given the opportunity to change one thing about teaching regionally and nationally, Raper would establish project-based learning classes.
"You teach a topic briefly, then have the students work in groups to complete a project to learn more about that topic. This reduces the amount of time they are sitting and "listening", and increases their time getting up and actually doing something," he noted.
"All of the learning journals seem to point to this … that the best retention happens when students are doing hands on projects and not listening. So, I think if all classes could move from lecture to projects, from sitting to moving, from one big class to small groups in a class, then education and learning will take place at a much better rate," Raper said.
"To cement their future in success, students need classes that are relevant. It is not easy, and I am not saying I have cornered the market on it, but I think relevance from the educational world and the "real" or industrial world is vital for success," Raper said.
For more information
Joyce Anderson-Maples,
(256) 824-2101
maplesj@uah.edu