UAHuntsville's Jatinder Gupta delivers annual C.K. Prahalad Memorial Lecture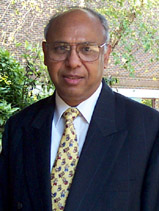 Jatinder Gupta, eminent scholar in Management of Technology and professor of Information Systems at The University of Alabama in Huntsville recently presented the second annual C. K. Prahalad Memorial Lecture in Gwalior, India. The lecture is an annual event designed to honor the outstanding contributions of Prahalad, a distinguished world leader in strategy and business management.
Prahalad, popularly known as the "Management Guru," died in April 2010, after a brief illness. He was the Paul and Ruth McCracken Distinguished University Professor of Corporate Strategy at The University of Michigan's Stephen M. Ross School of Business. He was widely recognized for his business concepts, the Core competenc, and BoP, Bottom of the Pyramid. Internationally, he was considered on of the top 10 management thinkers for more than a decade.
Dr. Jatinder (Jeet) N. D. Gupta has published about 200 research and technical papers in such journals asOperations Research, Journal of Management Information Systems, Annals of Operations Research, International Journal of Information Management, and Mathematics of Operations Research. He has received several awards for his research work including the P-W Industries Award for Best Application Paper. He was inducted as Fellow of the Decision Sciences Institute, highest honor bestowed in that profession. Co-author of a textbook in Operations Research, he has co-edited a book on Neural Networks in Business and has co-authored several chapters in E-commerce, learning organizations, and knowledge management.
His most recent colloquium on Collaborative Logistics in E-Commerce and Global Business won him acclaim in Spain and was covered by several newspaper articles.
For more information,
contact Joyce Anderson-Maples
256.824.2101
maplesj@uah.edu