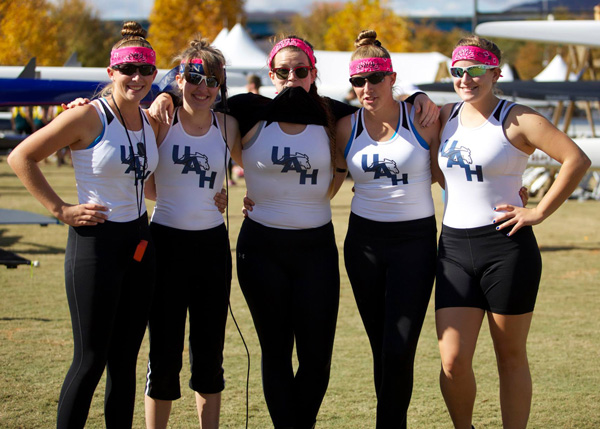 HUNTSVILLE, Ala. (April 16, 2014) - Neither Logan McEwen nor Rachel Gregory gave much thought to rowing before attending The University of Alabama in Huntsville (UAH). But today that disinterest is a thing of the past. Now the two share an unbridled love of the sport, serving as president and treasurer, respectively, of the UAH Rowing Club.
McEwen, a veteran of the Navy and a Fort Payne, Ala., native, had always had an athletic bent. "I played football in middle school and then I was a cyclist," he says. So for him, rowing was a natural progression. "I saw ads when I came to UAH, and I tried it out and loved it."
For Gregory, meanwhile, the motivation was more social. "I worked with a girl who was a member of the Rocket City Rowing Club and she was telling me about it," she says. "I thought that it would be a great way to meet people and get fit at the same time."
Little did she know! "It turned out to be a lot more technique involved than what is apparent when you watch rowing as a sport," she says, recalling her introduction to rowing with a laugh. "It's a full-body workout - you're using your legs, torso, arms. It takes so much working out."
McEwen agrees. "A good crew will make rowing look easy," he says, "but it's so far from the truth. We're participating in one of the most difficult sports there is. It's so physically demanding."
And then there is the adrenaline of an actual regatta. "It looks smooth on the outside but inside is total chaos with water flying all over the place and you're pushing as hard and as fast as you can," says McEwen of what it feels like to race. "It's like getting stabbed and set on fire at the same time."
That feeling is slightly different but just as electric for Gregory, who transitioned to being a coxswain following a back injury. Her goal is two-fold: to guide her rowers to victory and to keep them focused on their task. "I tell the rowers, Don't look at the other boats! Focus on your technique! Keep rowing!" she says.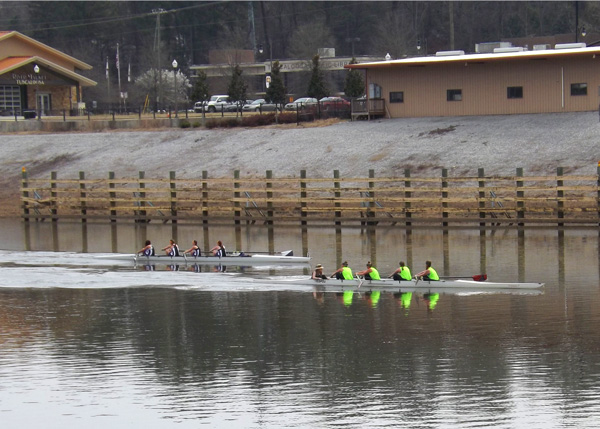 One thing she never resorts to? Lying. "I won't say we're ahead when we're behind, because I'll lose their trust," she says. Without that, she wouldn't be able to help them "push past the pain to give a little bit left in the tank that makes the difference between winning and losing."
Something else that can make the difference is equipment, but unfortunately the UAH team is sorely lacking in this area. They have only five boats, most purchased back in the mid-1960s when rowing was a Division I sport at UAH. And that's hardly enough to ensure their 20+ members can get on the water at any given time.
"We would love to have the whole crew go and race in every regatta, but we don't have the resources or equipment to do it," says McEwen. As a result, they're often forced to borrow boats from their competitors, and even then, there's no guarantee they're the right boats.
Take the recent Row Tide Regatta, which was held last month on the Black Warrior River. UAH's women's four team should have been racing in a lightweight boat, but instead had to borrow a heavyweight boat. "We weren't heavy enough to sink the boat so these girls basically rowed the Titanic to the finish," says Gregory, laughing.
And yet in spite of the odds they won, as did the UAH men's single, women's pair, and mixed-eight. The same thing also happened at the Head of the South Regatta. "We borrowed a boat to race a mixed-eight," says McEwen, "and we won by a tenth of a second for first."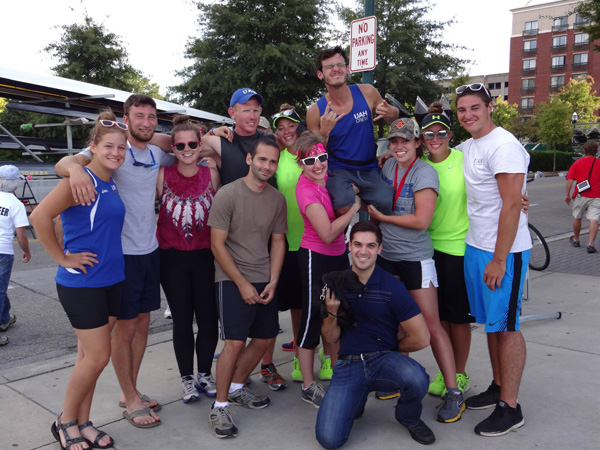 All of which leads McEwen to wonder what the team might be capable of if they had the boats they needed. "When we transition into the newer equipment, we're 20 times better," he says. The challenge, however, is raising the money needed to buy that newer equipment while at the same time balancing school, work, and extracurricular activities.
"It's either train and be really good, or raise money and be horrible," he says. "You have to practice nonstop, and so it's much harder for us to do the things we need to do to raise money. It's like a basketball team that plays in the fall and spring and then they also have to raise all the money."
Luckily, the team has a few champions it its corner. "We have a rowing 'mom and dad' who keep us fed," says Gregory. And then there's their (unpaid) team coach, Chuck Eadon, who often pays expenses out of pocket. "He just absolutely loves being out on the water and rowing and everything that has to do with it," she says.
And that's true for all of the team's members, meaning that whatever they lack in material support, they more than make up for in spirit. "No matter what, we're going to be good," says Gregory. "Yeah, we want to win, but we love hanging out and we want to have fun."
Whether or not she or McEwen will continue to row after they leave UAH remains to be seen. Now that they've discovered it, neither is likely to give it up so easily - at least not for the time being. "As long as I'm here," says McEwen, "I'll row."
---
You may also be interested in: