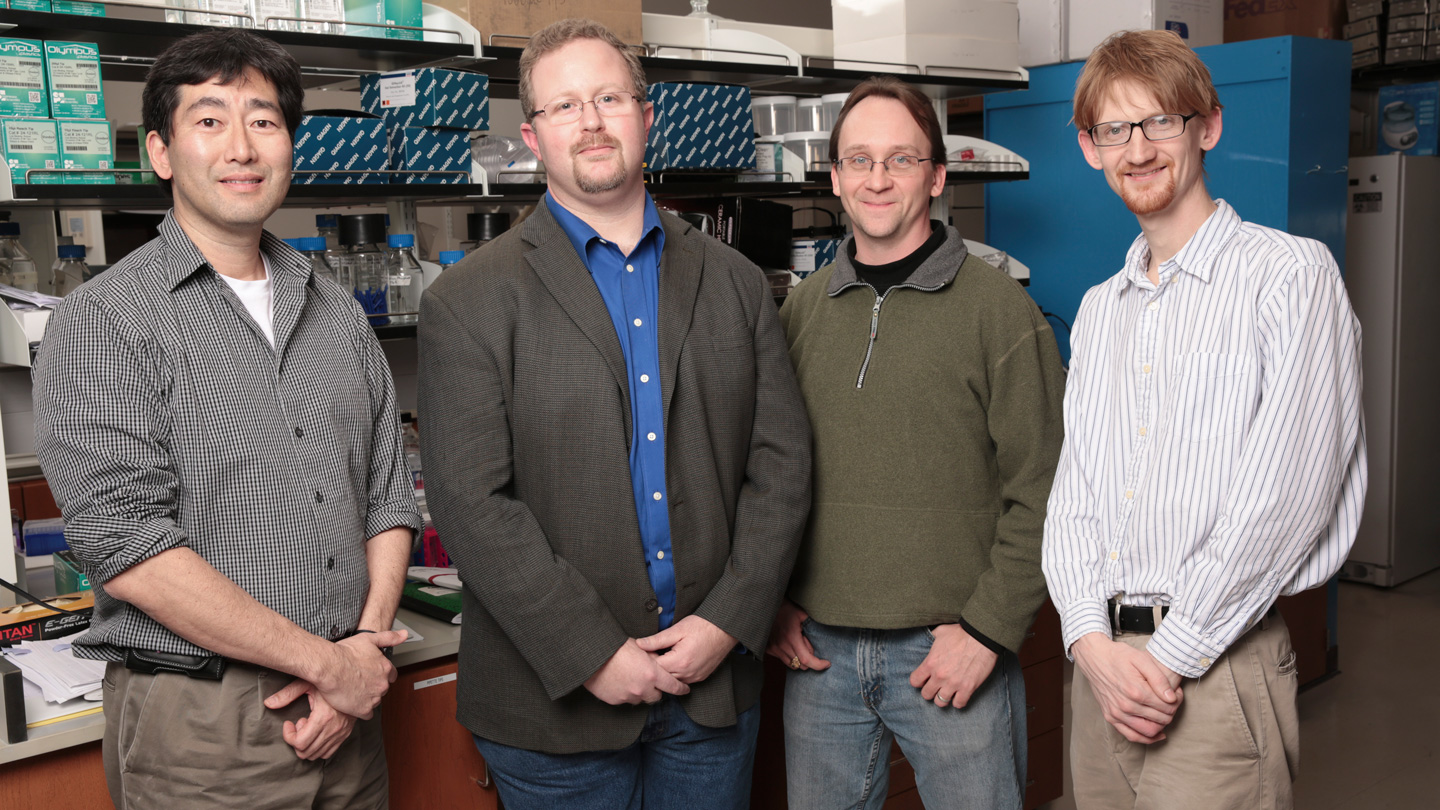 HUNTSVILLE, Ala. (April 8, 2014) - When Dr. Eric Mendenhall accepted a position as assistant professor with the Department of Biological Sciences at The University of Alabama in Huntsville (UAH) this past fall, one of the deciding factors was the university's unique relationship with the HudsonAlpha Institute for Biotechnology.
"The HudsonAlpha Institute, led by President Richard Myers, is especially prolific in their research, and future collaborations seemed like they would be easy to establish and mutually beneficial," he says. Then with a laugh he adds, "Dr. Myers really helped recruit me to come to UAH with promises of future collaborations!"
Joking aside, however, Dr. Myers has more than made good on his promise. He has partnered with Dr. Mendenhall on the ENCODE project, a large consortium effort to define the epigenome across both normal and diseased cells.
"The ENCODE project is a great consortium for a young scientist to be a part of," he says. "We are just scratching the surface in terms of describing the epigenome of over 200 human cell types, but we're interested in eventually solving diseases coming from epigenetics."
And now that Dr. Mendenhall has been appointed adjunct faculty member of the institute, the relationship between UAH and HudsonAlpha is sure to strengthen - something Jim Hudson, one of the founders of HudsonAlpha technology and a UAH alumnus, says he is "tremendously excited" about.
"Academia plays a key role in HudsonAlpha's mission to foster and contribute innovations in technology, methodology, and practices that serve to improve quality of life," he says. "Diverse backgrounds, philosophies, skills sets, and knowledge are typically foundational to positive, life-changing innovations."
HudsonAlpha is a great place for our graduates to get jobs, and we are a great place for their young scientists to take classes.
Dr. Eric Mendenhall
Assistant Professor, Department of Biological Sciences
Hudson, perhaps more than anyone, should know. While a student at UAH, he founded a genetic research company that went on to become a world leader in genetic linkage products. And today, he says, "three of the companies at the institute are also founded by UAH professors and their students."
One of those is iXpressGenes (iXG), a synthetic biology company focused on protein crystallization, specialty enzymes, and contract research associated with genetic markers. It was created in 2008 by Dr. Joseph Ng, an associate professor in the Department of Biological Sciences at UAH.
"iXG was one of the first few companies to take residence at HudsonAlpha," says Dr. Ng. But unlike many other startups, whose focus is on making money, iXG's motivation is much more altruistic. "In addition to its service component of providing synthetic tools for research and industrial applications," he says, "we are active in education, consistent with the educational mission of HudsonAlpha."
Indeed, through his affiliation with iXG and in his position as director for UAH's Biotechnology Science and Engineering doctoral program, Dr. Ng has helped more than 30 Ph.D. students graduate into the field - a feat he attributes in large part to HudsonAlpha's presence in Huntsville.
"The academic partnership between UAH and HudsonAlpha has made it possible to engage UAH students in state-of-the art human genetic research and to recruit highly qualified students nationally and internationally," he says. "Graduates of the program are now part of the workforce in Alabama doing research, development, and education."
And that doesn't even take into account the academic researchers who the partnership has also lured to the city over the years; Dr. Mendenhall, after all, isn't the only one to be enticed by the university's proximity to such a unique and fertile resource. So too was his colleague, Dr. Luciano Matzkin.
Dr. Matzkin, an evolutionary biologist, studies the genomics of how new species arise by focusing on the fruit flies that live on cacti in the deserts of the American Southwest. And like Dr. Mendenhall, not only is he an assistant professor in the Department of Biological Sciences at UAH, but he too was appointed an adjunct faculty member of the institute.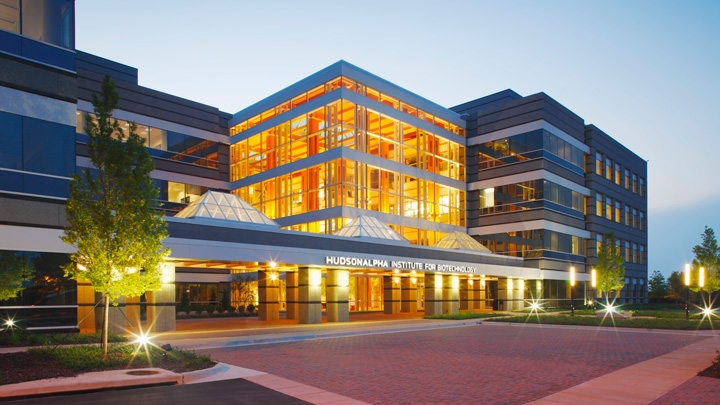 "One of the most attractive features of UAH is its close relationship with HudsonAlpha and its outstanding group of faculty investigators," says Dr. Matzkin, who adds that "having the latest genomic tools of the trade down the road at HudsonAlpha is an incredible advantage!"
In fact, he says he's been able to significantly further his research on fruit flies with help from Dr. Shawn Levy, director of the institute's Genomic Services Lab. "I have sequenced at HudsonAlpha three complete genomes from different cactus host populations of Drosophila mojavensis as well as two additional species of cactophilic Drosophila," he says.
Furthermore, he continues, "the analysis of these new genomes allow us to examine how genomes are shaped by ecological adaptation, which helps us understand the process of adaptation and speciation in other species including our own."
The same is also true of Dr. Leland Cseke, a plant molecular biologist and assistant professor in the Department of Biological Sciences at UAH. His collaboration with HudsonAlpha researcher and iCubate founder Dr. Jian Han has led to exciting advances in the DNA testing of invasive plant species, specifically, cogongrass.
"Our collaborations with HudsonAlpha started with finding ways to identify invasive plants that are near impossible to identify by morphology alone," says Dr. Cseke. "But now our USDA-funded projects have expanded to include other problematic or prohibited plants and nematodes, including those that cause problems at the U.S. ports."
Ultimately, he hopes these efforts will lead to the establishment of equipment at each USDA port as a mean to quickly screen for and identify such problematic species. And if successful, he says, "such port facilities will go a long way toward protecting the country from destructive organisms that continually arrive in the U.S. as part of growing global trade."
Dr. Cseke's progress, and that of all the collaborative efforts that have sprung up, is all the more impressive when you consider that HudsonAlpha has only been in existence for six short years. But there's no doubt that the relationship between UAH and the institute will grow and deepen as time goes by.
"Already the two organizations combine resources to offer UAH students a bioinformatics course," says Hudson. "And the university and institute are working together to develop a new curriculum for UAH's Biotechnology doctoral program."
Not to mention, he continues, the job opportunities that HudsonAlpha offers UAH students, both during and after college. "Graduate student research projects, internships, and varying levels of employment provide relevant, practical experience enabling the emerging workforce to more quickly contribute toward scientific advances," he says.
That's something Dr. Mendenhall himself fully supports, particularly now that he is in the process of setting up his own research lab at UAH. "The students will get a realistic view of what science research is," he says, "which will benefit them going forward in their careers."
And if those careers happen to be at nearby HudsonAlpha, all the better! "HudsonAlpha is a great place for our graduates to get jobs, and we are a great place for their young scientists to take classes," he says. "So hopefully there will be a revolving door of scientists and science between us both!"
---
You may also be interested in: