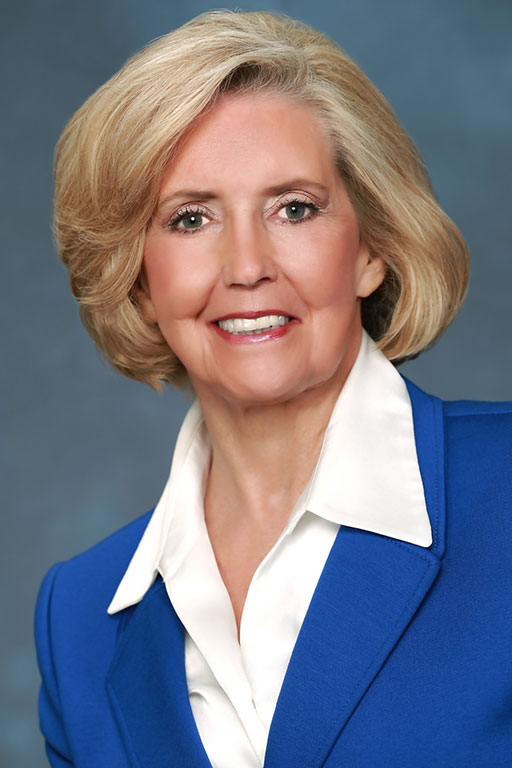 HUNTSVILLE, Ala. (March 5, 2014) — Lilly Ledbetter's crusade for equal pay didn't start out as a public or political fight: it was strictly personal. But that soon changed after Ledbetter's legal battle for pay equity against a national tire company was eventually reviewed by the U.S. Supreme Court and overturned on a technicality. That's when the Alabama native began her real battle to end pay discrimination. Ledbetter didn't stop until the legislation that bears her name, "The Lilly Ledbetter Fair Pay Restoration Act of 2009," was signed into law by President Barack Obama — his first piece of legislation after taking office.
Ledbetter will give the keynote address at the Alabama Women Student Leaders Conference (ALA-WSL pronounced "ala-whistle") at The University of Alabama in Huntsville (UAH) on Friday, April 4, at 5 p.m. The conference is organized by the American Association of University Women (AAUW-Huntsville Branch), and is sponsored by the UAH Office of Diversity and the Women's Studies Program. Additional sponsors for Ledbetter's appearance include the UAH College of Business Administration, College of Engineering, and the Women's Economic Development Council.
ALA-WSL is a one-day leadership conference from 9 a.m., to 6 p.m., in the Wilson Hall Theater, and is open to all students attending Alabama colleges and universities. Participants will benefit from a complimentary lunch, professional workshops on leadership skills, resume writing, diversity, mind-mapping, multi-generational dynamics, and stress management. Kate Farrar, vice president of National AAUW's Campus Leadership Programs, will give a presentation on AAUW programs for students. The conference is free, but attendees must register by Friday, March 21, due to limited seating. Participants may register to attend for all or part of the day. Please visit huntsville-al.aauw.net/ala-wsl to register and confirm attendance. You can also direct inquiries to Dr. Molly Johnson, Director of Women's Studies and UAH's representative to AAUW, at 256.824.6190.
Ledbetter of Jacksonville, Ala., worked at Goodyear Tire and Rubber for nearly 20 years before she discovered she was paid much less than her male counterparts. She sued the company and in a lower court ruling Goodyear was initially ordered to pay Ledbetter $3.3 million. That amount was later reduced to $300,000.
Goodyear appealed to the U.S. Supreme Court who overturned the lower court's decision, ruling that according to the law Ledbetter was not entitled to compensation because she filed her claim more than 180 days after receiving her first discriminatory paycheck.
The old law was overturned by new federal legislation bearing Ledbetter's name. The law now provides that the 180-day statute of limitations resets with each discriminatory paycheck. The law ensures that workers discriminated against on the basis of gender and race have a fair chance to sue their employers.
January 29, marked the fifth year since President Obama signed the Lilly Ledbetter Fair Pay Restoration Act. In a recent interview, Ledbetter said that AAUW has been a driving force in helping her achieve her work, including advocating for the Lilly Ledbetter Fair Pay Restoration Act.
She is the recipient of an Honorary Doctor of Law Degree from the City University of New York School of Law, and was inducted into the National Women's Hall of Fame. In 2012, Ledbetter was a convention speaker at the Democratic National Convention in Charlotte, N.C. She is a distinguished guest speaker at colleges and universities around the country. Ledbetter has made frequent appearances on the Rachel Maddow Show, Hardball with Chris Matthews, CBS Morning Show, The Last Word with Lawrence O'Donnell, Ed Schultz Show, The Colbert Report with Stephen Colbert, and PoliticsNation with Al Sharpton.
A national champion in ballroom dancing, Ledbetter waltzed with President Obama at The Inaugural Ball in 2009. Her life story, based on the book Grace and Grit: How I Won My Fight at Goodyear and Beyond, has been turned into a screen play and is currently being made into a movie, The Good Years by Rachel Feldman.
For more information, contact:
Joyce Anderson-Maples
256.824.2101
maplesj@uah.edu

OR

Dr. Molly Wilkinson Johnson
Director, Women's Studies Program
johnsonmw@uah.edu
---
You may also be interested in: