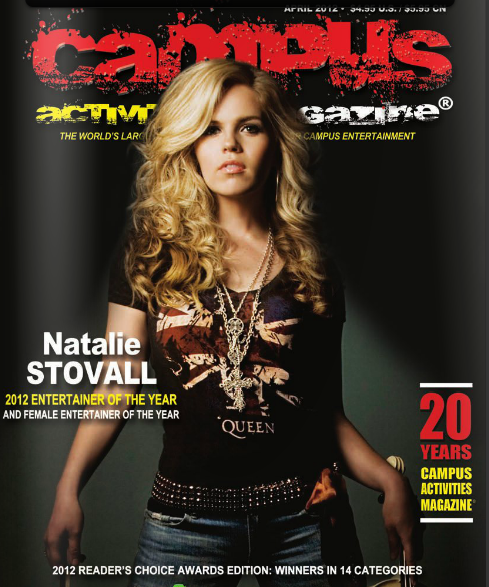 HUNTSVILLE, Ala. (Jan. 3, 2014) - Natalie Stovall (and The Drive), Campus Activities Magazine® 2012 entertainer of the year will perform on the campus of The University of Alabama in Huntsville (UAH) on Wednesday, Jan. 15.
The performance will begin at 9 p.m., in the University Center Exhibit Hall. Stovall's visit is sponsored by the university's Association for Campus Entertainment (ACE). The concert is free for UAH students with a Charger Card. General admission tickets are $5 each. There will be no reserved seating.
Stovall, a Nashville native has been singing and playing the fiddle since she was 10 years-old. Her high-energy, take-no-prisoners live performances and relentless, barnstorming global tours have earned her the attention she deserves from those who matter the most to her - the fans. After only a few short years in the college campus market, Stovall was named Entertainer of the Year by the voters of Campus Activities Magazine®.
Blending her country/roots background with a strong rock sensibility, Stovall's fiddle-shredding shows are bred for wide audiences, and this year that mainstream popularity is paying off in a big way.
She has performed everywhere from the White House to the Oprah Winfrey Show. Stovall's musical influences might span from the high-energy shows of Shania Twain and Garth Brooks to legends like Michael Jackson and Aerosmith, but she is a country girl at heart.
Stovall and The Drive have performed together for more than seven years. The group includes James Bavendam from Seattle on drums; Miguel Cancino from Chile on guitar; Zach Morse from Cheyenne, Wyo., on bass and vocals; and Joel Dormer from Redding, Calif., on guitar and vocals.
To view one of Natalie Stovall's high-energy performances, please visit: http://www.youtube.com/nataliestovall.
For more information, contact:
Joyce Anderson-Maples
256.824.2101
maplesj@uah.edu
---
You may also be interested in: