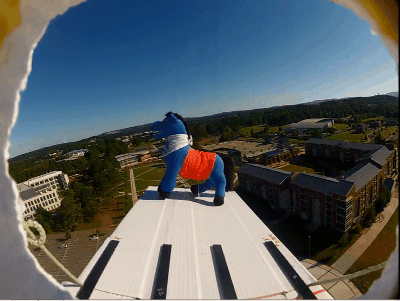 HUNTSVILLE, Ala. (September 19, 2013) - Last weekend, Charger Blue packed his bags - and his Charger spirit - and headed up to near-space, courtesy of the Space Hardware Club at The University of Alabama in Huntsville (UAH).
"Charger Blue went up on BalloonSat 28," says Markus Murdy, vice president of the club and a junior in aerospace engineering. "He flew with the club's radio and GPS tracking payload and an infrared research payload under a 1600 g latex balloon filled with helium."
The balloon, which was launched Sept. 14 from the UAH greenway, reached a maximum altitude of 99,741 feet according to APRS HAM radio trackers. It was later recovered off Highway 1289 near Cullman, Ala.
"This mission was a good chance for new club members to get ballooning experience before flying their one-month projects in two weeks," says Murdy, explaining that the one month projects are designed to bring new members up to speed on the club's administrative and engineering aspects.
Fortunately, Charger Blue's incredible adventure was caught on camera, specifically by a GoPro Hero2 camera system with a Battery BacPac. Which just proves that, when it comes to school spirit, UAH is reaching new heights!
---
You may also be interested in: