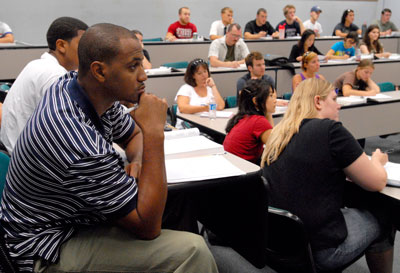 HUNTSVILLE, Ala. (Sept. 13, 2013) - The University of Alabama in Huntsville (UAH) has established an Honors College to promote an enriched academic environment for all students that demonstrate high ability, and who are motivated to take advantage of educational, intellectual, and research opportunities and challenges.
The college received approval today by the University of Alabama Board of Trustees. The board members also gave their approval to creating a Department of Space Science, as well as approval of a lease with Rise School of Huntsville.
UAH currently offers an honors program, and the tremendous growth of interest among the university's students and faculty in recent years is leading the administration to elevate the program to a higher level.
"During the past decade, our honors program demonstrated steady enrollment growth, excellent retention and graduation rates, and increasing levels of involvement by faculty across disciplines," said UAH President Robert Altenkirch. "Many of our benchmark and sister institutions have developed Honors Colleges to increase their ability to recruit and retain high-ability students and to highlight the importance they place on offering an enriched honors curriculum."
The establishment of the Honors College will provide a competitive advantage as UAH recruits academically high-achieving students. Altenkirch said the "college" designation would make it clear the importance UAH places on honors-sponsored opportunities for prospective students. Other benefits include the encouragement of donor support and to extend these learning experiences to more students on campus.
The creation of a Department of Space Science within the College of Science is consistent with the university's strategic plan, according to President Altenkirch. That plan calls for Earth, Atmospheric, and Space Science to be an area of education and research in which UAH will continue to raise the university's national and international prominence to even higher levels as well as to advance its support of NASA's mission.
He added that a Department of Space Science will be able to focus and leverage the strong working relationship between an academic department and a related research center at the university - Center for Space Plasma & Aeronomic Research.
The trustees also gave approval for UAH to lease a parcel of campus to the Rise School of Huntsville. The school is a non-profit organization providing early childhood education services to children with developmental disabilities and children without disabilities. The school serves children from six weeks to six years old to provide a foundation for further education.
Locating this program on the UAH campus will provide unique opportunities for collaboration with the university's education department.
---
You may also be interested in: