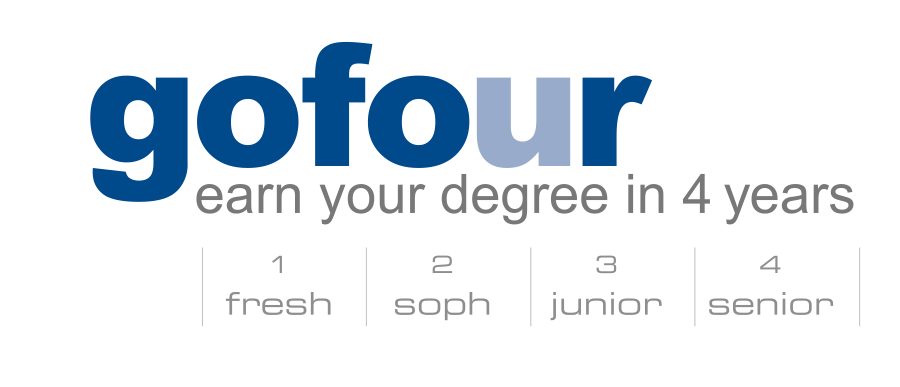 HUNTSVILLE, Ala. (August 30, 2013) - Nowadays, it seems like "education" and "debt" have become synonymous. But that doesn't have to be the case, at least not at The University of Alabama in Huntsville (UAH).
Several years ago, Dr. John Fix, Dean of UAH's College of Science, proposed introducing a program that would contain costs for entering freshmen. Implemented in 2009 and called 'Go Four,' the intent is to reduce the number of years a student spends to obtain their degree, thereby reducing the amount of tuition they pay.
"It seems to me that it's a no-brainer," says Dr. Fix. "You want to keep your college costs down? Limit the number of semesters you spend at university, that's the way you do it."
But as obvious as it sounds, the majority of UAH's undergraduate students end up staying for twelve semesters rather than the traditional eight.
"A lot of times things happen and students change majors or add minors," says Carey Snowden, the College's outreach coordinator. "And no one should graduate with a major they don't want. But if you wait until you're a junior to change, it's not going to work."
To drive home the point, Dr. Fix compares two identical in-state students: one who takes four years to graduate in the Go Four program and goes on to a job earning $47,800 a year, and one who takes six years to graduate.
"When you add it all up, including a 40% tuition scholarship and assuming a tuition increase of 4% each year, the in-state student in the Go Four program comes out ahead by about $90,000!" he says. "And that doesn't even take into account interest on student loans and other factors."
So how does Go Four work? Students must sign an agreement with the university by the end of their first semester agreeing to participate in and follow the requirements of the program. That includes registering for classes early, meeting with their advisor regularly, and not dropping a needed course, among other obligations.
In return, UAH commits to substituting a different course or independent study assignment if a needed course is unavailable or waiving the requirement to be met by the unavailable course. And if the unavailability of a course prevents graduation in four years, the university will not charge tuition or fees for the student to take the course when it is available.
Ultimately, though, it comes down to basic math. "All Go Four really requires is that the student takes 32 credit hours a year, or 16 a semester," says Dr. Fix. "And for student athletes or freshmen who are encouraged to take 12 credit hours a semester, they can catch that up in the summer."
All majors are eligible except for Education. But while Go Four is more ideally suited to those who already know as incoming first-year students what they want to major in, that doesn't make it impossible for students who may not fall into that category, such as undecided students.
"The things they have to do are what good students do anyway," says Dr. Fix. "And you don't have to be a grind to do it. They're involved in everything - SGA, athletics - very few just sit there and take classes."
The important thing is to know ahead of time the financial impact of not graduating in four years and making a decision that incorporates that knowledge. Because graduating with debt isn't the end of the world, but graduating without debt is the beginning of a bright future.
---
You may also be interested in: