Space Hardware Club balloon reaches 120,000 feet
HUNTSVILLE, Ala. (March 19, 2013) — The University of Alabama in Huntsville Space Hardware Club (SHC) recently launched a satellite balloon to the second-highest height ever achieved by the group, resulting in a long-distance retrieval trip for the payload.
The balloon – made out of latex and containing about 2,000 party balloons worth of helium – reached 120,866 feet, according to Mark Becnel, SHC ballooning lead.
"It was our 24th mission," Becnel said. "It landed in Jasper, Ga. We had some payloads that had GPS tracking hardware aboard. We actually listened to it from here at UAH in our Space Communications Lab at the Engineering Building as well as both chase vehicles. We received a GPS packet and were able to track it from all three stations."
The launch was part of a public outreach to amateur radio operators to test the tracking system. The balloon was launched from GigaParts on Paramount Drive.
"We leave at the same time the balloon leaves the ground, and we go chase it down," Becnel said "Jasper, Ga., is about 150 miles away."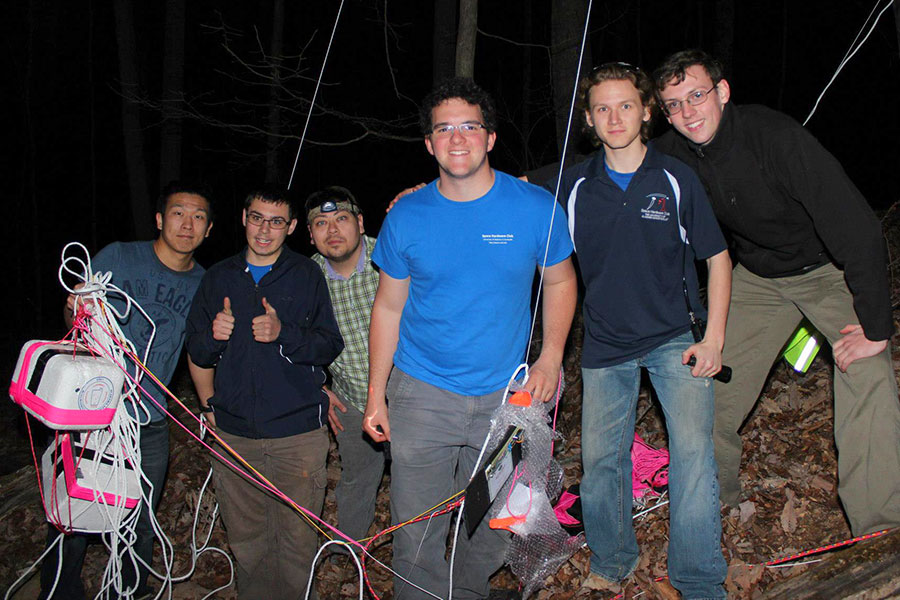 Photo by Mark Becnel / UAHuntsville
From left, the Space Hardware Club's Takahiro 'Toby' Ishitobi, Geoff Suiter, Glenn Scott Nesbitt II, Eric Becnel, Andrew Perka and Trey McFerrin with the retrieved payload.
The team located the payload lodged in a tree. "We had to launch grappling hooks into the sky to get it out of the tree," Becnel said. Using hardware they had with them, the group fashioned the hooks and used a bow and arrow to shoot a rope up to the payload. Then they towed the hooks up the rope to dislodge the payload.
"It took us forever to get it out of that tree," Becnel said, "We didn't get back until 3 in the morning."
---
You may also be interested in: