UAHuntsville celebrates Native American Heritage Month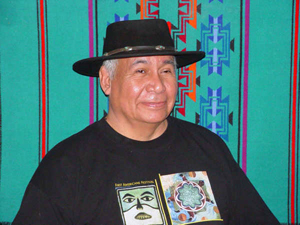 Master Storyteller Lloyd Arneach
HUNTSVILLE, Ala. (October 22, 2012) — The University of Alabama in Huntsville (UAHuntsville), will celebrate Native American Heritage Month next month with a visit from renowned historian and master storyteller, Lloyd Arneach, a member of the Eastern Band of Cherokee Indians.
The UAHuntsville Office of Multicultural Affairs sponsors his visit. Nationally, November is recognized as National Native American Heritage Month and November 23, as Native American Heritage Day. Arneach will give two public presentations on Thursday, Nov. 1 on the university's campus. Both events are free and open to the public.
Arneach will address UAHuntsville Honors students at 11:10 a.m., in the University Center Exhibit Hall. The second presentation will be at 1 p.m. He will also have a number of Native American artifacts to show and demonstrate. Stories include "How the Deer Got His Antlers," "How the Smokey Mountains Came to Be," "Billy Mills (Olympic Champion)," and "Stampede."
Arneach was born and reared on the Cherokee Reservation in Cherokee, N.C. His father was vice chief of the Eastern Band and his mother was the first woman ever elected to the Tribal Council and his grandmother was Beloved Woman of the tribe. He learned his first legends from two storytelling uncles on the reservation.
Arneach presents his stories in a style that is humorous, informative and extremely moving. Lloyd's stories range from the "old stories" of the Cherokee to contemporary stories he has collected, from creation stories to behind the scenes of blockbuster movies such as "Dances with Wolves." He tells stories of different Native Americans like Floyd Red Crow Westerman and Billy Mills, an Olympic champion. Before Arneach began a full-time career as a storyteller and historian, he was employed by AT&T (Atlanta) in the computer department.
Arneach has told stories at the Kennedy Center, National Folk life Festival (Washington, D.C.), the opening of the National Museum of the American Indian (Washington, D.C.), the Winnipeg International Storytelling Festival (Canada), festivals, schools, universities, pow-wows, theaters, and other venues throughout the United States.
He has also told stories on the Discovery Channel. His CD Can You Hear the Smoke? features stories and legends adapted by Arneach. Additional publications include The Animal's Ballgame and Long-Ago Stories of the Eastern Cherokee.
President George H.W. Bush officially proclaimed Native American Heritage Month in 1994. UAHuntsville co-sponsors for the event include the Office of Diversity and the Honors Program. For more information, please call 256.824.2332.
You may also be interested in:
For more information
Joyce Anderson-Maples (256) 824-2101
maplesj@uah.edu