APO's Reader's Theatre
What is READER'S THEATRE?
Each semester at UAHuntsville, the Xi Theta chapter of Alpha Psi Omega, the National Theatre Honor Society, produces a series of play readings of various genres as part of the Reader's Theatre program.
These dramatic readings are performed without sets, costumes, props, or script memorization. Actors are seated on stage with their scripts, but they do not simply read the text aloud. Prior to the performance, these actors rehearse to ensure that the end result is a deliberate, meaningful, and entertaining show.
COMING NEXT...
TALKING WITH . . . .

By Jane Martin
Monday, February 27th at 7:00 PM
Wilson Theatre

Synopsis: "The play is composed of eleven ten-minute monologues, each featuring a different woman who talks about her life. The play deals with the personal ordeals of each of the female characters. Many of them are very touching; a few are even intensely emotional. However, there is also the very comical. Even the funny ones, however, have an underlying depth to them that gives a sensitive insight into each of the characters involved.The ladies cover a wide spectrum of life and age from the fading rodeo star in 'Rodeo' to the young aspiring actress in 'Audition,' there is much tenderness and diversity in the subject matter involved in the play."
March 6 - Wilson Theatre
HEAR THE HYENA LAUGH

By Glyn Jones
Tuesday, March 6th at 7:00 PM
Wilson Theatre

Synopsis: "Subtitled 'A Comedy Of Manners,' the action of the play is set in the kitchen/dining area of a converted London flat during the course of a dinner party evening. The flat is owned by a married couple, Madge and Donald. In the flat below live a gay couple, Paul and Robin, and below them a single girl, Samantha. The dinner is for an American couple, Dean and Tiffany, who Madge and Donald met on holiday and Donald is terrified that Paul and Robin will put in an appearance and spoil the evening. Paul and Robin do just that but it is not they who spoil the evening. Oh, no! Surprises for everyone seem to be the order of the evening."
Why Play Readings?
In the professional theatre industry, play readings are common and serve many purposes. They are perhaps most useful in regard to new plays, which are often tested through play readings before being published. This allows the playwright to determine how an audience will respond to his or her script. Based on this feedback, the author knows which revisions to make prior to publishing.
Play readings are also a great way to experience plays which many might never have the chance to experience otherwise. Most importantly, the Reader's Theatre program serves as an opportunity to become involved with theatre for the first time.
Past APO Projects
The Crucible
by Arthur Miller
Wednesday, October 5 at 7:30 PM
Wilson Theatre
Cast:
Reggie Allen, Chad Burkhardt, Marylyn Coffey, Joshua Darner,
James Desta, Shereaka Garrett, Mandy Hughes, Melissa Jones, Casey
Kalber, Andy Lai, Richard McDaniel, Sara McMahan, Noelle Morin, Jodie
Pearson, Adam Perry, Spencer Portis, Charlie Rogers, Rachel Sanders,
Marilyn West, Nick Wilbourn, Jasmine Young
Synopsis:
"A study in the hysteria which led to the 1692 Salem witch trials, The Crucible concentrates on the fate of the key figures caught up in the persecution. The play was written in 1953 as a parable for the events of the communist fearing McCarthy era in the USA, when anyone suspected of left wing views was arraigned for 'un-American' activities."
Killer Joe
by Tracy Letts
Wednesday, September 21 at 7:30 PM
Wilson Theatre
Cast:
Chad Burkhardt, Scarlett Chandler, Jennifer Dunivant, Zachary Ivey, Richard McDaniel
Synopsis:
"Killer Joe is hired by the greedy Smith family, a dim witted clan wanting to do away with mother to get her insurance money. Killer Joe decides to bed the Smith daughter as a retainer against his final payoff. Before it's over, nearly everyone is bloodied."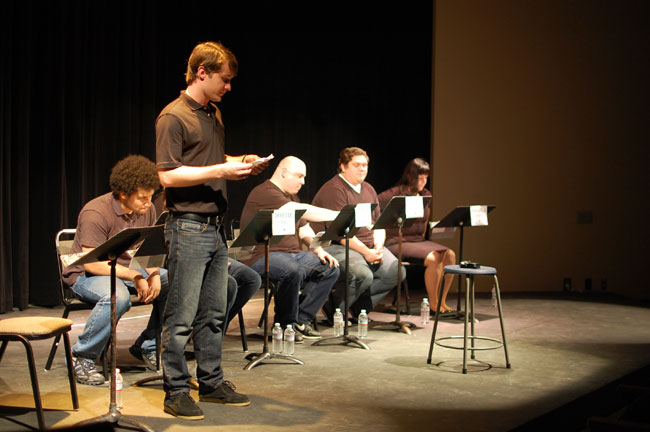 get ready for . . . .
IMPROV NIGHT 2012 and much more!!
APO is happy to announce the return of Improv Night to UAHuntsville! We will need performers and volunteers to help host this event. Additional details will be provided as they become available. Stay tuned!