Mathematical Science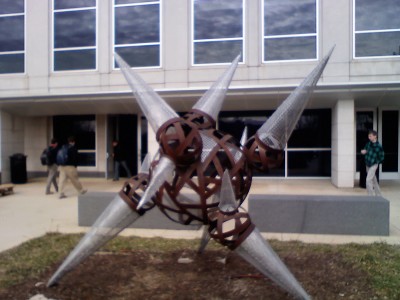 The Department of Mathematical Sciences at the University of Alabama in Huntsville is dedicated to education, scholarship and service in the mathematical sciences. We offer programs of study leading to bachelors and masters degrees in mathematics and to the doctor of philosophy degree in applied mathematics.
Mathematics ... is indispensable as an intellectual technique. In many subjects, to think at all is to think like a mathematician.--Robert M. Hutchins, The Learning Society
Mathematical Sciences (MA) Catalog Materials
UAH is recognized as one of the most affordable mathematics colleges in the country! Check out how we
ranked
!
UNIVERSITY OF ALABAMA IN HUNTSVILLE
Mathematical Sciences Colloquium
Dr. Gregory S. Reed
Modeling and Simulation
University of Alabama in Huntsville
"A Quantitative Model of Relative Ethical Violation for Use in Military Decision-Making"
DATE: Friday, March 7, 2014
TIME: 3:00 p.m. - 4:00 p. m.
PLACE: Shelby Center Room 218
As the embodiment of rational cause-and-effect, game and decision theory dominated the second half of the 20th century and continue to flourish today. Machine ethics, a very nascent field, involves developing machines (either as tangible hardware or as mathematical or logical models) with ethics codified as principles and procedures, in turn allowing them to consider

moral

"cause-and-effect" of potential actions.
A model known as the Metric of Evil (the "Metric") was first conceived by a branch of the United States Army, primarily intended for use by the Army itself. The Metric was inspired by a perceived gap in military course of action analysis: ethical dilemmas arising from the shift from conventional soldier-to-soldier combat to modern asymmetrical warfare. The Metric compared and suggested courses of action by incorporating their tangible, concrete, direct consequences---such as the expected number of international treaties broken, facilities destroyed, and combatant and civilian casualties expected to be caused by each action.
The Army consulted a team of researchers at the University of Alabama in Huntsville, led by the author of this dissertation, to refine the Metric so that it would simulate the "behavior" of ethics and military experts in evaluating courses of action. The Metric's evaluation was reduced to a single consequence---whether or not civilian casualties were involved. Using this single consequence, the Metric was able to match expert assessments. Thus, results were excellent "on paper"; however, intuition indicated that this did not meaningfully capture how ethical assessments are made.
This research involves the development of an alternate approach---the Relative Ethical Violation (REV) model. This model evaluates potential actions based upon the principles they may violate rather than the tangible consequences that they may cause. In developing the model, the author first conducted an extended review of the literature, which provided insight on ethics and psychological factors, model design and validation, and solicitation of information via survey. Then, he carefully chose a potentially meaningful set of ethical principles as input to the model. Finally, he designed and implemented the REV, the survey process through which expert assessments would be collected, and the process of validating and calibrating both the REV and the Metric so that both approaches could be compared.
Ultimately, this research found that human raters, including experts, disagreed greatly amongst themselves, which complicated the process of calibrating the model. However, amid this disagreement emerged several meaningful results. First, the REV outperformed a re-calibrated Metric, the Metric outperformed experts, experts outperformed non-experts, and non-experts outperformed simple random selection of actions. Second, human raters tended to value some principles over others; that is, no given ethical principle---even "civilian non-maleficence"---completely overshadowed the others. Third, there was a clear difference between how military experts, humanities experts, and non-experts assessed ethical dilemmas and valued certain principles. Collectively, these results indicate that the principles-based approach behind the REV can provide a clearer ethical picture than can a checklist of tangible consequences and that such an approach can provide ethical support for decision-making, and that aspects of this research can contribute to machine ethics, decision analysis, and modeling and simulation.
Refreshments will be served at 2:30 p.m

.
Mathematicians calculate that there are 177,147 ways to knot a tie
A small team of mathematicians, led by Mikael Vejdemo-Johansson of the of the KTH Royal Institute of Technology in Stockholm, has uploaded a paper to the preprint server arXiv describing a mathematical process they used to determine that the number of ways to tie a tie is 177,147—far more than previous research has suggested. Most men don't consider more than one, two or maybe three ways to tie their tie, if they tie one at all—but the fact is, there are far more ways to do it than most would ever imagine and because of that mathematicians have at times set themselves the task of trying to discern if the number is finite, and if so, what that number might be.
Back in 1999, a pair of researches (Yong Mao and Thomas Fink) with the University of Cambridge came up with a mathematical language to describe all the actions that can be performed in tying a tie and used it to calculate that the total number of possible outcomes was a very reasonable 85. In this new effort the researchers say that number is far too small because it leaves out some good possibilities. They've extended the mathematical language and have used it to create a new upper limit—177,147.
Vejdemo-Johansson apparently came to believe that the number produced by Mao and Fink was too small after noting the unique tie knot in the movie "The Matrix Reloaded"—a knot that didn't appear in the researchers list, which meant something wasn't quite right. In reexamining the criteria that Mao and Fink used for inclusion, they noted the pair restricted the number of tucks that would occur at the end of the tie tying, to just one. The pair, it was noted, also assumed that any knot created would naturally be covered in part by a flat section of fabric. Also, they restricted the number of windings that could be made to just eight, believing any more than that would cause the tie to become too short.

Vejdemo-Johansson adjusted the parameters and added nomenclature for describing tie movements and after putting it all together, used their new math language to calculate the new total number of possible tie knots—though, it might not be the last word—some of their parameter assignments, such as setting the maximum winds at 11, for example, could perhaps be adjusted for longer ties, or those made of much thinner material.

On-Line Math Placement Testing Coming Soon!!!!
UAH Math Club News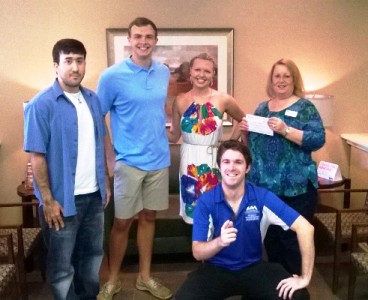 We would like to thank the 2012-2013 Math Club Officers (Courtney Wood, Colm Kane, Andrea Winchester, and Tim Entz) for their fund raising efforts this past school year. The Math Club raised enough money last year to support a child this year for the Secret Meals For Hungry Children Program sponsored by the Alabama Credit Union. We would also like to thank the 2013-2014 Math Club Officers (Christina Dent, Patrick Klan, Wiliam Dent, and Matthew Blendermann) for presenting the check to Ms. Toni Jones, Branch Supervisor for the South Huntsville Branch of the Alabama Credit Union. The Math Club is looking forward to an exciting 2013-2014 academic year and again will be diligent with their fund raising efforts for group this year.
The Secret Meals feeds well over 1,100 disadvantaged schoolchildren. 100% of each donation goes entirely to the purchase of Secret Meals food packs, so every dollar of support makes a difference. A donation of $120 would feed one child weekly for an entire school year.
Events
Contact Us
Shelby Center for Science and Technology,

Rm 258A

301 Sparkman Drive
Huntsville, AL 35899
256-824-6470