Mathematical Science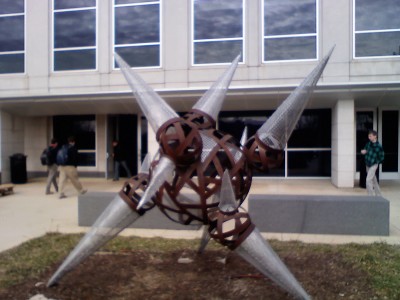 The Department of Mathematical Sciences at the University of Alabama in Huntsville is dedicated to education, scholarship and service in the mathematical sciences. We offer programs of study leading to bachelors and masters degrees in mathematics and to the doctor of philosophy degree in applied mathematics.
Mathematics ... is indispensable as an intellectual technique. In many subjects, to think at all is to think like a mathematician.--Robert M. Hutchins, The Learning Society
Mathematical Sciences (MA) Catalog Materials
UAH is recognized as one of the most affordable mathematics colleges in the country! Check out how we
ranked
!
UNIVERSITY OF ALABAMA IN HUNTSVILLE MATHEMATICAL SCIENCES COLLOQUIUM
Dr. Peter Slater, Department of Mathematical Sciences and Computer Science Department
Using Distance Measures to Locate the Malfunctioning Processor, the Thief, the Saboteur, or the Fire in a Network: Metric Bases/Locating Sets"
Friday, November 08, 2013 3:00 p.m. – 4:00 p.m. Shelby Center 218
In a multiprocessor network, a processor receiving information from all of its immediate neighbors might be able to determine that one of these processors is not operating correctly, but which one cannot be directly identified. Similarly, as examples, sonar devices, heat sensors, and motion detectors can only give information about the distances to an "intruder" without a precise determination of the location.
The basic problem considered here involves systems modeled by a network in which there might be an intruder at a vertex location. One is interested in the minimum number (hence, minimum cost) of "distance determining" detectors one can use to precisely identify the location of an intruder that might be at any vertex in the network. Time allowing, various possible types of faults in the detectors themselves will be examined.
Refreshments will be served at 2:30 p.m. in SC 201 suite landing
UAH Math Club News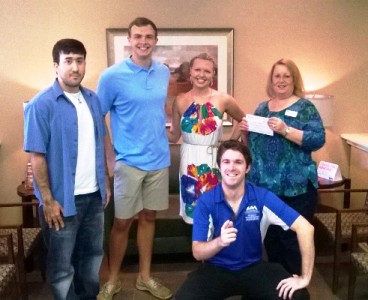 We would like to thank the 2012-2013 Math Club Officers (Courtney Wood, Colm Kane, Andrea Winchester, and Tim Entz) for their fund raising efforts this past school year. The Math Club raised enough money last year to support a child this year for the Secret Meals For Hungry Children Program sponsored by the Alabama Credit Union. We would also like to thank the 2013-2014 Math Club Officers (Christina Dent, Patrick Klan, Wiliam Dent, and Matthew Blendermann) for presenting the check to Ms. Toni Jones, Branch Supervisor for the South Huntsville Branch of the Alabama Credit Union. The Math Club is looking forward to an exciting 2013-2014 academic year and again will be diligent with their fund raising efforts for group this year.
The Secret Meals feeds well over 1,100 disadvantaged schoolchildren. 100% of each donation goes entirely to the purchase of Secret Meals food packs, so every dollar of support makes a difference. A donation of $120 would feed one child weekly for an entire school year.
Events
Contact Us
Shelby Center for Science and Technology,

Rm 258A

301 Sparkman Drive
Huntsville, AL 35899
256-824-6470