Career Fair and Career Awareness

Career Awareness Events
Career Awareness Week leads up to Career Fair each fall and spring semester. During this week, the Career Development Office offers resume blitzes, mock interview sessions and workshops hosted by local employers. Please contact us for additional information. The Spring 2014 schedule of workshops is below.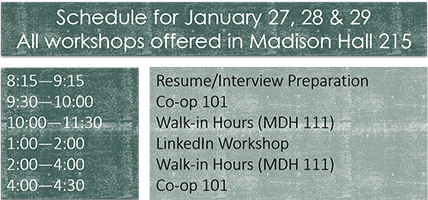 Career Fair
Each fall and spring semester, a Career Fair is held for all current UAH students and alumni. The Career Fair attracts dozens of employers to one location on campus and provides incredible networking opportunities for our students and alumni to inquire about co-op, internship, part-time and full-time positions.
Only current UAH students and alumni, with professional dress and a Charger ID, are admitted into Career Fair.
The next Career Fair will be held on January 30, from 10am til 2pm in the University Fitness Center.




Students:
Professional Dress is required for admittance. If you are unsure what to wear, please contact the Career Development Office for assistance.

Bring multiple copies of your resume on resume-quality paper. Paper can be purchased at any office supply store, Wal-Mart or Target.

You will need to bring your Charger Card or present your ID and your A Number at the registration table upon entering Career Fair.

Plan to be there as early as your schedule will allow.
Career Fair Prep (PowerPoint Presentation)


Employers:
For additional information, please contact Kellee Crawford 256-824-6938 or
kellee.crawford@uah.edu
.