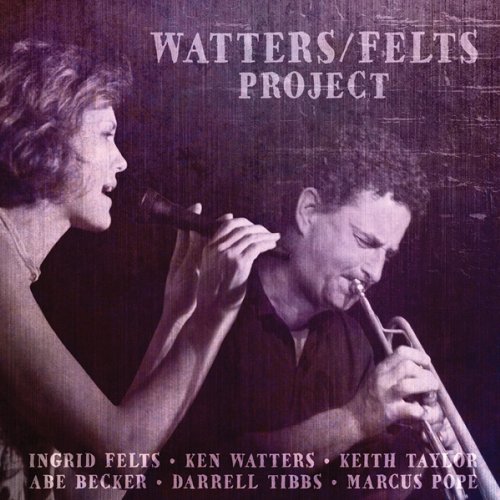 HUNTSVILLE, Ala. (March 27, 2014) – The Watters/Felts Project may have just released their first, eponymous CD from Summit Records this month, but the story of this popular local jazz band really begins three years ago, during one of Ken Watters' Tuesday evening jam sessions at Bandito Burrito.
That's when vocalist Ingrid Felts, already well known on the south Alabama music scene, signed up to sing "Bewitched, Bothered and Bewildered" with the band. "It's a very hard song, but she killed it," says Watters. "I knew right then that she and I needed to start a band together."
And they did, adding Keith Taylor, Abe Becker, Darrell Tibbs, and Marcus Pope. "I knew the right players for this group," says Watters. "Darrell is the best percussionist I know, Keith brings a certain maturity level to the band, Abe is one of my very favorite upright bass players, and Marcus is a high-energy drummer."
Their first gig was at Roberts Recital Hall at The University of Alabama in Huntsville, where Watters and Taylor both serve as instructors in the Department of Music. "They have a wonderful piano and the sound in the room is really good," he says. "And it seats 215 people, which seemed like a safe number to start a band's career with."
As their audiences grew, so did their venues. And little by little, the band began to save money with plans to eventually record a CD. "We were thinking of doing it ourselves," says Watters, who has released six previous CDs. "But I sent a couple of tracks to my label, Summit Records, just for kicks and they liked them."
Needless to say, the label signed the band, and today the Watters/Felts Project CD is available worldwide and can be heard on the radio. "What we all really want is for this band to be our main source of income," he says, adding that their next goal is to play bigger venues like concerts and festivals.
But even if they don't hit the big time, Watters says he feels lucky regardless. "It is so rare to find a group of musicians where you have that kind of chemistry," he says. "We all feel lifted up by each other – everyone feels like they're the worst player in the band!"
And as for their new CD, well, he isn't spending his days listening to it on repeat. "If you're a musician and you make a CD then you're always going to hear the mistakes!" he says with a laugh. "But if I give it a month between listens, then I hear it like it's new and I'm happy with it again. So we have high hopes."
---
You may also be interested in: