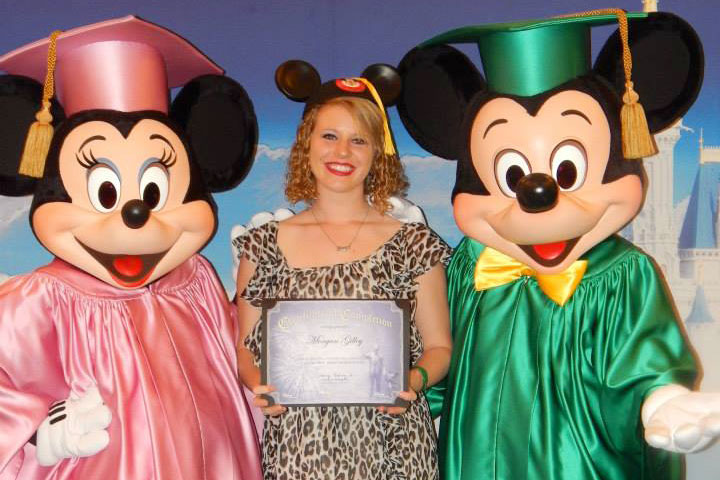 HUNTSVILLE, Ala. (Jan. 29, 2014) – Morgan Gilley and her dad have always been close, so it's no surprise that she loves Walt Disney World® just as much as he does. "He's a Disneyphile," she says with a laugh, before gesturing sheepishly to her own outfit consisting of Mickey Mouse boots, Mickey Mouse earrings, and a Disney sweatshirt.
In fact, it was her dad who told Gilley about the Disney College Program during a family trip to the park in 1999. "I asked why some of the employees had universities shown on their name tags, and he told me about the program," she says. "Since then, it's been a lifetime's worth of wanting to work at Disney when I got to college."
Last semester, the wait was finally over. Gilley, a junior marketing major from The University of Alabama in Huntsville (UAH), applied and was accepted to the program. And on August 19, she headed down to Orlando to begin her internship.
First up? Perfecting the Disney look! "You have to be in the Disney look 100% of the time at work," she says. "That means no tattoos showing, only one pair of earrings for women, no earrings for men – that kind of thing."
As for her clothing, that was provided to her by the company. "At first we had the traditional lederhosen with green pants or shorts and a white button up blouse," she says. "But then in November, they switched to a new costume. We looked like court jesters, but I liked it!"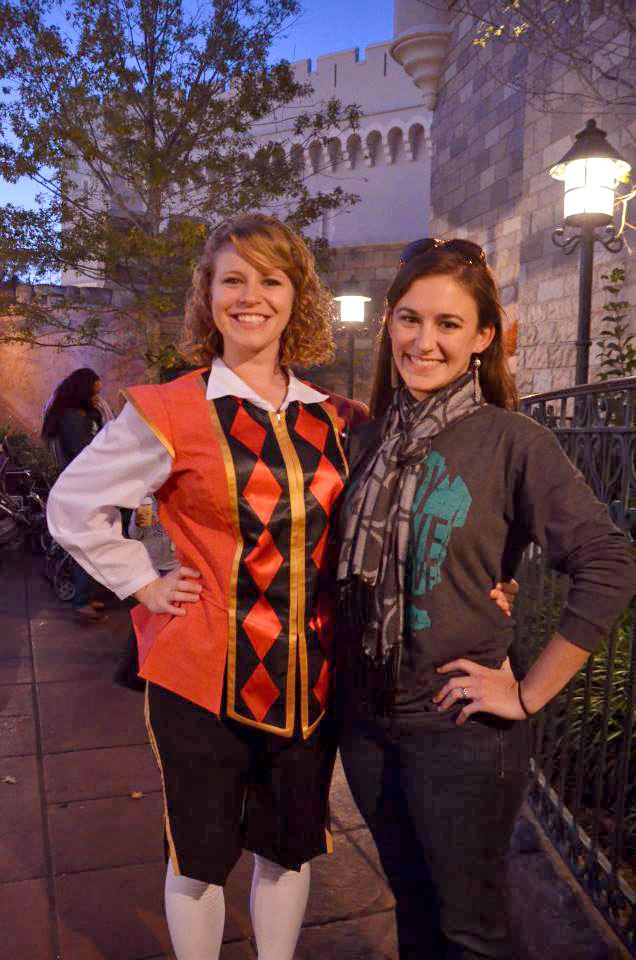 Next up? Perfecting the Disney language. "It's very weird if you're not used to the environment but after a few days you catch on," says Gilley. "So employees are called cast members, customers are guests, uniforms are costumes, and being out in public is called being onstage!"
Then it was time to start her job. Gilley says she worked between 30 and 45 hours a week, five days a week, at her assignment – Fantasyland. "My attractions were Peter Pan's Flight and It's a Small World," she says.
Did she ever get sick of the song? "Everyone thinks you do but you tune it out," she says of the notorious – and notoriously annoying – tune. "And it's just the music and not the lyrics." But once the kids would come out singing, she adds laughing, "I was like, 'No, small child!'"
As part of her training, Gilley learned every aspect of employment related to her attractions. "We were trained to operate the ride itself, but we also did greeting, FASTPASS distribution, FASTPASS return, wheelchair assist – everything," she says. And every 40 minutes, each cast member would rotate to the next position.
"But the best position," she says, "was at Peter Pan. The lap bar has to go down, so we would 'sprinkle pixie dust from Tinkerbelle' on it – and the looks on the little girls' faces! If I was having a bad day, it was turned around right at that moment."
Not surprisingly, Gilley says most of her days off were spent – where else? – at Disney's many parks. And as much as she could, she shared that experience with her father. "There'd be so many times I'd just call my dad and be like, 'Dad, this is what I found out today,' whether it was some Disney trivia or a deleted scene from a movie," she says.
No doubt she could have used his help during the Epcot® International Food & Wine Festival, a multi-week extravaganza featuring almost 30 international food and beverage marketplaces. "My dad and I did it a few years ago, so I made it my goal to try one food and one drink from each kiosk," she says.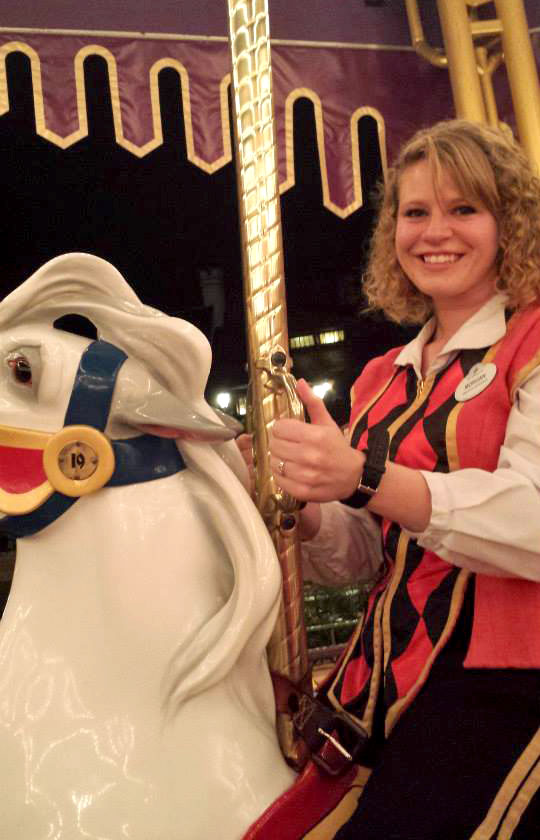 Did she succeed? Barely. "It took me the full five weeks to do it! The last night I had one drink left to get, so I had race over after work before they closed," she says. "I spent way more money in five weeks than any human should, but I wouldn't change it for the world."
That seems to sum up Gilley's entire semester. While she didn't necessarily save any money over the course of her internship – "absolutely not!" she says with a laugh – she gained something much more valuable, and that was experience and independence.
"I've lived on my own before, but this really made me grow up completely. If I had car trouble, I couldn't just call my dad to come fix it," she says. "So it was really the first time I left my comfort zone, and I just grew up so much more."
Though it definitely helped to know she had support back home, she adds. "Whatever obstacle came up my parents were still there. And being at UAH made it an easier transition, too. Everyone from financial aid helping put my scholarships on hold to my advisors and professors making sure I stayed up to date and got credit made it smoother."
And even though she's now a semester behind as a result of her internship, Gilley says that's "fine by her." After all, there's no rush. This Disneyphile already knows where she's going once she graduates – and no doubt it's a plan that makes her dad happy.
"My ultimate dream is to have a career with the company," she says. "I don't know what specifically I want to do with Disney, but I know I want to do something with Disney!"
---
You may also be interested in: