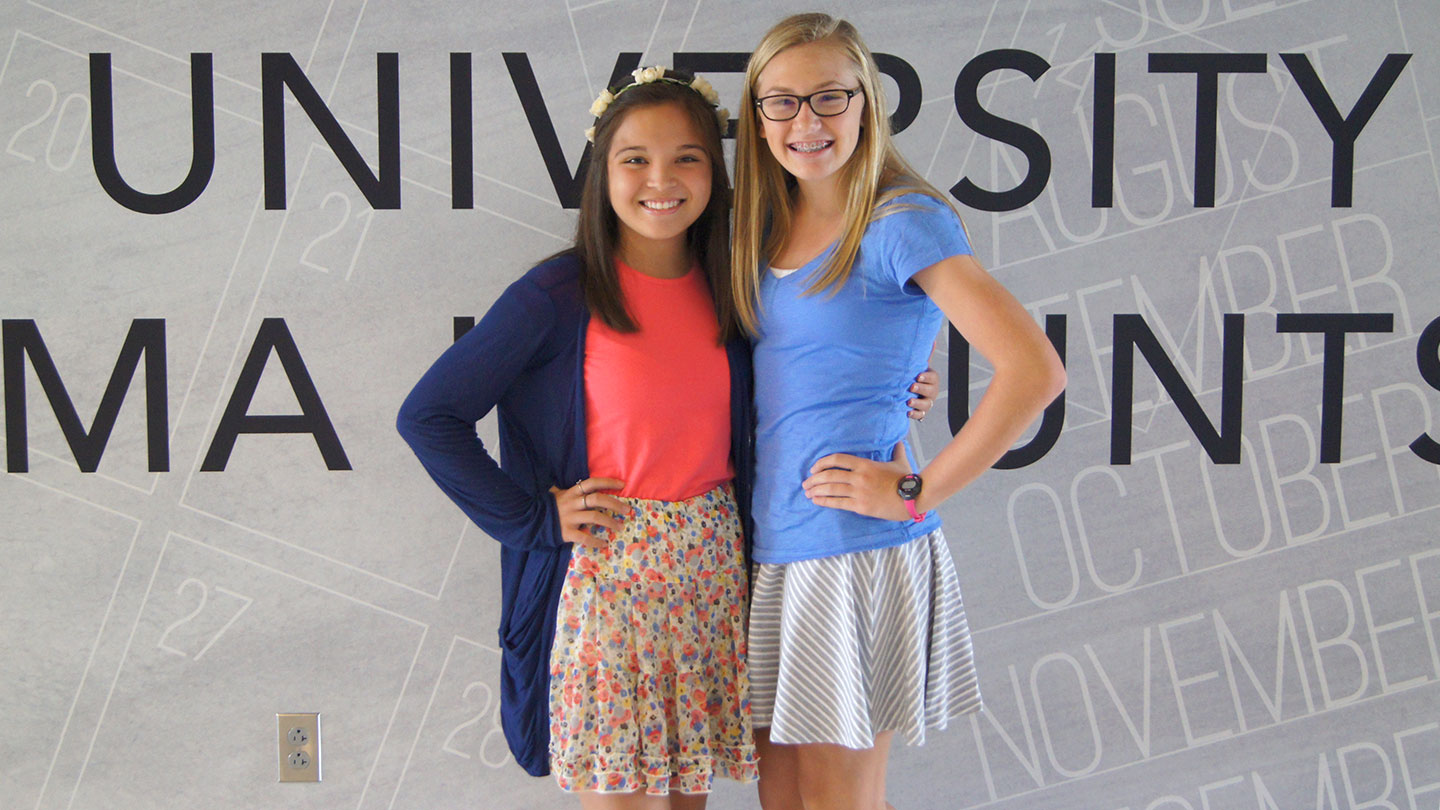 HUNTSVILLE, Ala. (July 2, 2014) – The University of Alabama in Huntsville (UAH) will host Alabama's first Tech Trek from Sunday, July 20, through Friday, July 25. Fifty rising eighth-grade girls from across the state will participate in the weeklong residential camp, which features intensive hands-on experiments and activities in the fields of science, technology, engineering, and math (STEM) and the opportunity for campers to meet and interact with female role models in these fields.
"Tech Trek provides a wonderful opportunity for girls to become empowered and confident in their skills and abilities in math and science," says Joy Agee, a Ph.D. candidate in Biotechnology who is serving as the camp's Student and Family Coordinator. "Many of the campers have expressed interest in being surrounded by other girls that also share a love for math and science, and at Tech Trek, they will be in a space where it is okay to be a girl and like these subjects."
Agee adds that she also feels "personally involved" in this camp. "I truly feel that it is important for female students to gain maximal exposure to STEM careers at an early age, so they can have options," she says. "I didn't have opportunities like this growing up, but throughout my graduate career I've been exposed to STEM careers and I realize the need for women in technical fields."
The very first Tech Trek was held at Stanford University in 1998 and organized by the Palo Alto, Calif., branch of the American Association of University Women (AAUW). It later expanded to 10 camps at 8 college campuses across California. And last year, under the auspices of national AAUW, four new camps took place. In 2014, AAUW national added three more camps, of which UAH is one. Each camp sponsored by AAUW national receives guidance and $10,000 in supporting funds.
Tech Trek provides a wonderful opportunity for girls to become empowered and confident in their skills and abilities in math and science.
Joy Agee
Ph.D. candidate in Biotechnology
Student and Family Coordinator for Tech Trek at UAH
Like its counterparts, Tech Trek at UAH is dedicated to increasing the participation of girls in the STEM fields by immersing them at an age when many begin to move away from science and math. It's an issue that has only become more pressing in recent years, as outlined in the AAUW's landmark 2010 study entitled Why So Few? Women in Science, Technology, Engineering, and Mathematics.
"For the U.S. to maintain its position as a leader in innovation and technology, we need to find a way to nurture interest in STEM in all students," says Dr. Rhonda Gaede, an associate professor of Electrical and Computer Engineering who is serving as Camp Director. "As a woman in STEM, I feel particularly strongly about encouraging girls. I want them to know that they CAN do it. My experience with students over the years tells me that the primary indicator of whether a student can succeed or not is a desire to do so. This camp is one way of tending that flame of desire."
While each camp has its own curriculum, Tech Trek at UAH will feature a selection of core classes and workshops, including a NASA Robotics Challenge, Destination Imagination instant challenges, and the opportunity to develop a mobile app using MIT App Inventor. Participants will also enjoy an "Ultimate Math Field Trip" to the U.S. Space & Rocket Center, a visit to Dynetics' manufacturing facility, and a Professional Women's Night at the HudsonAlpha Institute for Biotechnology.
In addition to Dr. Gaede and Agee, the camp's planning committee and staff comprise the following:
Assistant Camp Director
Dr. Regina Hyatt
Dean of Students and Associate Vice President for Student Affairs
Co-President of AAUW-Huntsville branch
Fundraising Coordinator
Dr. Jennifer English
Associate Professor of Electrical and Computer Engineering
AAUW-Huntsville branch member
Marketing Coordinator
Dr. Molly W. Johnson
Associate Professor of History and Director of Women's Studies
AAUW-Huntsville branch member
Social Media Coordinator
Kenya Wallace
Ph.D. student in Materials Science
Co-Chair for membership for AAUW-Huntsville branch
Volunteer
Kimberly Hobbs
Ph.D. student in Biotechnology
AAUW-Huntsville branch member
Volunteer Coordinator
Cindi Branham
Co-President of AAUW-Huntsville branch
Assistant Student & Family Coordinator
Carol Joyce
AAUW-Huntsville branch member
Curriculum Coordinator
Elisa Harris
Hartselle Middle School
Core Teachers
Susan Pruitt
Columbia High School
Jennifer Rountree
Bob Jones High School
Chrysantha Stallworth
Huntsville High School
Through the generosity of a number of campus and community supporters, Tech Trek participants pay only $50 for the week, enabling students from all backgrounds to attend. These include the UAH Office of the President, the UAH College of Engineering, Jacobs Engineering, the Fishman and Curry Foundation, Alabama EPSCoR, Verizon, the AAUW-Huntsville branch, Inspire and Achieve, Lockheed Martin, Dr. N. Jan Davis, Ms. Ruth Jurenko, and Ms. Eleanor S. Lienau. Thanks are also given to NASA Education for content and instructional support and to UAH Women's Studies for graphic design support.
---
You may also be interested in: