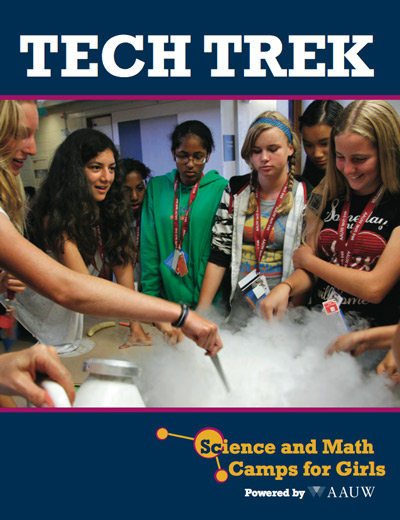 HUNTSVILLE, Ala. (Oct. 1, 2013) - The University of Alabama in Huntsville (UAH), in partnership with the Huntsville branch of the American Association of University Women (AAUW), was named last week as one of three new sites to host the annual Tech Trek camp next summer.
First launched in 1998 at Stanford University, Tech Trek is a weeklong science and math summer camp designed to develop interest, excitement, and self-confidence in science, technology, engineering, and mathematics (STEM) fields for girls entering the eighth grade.
Previously, the camps were only held in California. But last summer the program was successfully expanded to four pilot sites across the United States, leading to a call for applications from the AAUW to add three more sites in 2014.
As the co-president of the AAUW Huntsville Branch and the Dean of Students at UAH, Dr. Regina Hyatt completed UAH's application and will serve as the camp's assistant director with the following UAH and AAUW members serving as leaders for the camp:
· Camp director: Dr. Rhonda Gaede, UAH Associate Professor of Electrical & Computer Engineering
· Volunteer coordinator: Cindi Branham, AAUW Huntsville Branch co-President
· Student and family coordinator: Joy Agree, UAH Biotechnology Doctoral Student, AAUW Huntsville Branch Programs Chair
· Fundraising coordinator: Dr. Jennifer English, UAH Associate Dean of Engineering
· Social media coordinator: Kenya Wallace, UAH Materials Science Doctoral Student, AAUW Huntsville Branch Membership Chair
· Marketing coordinator: Dr. Molly Johnson, Professor, UAH and AAUW Huntsville Branch C/U Relations Chair
"It was a competitive process," says Dr. Hyatt. "But I think we were uniquely positioned to serve as a site for TechTrek due to the emphasis of STEM education on campus and the availability of the many STEM-focused industries in the community."
In addition, she continues, "the presence of a STEM-focused faculty and student body here on campus provides a rich resource for instruction and peer leaders for the young women participating in the camp."
The selection comes with a $10,000 grant, which will be used to cover lodging, meals, transportation, advertising, and stipends. Additional funding will also be raised though a campaign with local businesses and research entities in Huntsville.
The Tech Trek camp itself will be held during summer 2014, with attendees housed in on campus residence halls. An estimated 50 young women from across North Alabama are expected to participate.
***
Tech Trek is a science and math camp designed to develop interest, excitement, and self-confidence in young women who will enter eighth grade in the fall. It features hands-on activities in math, science, and related fields. All camps are held on a university campus, and all facilities-sleeping, eating, instructional, and recreational-are located on campus. For more information visit http://aauw-techtrek.org.
---
You may also be interested in: