Political Science Club's first Model UN conference won't be last
HUNTSVILLE, Ala. (May 9, 2013) - Mayflower Garcia never thought she'd rise to the position of general in the Confederate Army, let alone survive several assassination attempts. But that's exactly what she did while portraying Louis Fairgood, a Civil-War-era free black man, at the Model United Nations at Emory I (MUNE I) crisis conference last month.
Garcia is, in reality, a junior majoring in aerospace engineering at The University of Alabama in Huntsville (UAH). She's also the treasurer of the university's Political Science Club, which sponsored a seven-person team to attend the April 4-7 conference held at Emory University.
It was a milestone not just for the students who went, but also for the club itself, which had long been dormant.
"I've been here for 6 years, and at the beginning of each, I've been asked to be the faculty adviser for the Political Science club," said Dr. Anne Marie Choup, Associate Professor of Political Science at UAH. "And each year there weren't enough students interested - until this year."
The club members, who now number 28, raised much of the travel and registration costs by hosting hugely successful bake sales. For the remainder, they received funding from the Student Government Association and petitioned the College of Liberal Arts.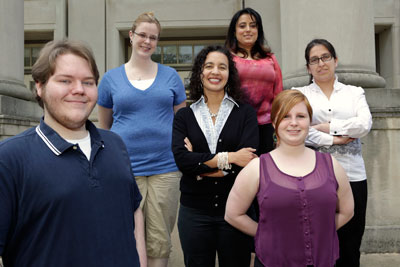 Michael Mercier | UAH
Left to right: James Wacenske, Kathy Lange, faculty advisor Dr. Anne Marie Choup, Ghada Almahdi, Ashley Cain, and Mayflower Garcia. Four of the five students - Wacenske, Lange, Almahdi, and Garcia - attended a Model UN crisis conference in Atlanta with two others and UAH lecturer Julie Loggins, representing the UAH Political Science Club.
"We went to Dean Dasher with a proposal about our trip," said Ashley Cain, a senior in political science and history who serves as the club's president. "We put down all of our heart and feeling and stress into this paper."
It paid off, and by the time the first weekend in April rolled around, the team was on their way to Emory. As excited as they were, however, the students soon realized just how much they had to learn as conference novices.
"The first day we were shocked," said Ghada Almahdi, a senior majoring in political science and communications who handles the club's public relations. "We'd just driven four hours and right away there was a meeting, then dinner, then another meeting a 10 at night!"
Making things even more challenging was the nature of the MUNE I conference. "Typically students represent a country, research it, and then act in that country's interests at the conference," said Dr. Choup. "But this was a crisis conference, in which students acted something out along a time line and were given updates."
Thus instead of representing a country, student participants represented individuals, some actual and some fictional, using background information they were provided at the beginning. Crisis staff members then created "crises" for the participants to address using personal and committee directives, communiqués, and press releases.
UAH came into MUNE I not sure what to expect but ready to do some serious work. By the time they left, they truly learned how Model UN functions and had become much better delegates.
Kathryn Cyr
Secretary-General, Model United Nations at Emory I
Fortunately, the students had some, albeit limited, experience with the approach. "We'd had classes here where we'd done simulations and represented figures," said Kathy Lange, a senior majoring in political science who serves as the club's secretary. They also received ample support from the conference hosts and its participants.
"The Emory team is award-winning and they definitely provided an awesome guiding hand to us as newbies," she said. "And my committee members knew it was my first time, so they definitely helped me out."
One more invaluable resource? UAH political science lecturer Julie Loggins, who attended as the team's faculty advisor. "She went above and beyond," said Dr. Choup, who was unable to make the trip. "This isn't a service requirement for her; she did it on her own time."
As the conference kicked off, each of the students was assigned to one of six crisis committees: the Old South (Georgia, 1863), the Partition (India, 1947), the Yugoslavian Cabinet (1991), the European Debt Crisis (Present Day), SPECTRE (James Bond, Cold War-era), and Operation Condor (Latin America, 1975).
Lange, who represented Chancellor Angela Merkel, was assigned to the European Debt Crisis committee with its timeline in the present day. But some committees were set in the past, such as Garcia's Old South committee.
"They told us we couldn't use a phone because it hadn't been invented yet," she said, adding with a laugh that "one committee did end up creating a time machine!"
Fellow club members Stephanie Perry and Jimmy Wacenske both served on the Yugoslavian Cabinet committee. Perry, a senior majoring in political science, represented an independent business leader, while Wacenske, a sophomore majoring in political science, represented the defense minister of Serbia. Almahdi ended up joining the Partition committee as then-leader of Pakistan Mohammed Jinnah.
During the conference, Loggins floated between committees, taking notes so the students could review their positions in the evening and prepare for the next day's debates. "She really made you think about, 'Are you sure you want to blow this up or help these people?'" said Perry, who was struggling with the collapse of communism - and the kidnapping of Anderson Cooper.
And with each passing session, the students gained much-needed confidence. "By the second day, when we understood how everything operated, the time just flew by," said Perry. "It was really fun."
They also learned how to use diplomacy, and at times sneaky political maneuvering, to accomplish their goals. For example, said Almahdi, "I wanted to kill this prince over Kashmir, but I didn't know how to do it. So I decided to go around him and make a problem with his best friend, and they ended up killing each other!"
Perry, meanwhile, was able to smuggle 10,000 Muslims to safety in another country by hiding her own character's Muslim heritage. And Garcia was able to rise through the ranks of the Confederate Army to become a general, all while avoiding her committee members' numerous attempts to hang her.
But as heated as the sessions sometimes got given the nature of the debates, participants treated each other with respect throughout. "On the Yugoslavian Cabinet committee, you would state your side and if someone disagreed, they could reply right away. But it wasn't directed at you personally, and you knew what it was about it," said Perry.
Garcia said the same was true of the Old South committee. "Before our sessions broke, all the plantation owners had, like, twenty slaves left and they were debating," she said. "But at lunch it was like, 'Hey, Fairgood!'"
Lange said a big part of that was due to the camaraderie that was encouraged between the participants. "We could socialize with committee members and go to lunch together and form even stronger connections," she said. "And the organizers also had social activities for the delegates to participate in, so it wasn't just all about committees."
The only problem? Everyone went by their characters' names. "I didn't know people's real names until we went to the awards ceremony!" said Garcia. Almahdi even referred to herself as Mohammed Jinnah on a phone call home, said Cain, who was unable to attend.
All too quickly the final day of the conference arrived. "We had a last session to wrap up loose ends," said Lange, whose committee was given an update on the debt crisis legislation they passed.
For some, the resolution was bleak. Wacenske, for example, was assassinated. For others, it was much brighter. "In the future, I got a new role and became old money!" said Garcia.
Yet regardless of the outcome of their respective crises, the students were happy with their performance - and even happier with the positive feedback they received. "We got a lot of compliments from our committee chairs," said Garcia. The team even managed to impress MUNE I's Secretary-General herself, Kathryn Cyr.
"UAH came into MUNE I not sure what to expect but ready to do some serious work. By the time they left, they truly learned how Model UN functions and had become much better delegates," said Cyr, an Emory sophomore. "They were intense, focused, and determined to use MUNE as an educational experience, and it certainly paid off. The growth and improvement was absolutely amazing."
As for Dr. Choup, without whom the club wouldn't even be possible, she said she is more impressed than proud. "Proud would indicate I guided them along, but they're all so self-directed! They did a great job and made UAH look good."
Photos taken at the April 4-7, 2013 MUNE I Crisis Conference at Emory University:
...Rapid Gallery Loading...
---
You may also be interested in: