The 2013 - 2014 season is over.
Thanks to all for a terrific year of theatre at UAH.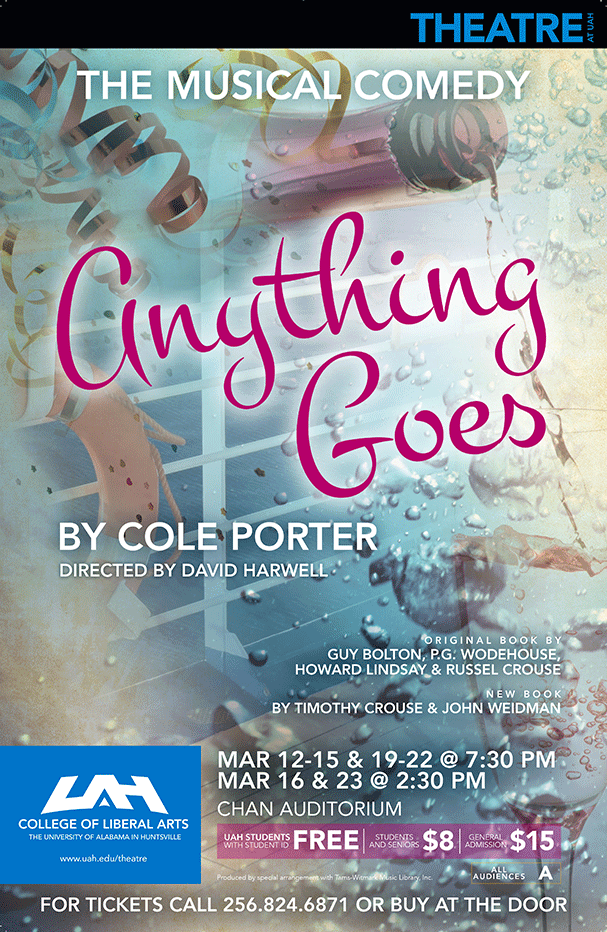 Welcome to UAHuntsville Theatre, your University Theatre in Huntsville, Alabama. We produce classical works, edgy new plays as well as Opera and Musicals with our students and faculty and talented members of our community at large. We engage professional guest artists to enhance the quality of our performances and the education of our students. On this site you will find our schedule of performances and list of venues plus a comprehensive archive of everything we have produced so far.

Theatre is at the very heart of what makes us human. It has been a staple of our culture and our civilization for thousands of years. A place where storytelling and ritual meet in reverent harmony; reminding us that we are all unique and important and each story has value in our lives. Come celebrate the human condition in all of it's splendor and pain; hope and despair. You will laugh and you will cry and you will be moved in this greatest of live forums; THEATRE. On campus NOW at UAHuntsville. We look forward to seeing you!

David Harwell - Associate Professor of Theatre
harweld@uah.edu Please join our mailing list! Email your info today.
About theatre education in America:
Young people today are not connecting to the fully human. Parents are often not home. Their children are always on video games, computers and texting. When young people are communicating through texting and emails (Facebook, My Space, etc), they do not have much opportunity to read body language, which is a large part of communication. In short, they have lots of contact but little connection. Without eye contact there are few opportunities to learn and practice subtle social cues. We see the results of this in poor manners and generally poor social skills. These lacks have important implications for children's ability to grow up able to function in family, community and workplace. Theatre may be the most important venue to teach some of these skills. Theatre may never have been more important to our culture.
Jo L. VanderKloot MSW, LCSW, BCD