Emergency Notification System
MyConnect Portal Registration Information
Using the MyConnect portal, you can review and update your UAlert contact information from anywhere you have an internet connection. You must create a MyConnect portal account in order to use this feature of UAlert. Creating a MyConnect portal account and linking it to your UAlert contact information is quick, easy, and secure.
Detailed registration instructions may be found at http://www.uah.edu/images/administrative/facilities/ualert/bbcinstructions.pdf. If you are having trouble accessing your UAlert account please contact the Office of Information Technology Help Desk at 256-824-3333 or helpdesk@uah.edu.
To register, go to uah.bbcportal.com and click on the "Sign Me Up!" link. You will be asked to enter your name, e-mail address, and choose a password.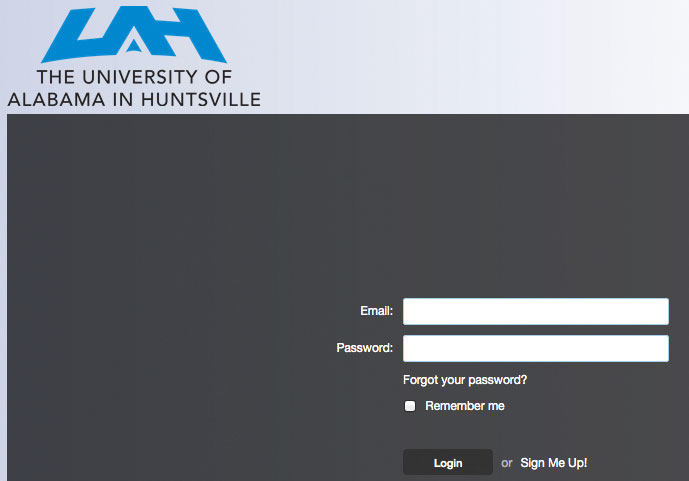 Once you submit your information you will shortly receive a confirmation e-mail at the address you provided in the step above. Click on the link in the e-mail to confirm your registration.
The link will redirect you to the portal site and ask you to set up three security questions. This is a required step.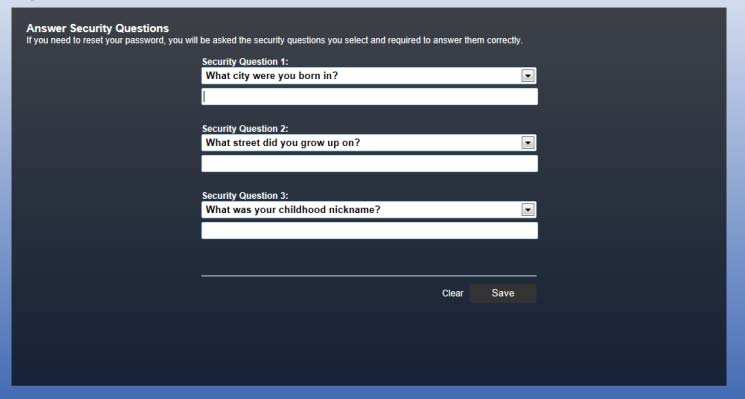 After you set up the security questions and "Save", you will receive a confirmation message that your UAlert portal account has been activated. Return to the login page, uah.bbcportal.com, and log in using the email address and password you used to create the account.
After a successful login you will be directed to the Welcome page. Click on the "Click Here" link to begin the process of linking your portal account with your student or employee information.

When accessing your contact information for the first time in the UAlert portal, you will be asked to associate your portal account with your student or employee information.
Enter your Banner student or employee number (A#) in the identification code field and click "Submit".

You will then be prompted to enter a phone number or e-mail address. You must enter your official UAHuntsville e-mail address in order to link to your employee or student information. Please note that your alias e-mail address may not work. Use your official address (ChargerID@uah.edu - substitute your actual ChargerID).
Click the "Submit" button.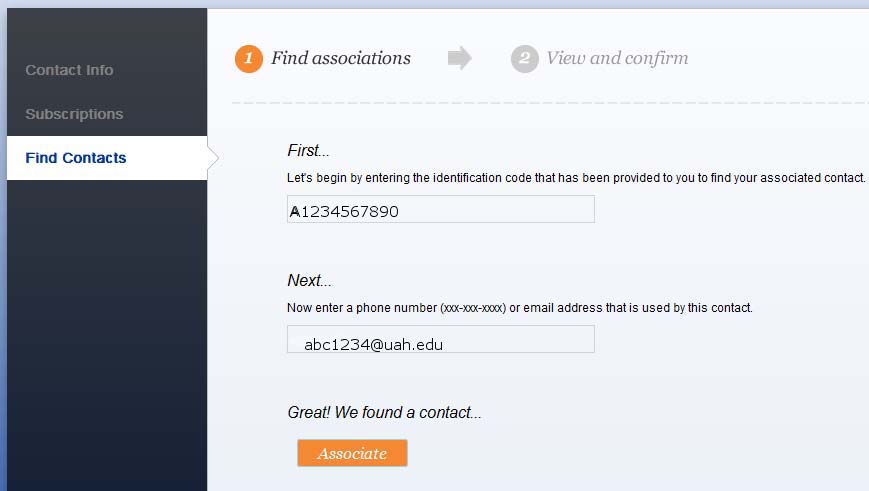 If your student or employee information was successfully found you will see the message "Great! We found a contact . . ." If so, click the "Associate" button to complete the link process.
A successful association will return your pre-loaded contact information. Confirm your information by clicking the check boxes by each contact method listed, and select the options (such as voice and/or text) you wish to be used for contacting you. Click "Next" when done with this step.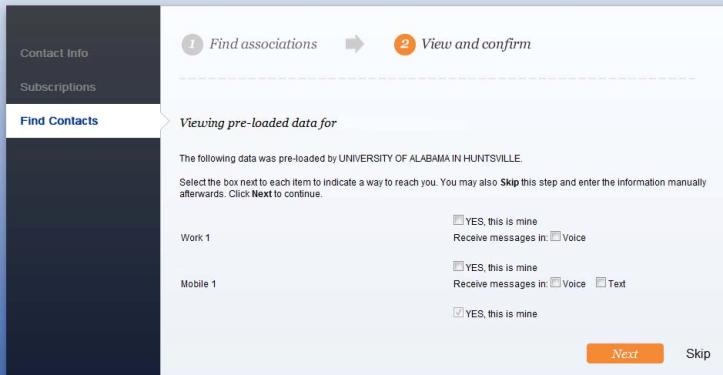 The next screen shows a summary of your current portal contact information. From here it may be edited as needed.
IMPORTANT! One final step is required to ensure you receive emergency notifications from UAHuntsville.
Select the "Subscriptions" tab from the left column. You should automatically be subscribed to the University of Alabama in Huntsville.

If not, or if you wish to edit your subscription preferences, click the "Edit" link. Be sure to save your preferences after any changes.
IMPORTANT NOTICE! Unsuscribing from UAHuntsville emergency notifications will prevent you from receiving important life-safety and emergency alerts and situational update messages from the University. By unsuscribing, you are indicating you do not wish to receive this information.
Please note that your official UAHuntsville e-mail address cannot be removed from UAlert or the portal. UAHuntsville requires that all official university e-mail accounts be enabled to receive emergency alerts.