2013 UA System Scholars Institute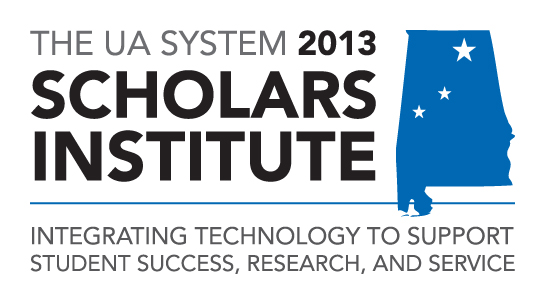 Now in its sixth year, the UA System Scholars Institute is hosted each year on a rotating basis by one of the UA System campuses. Scholars Institutes are open to faculty, staff, and administration attendance from all three campuses. The Scholars Institute supports collaboration among faculty and administration system-wide, and encourages a shared community of knowledge for implementing best practices into the use of technology in the teaching, learning, and research processes.
The Institute is seen as an important professional development initiative for faculty in their use of technology in teaching and learning, particularly in support of the adaptation and use of new approaches to teaching with technology. Further, the Institute focuses heavily on the sharing of best practices across our system-wide community. Presentations emphasize quality, evidence of impact, tools, and pedagogical and practical approaches, with time for colleagues within- and between campuses to engage in collaboration and knowledge sharing. The Institute also provides hands-on opportunities for practice and implementation of classroom and online tools.
In 2013, both an on-site as well as virtual attendee options are planned to further broaden the reach beyond UA System members, allowing surrounding colleges and K-12 colleagues to attend.
We invite you to explore this site for additional information on the 2013 Scholars Institute, hosted this year by UAH on May 21 & 22, 2013.