Earth System Science
Deciding on a school is one of the most important career decisions you will make. We are proud of our programs and the achievements of both our faculty and our students. We invite you join us.
Please allow us to fill you in a little on the University, our program. Our undergraduate Earth System Science Degree is grounded on our very successful M.S. and Ph.D. programs.
Our University
The University was founded in the 1960s, and continues to grow and gain recognition. A strong research university is made even more so by the continuing pioneering achievements of its faculty (and students), and UAH's rise to prominence has clearly been fueled by efforts such as those in the Atmospheric Science Department.
Our Earth System Science Program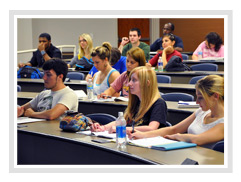 The two primary objectives of the Earth System Science program are: 1) to meet important national, regional and statewide needs for highly technically-educated professionals who understand the Earth as a system, and 2) to produce graduates who will be able to perform a variety of functions in research centers and industry centered in our impact on the Earth system. Specifically, that means that students will be trained with 1) the ability to deal quantitatively with real-world problems, 2) the ability to integrate knowledge from multiple disciplines to scientifically address Earth system issues quantitatively, and 3) the ability to work in interdisciplinary teams.
This curriculum offers maximum flexibility to students while meeting the requirements of a rigorous B.S. degree