Academic and Event Scheduling
EVENT SCHEDULING
Astra Schedule

You do not need a user name or password to log in to Astra Schedule. You can click either the link or the picture to go to the guest portal. Click here for a list of all campus events for the week. The calendar feature on Astra is currently giving a timeout error. We are working on getting the issue resolved. For more information on who to contact for reserving a room, please visit the Scheduling Contacts page.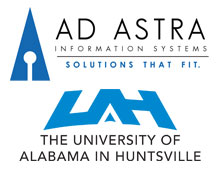 Astra Scheduling Tutorials
How to schedule an event in Astra: PDF (Updated 12/19/12)
How to search for an available room on Astra: PDF
Event Scheduling Resources
ACADEMIC SCHEDULING
For more information regarding dates and deadlines for the submission of the academic schedule, please visit the Publication Schedule.
Academic Scheduling Resources
Questions? Contact the Scheduling Office. (256) 824-6943