Susan Alexander, DNP, BC-ADM, BC-ANP, CNS
Clinical Associate Professor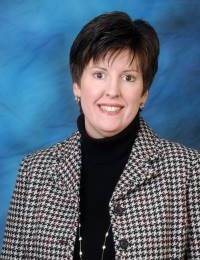 Office: NB 326
Phone: 256-824-2428
Email: Susan.Alexander@uah.edu
Education
DNP, University of Alabama in Huntsville
Post-Master's Adult Nurse Practitioner Certificate, University of Alabama at Birmingham
MSN, Adult Health Clinical Nurse Specialist University of Alabama in Huntsville
BSN, University of Alabama in Huntsville
Professional Certifications
Advanced Diabetes Management – Board Certified
Adult Health Nurse Practitioner
Adult Health Clinical Nurse Specialist
Clinical Expertise
Teaching Responsibilities
NUR 610 - Primary Care of Adults
NUR 307/419 - Scholarly Inquiry for Nursing
NUR 606 - Advanced PathophysiologyExperiential Clinical
NUR 605 – Advanced Pharmacology
NUR 407 - Professional Practice in Nursing II
NUR 500 -Special Topics: Issues in Metabolic Diseases
Service Activities
North Alabama Nurse Practitioner Association, member
National Organization of Nurse Practitioner Faculty, member
Multimedia Educational Resource for Learning & Online Teaching, Peer Reviewer
Editorial Board: Online Journal of Issues in Nursing
Adult/ Gerontology Clinical Nurse Specialist Content Expert Registry, American Nurses Credentialing Center
Peer reviewer for MORE (McMaster Online Rating of Evidence) EBN (Evidence-Based Nursing) project
Research Interests
Technology applications for nurses and students
Distance education methods and outcomes
Publications and Presentations
Books and Book Chapters
Alexander, S. & Hoy, H. Supporting learner success: Pre-Enrollment through outcomes evaluation. In Distance education in Learning (3rd ed)., Frith, K.H., & Clark, D. (Eds). New York: Springer Publications. Expected publication date 2013.
Peer Reviewed Journals
Hoy, H., Alexander, S., & Frith, K.H. (2011). Effect of transplant education on nurses' attitudes toward organ donation and plans to work with transplant patients. Progress in Transplantation, 21(4).
Hoy, H. Alexander, S., Roberts, L.J., Wells, N., Pinson, C.W., & Feurer, I.D. The Negative effect of pre-transplant body mass index on health-related quality of life after lung transplantation. Accepted for publication March 12, 2012,in Progress in Transplantation.
Hoy, H., Alexander, S., Payne, J., & Zavala, E. (2011). The role of advanced practice nurses in transplant center staffing. Progress in Transplantation, 21(4): 294-298.
Alexander, S., Frith, K.H., O'Keefe, L., & Hennigan, M.A. (2011). Implementation of customized health information technology in diabetes self management training programs. Clinical Nurse Specialist: The Journal for Advanced Nursing Practice, (25)2: 63-70.
Podium Presentations
January 13, 2012 Making Technology Work for You. Annual Symposium North American Transplant Coordinators Organization, Miami, Florida.
December 2, 2011 Development of a Web-Based Mobile Application for use in Organ Transplantation . 7th Annual International Medical Automation Conference. The Automated Health System, Dulles, Virginia
November 16, 2011 Web-Based Mobile Application in Organ Transplantation. Sigma Theta Tau International Beta Phi Chapter Annual Research Day,UAHuntsville College of Nursing, Huntsville, Alabama
November 15, 2011 Diabetes Update. American Association of Critical Care Nurses Huntsville Chapter, Crestwood Medical Center,Huntsville, Alabama
May 11, 2011 Use of Mobile Technology Applications in Caring for the Patient with Diabetes. University of Alabama System Scholars Institute (Innovations Forum),Tuscaloosa, Alabama
April 16, 2011 Climbing Mountains: DNP Students' Perspectives on the Pursuit of a Terminal Degree. National Organization of Nurse Practitioner Faculty 37th Annual Meeting, Albuquerque, New Mexico
October 22, 2009 Applying Health Information Technology Systems in a Diabetes Self-Management Training Program. American Medical Group Association, Diabetes Best Practices Symposium. Detroit, Michigan
January 15, 2009 The Role of Change Agent in an Organization: Keys to Success. National Association of Transplant Coordinators Annual Conference, Fort Lauderdale, Florida
Research Grants
The Effects of GLP-1 Agonists on C-peptide Levels of Patients with Type 2 Diabetes. Summer Research and Creative Experience for the Undergraduate. College of Nursing student Elizabeth Hale. Alexander, S., Hale, E., Hennigan, M.A., & Frith, K. H. June, 2011-September, 2011. $3,000 (funded).
Development of a Web-Based Mobile Technology Application for Healthcare Providers in Transplant Care. UAHuntsville Research Infrastrucure Investment Grant Program. Hoy, H. (Principal Investigator), Alexander, S., Maskey, M., & Conover, H. May, 2011-April, 2012. $74,910 (funded)
The Effect of Transplant Education on Nurses' Attitudes towards Organ Donation and Plans to Work with Transplant Patients. Junior Distinguished Faculty Research. Hoy, H. (Principal Investigator), Alexander, S. (Co-Investigator), Frith, K. (Mentor). December , 2010-December, 2011. $10,138 (funded).