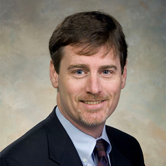 For decades, federal agencies at Redstone Arsenal - the U.S. Army's Aviation and Missile Command, Space and Missile Defense Command and NASA's Marshall Space Flight Center - have turned to The University of Alabama in Huntsville in the search for solutions to complex technical issues.
HUNTSVILLE, Ala. (Nov. 9, 2011) - The University of Alabama in Huntsville today celebrated the 50th anniversary of its Research Institute and opened its newest lab, The Reliability and Failure Analysis Laboratory (RFAL).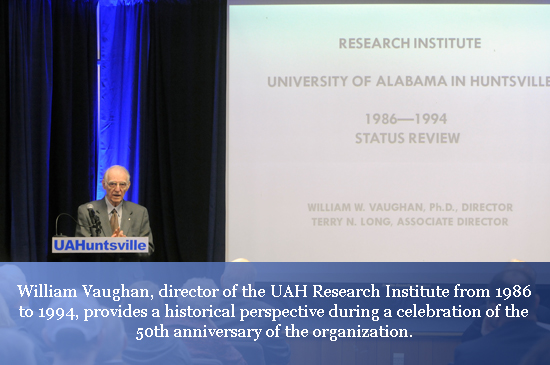 RFAL is designed to enable research to reduce the cost of ownership of defense and aerospace systems, according to Rhoades. University officials held a ceremony to mark the official opening of the lab.
The UAH Research Institute was created as a result of Dr. Wernher von Braun's impassioned plea to the Alabama Legislature to fund a research institute on the campus of The University of Alabama in Huntsville. The Alabama Legislature responded with a $3 million investment.
"It was the strong encouragement from our federal partners that motivated the Alabama Legislature to provide seed money to create the UAH Research Institute," said Dick Rhoades, director of the research institute. "We have chosen to celebrate that creation today, in the building built with those state funds, while also officially opening the institute's newest laboratory."
The genesis of the institute was more about hiring faculty to teach graduate level courses and less about conducting actual research. In the early 1960s, Von Braun, NASA and the U.S. Army had a pressing need to provide advanced courses to Redstone Arsenal employees. Offering courses at the master's and doctorate level was crucial to meeting the nation's challenge of space exploration.
At that time, there was a very real threat from Washington, D.C. to transfer the development of America's space program to California or Massachusetts rather than invest necessary dollars in Alabama.
That was the motivation behind Von Braun's remark during his address to the Alabama Legislature: "To make Huntsville more attractive to technical and scientific people across the country - and to further develop the people we have now - the academic and research environment of Huntsville and Alabama must be improved and improved immediately."
Today, the Research Institute has become an integral part of the campus, providing cutting-edge research in addition to contributing to the academic mission of the university, particularly at the graduate level.
UAHuntsville annually produces approximately 40 Ph.D. and 350 master's degrees. Also, earlier this year, the university was classified by the Carnegie Foundation as a very high research institution, which places the university as one of only 73 public universities in the nation with that distinction.
The success that Huntsville, Alabama, and UAH enjoy today is a result of our response to those early challenges and the vision of Wernher von Braun.
What UAH Research Institute does:
Applied research and engineering programs, principally to meet the needs of Department of Defense customers, but with significant related work for NASA and private industry.
The institute staff has expertise in technologies related to system development, acquisition, supply chain management, and system sustainability. These disciplines include systems engineering and project management, technical risk assessment, supply chain modeling, reliability centered maintenance, and conditioned based maintenance.
In addition, the Research Institute staff has expertise in the development and management of international projects to include supply chain optimization, organizational design, and management of technical professionals. Members of the staff currently serve as committee chair for the SAE reliability committee and the executive director for the MIT Supply Chain Forum.
The Institute operates a lab for studying the interactions of a vehicle with its environment at high velocity and has the capability to measure high-velocity impact phenomena.
The UAH Research Institute's newest capability is its Reliability and Failure Analysis Laboratory. This facility is the cornerstone of research in the area of physics of failure and serves the Redstone community as a test bed for investigations into component reliability.
For more information,
contact Chrystal Morgan
256.824.6644
ray.garner@uah.edu
chrystal.morgan@uah.edu
HUNTSVILLE, Ala. (October 18, 2011) — The University of Alabama in Huntsville's Earth System Science Center and its Atmospheric Science Department have a major presence at the National Weather Association's annual meeting this week in Birmingham.
Students, faculty and research staff are scheduled to make ten talks during the four-day meeting, with an additional 13 poster presentations.
The center's severe weather research group also had a presence at the NWA's 'Weatherfest' on Sunday at the McWane Science Center. About 400 people toured the Mobile Integrated Profiling System or learned about the Mobile Meteorological Measurements Vehicle.
Presentations in which UAHuntsville students, faculty or staff were involved included:
The Rare Synoptic and Mesoscale Setup Leading to the 27 Apr 2011 Tornado Outbreak, Dr. Timothy Coleman, UAHuntsville.
Evolution and Impacts of the 27 April 2011 Early Morning Quasi-Linear Convective System, Andy Kula and Stephen Latimer, NOAA/National Weather Service; and Dr. Kevin Knupp and Dr. Timothy Coleman, UAHuntsville.
Analysis of the North Alabama MCV on the Morning of 27 April 2011, Stephanie Mullins and Kevin Knupp, UAHuntsville.
Preliminary Observations of the Mid-day 27 April 2011 North Alabama Tornadic QLCS from Multiple Radar Platforms. Ryan A. Wade, Todd A. Murphy and Kevin R. Knupp, UAHuntsville.
Dual-Polarimetric Radar-based Tornado Debris Paths Associated with EF-4 and EF-5 Tornadoes over Northern Alabama during the historic outbreak of 27 April 2011 Lawrence D. Carey, Christopher J. Schultz and Elise V. Schultz, UAHuntsville; Walter A. Petersen, NASA Marshall Space Flight Center; Patrick N. Gatlin and Kevin R. Knupp, UAHuntsville; Andrew L. Molthan and Gary J. Jedlovec, NASA Marshall Space Flight Center; and Christopher B. Darden, NOAA/National Weather Service, Huntsville, AL.
The Use of Dual Polarimetric Tornadic Debris Signatures in an Operational Setting Christopher J. Schultz and Elise V. Schultz, Dept of Atmospheric Science, UAHuntsville; Christopher B. Darden, Brian C. Carcione, Christina C. Crowe and David J. Nadler, NOAA/National Weather Service; Lawrence D. Carey, Earth System Science Center, UAHuntsville; Walter A. Petersen, NASA Marshall Space Flight Center; Patrick N. Gatlin, Earth System Science Center, UAHuntsville, and Kevin R. Knupp, Dept of Atmospheric Science, UAHuntsville.
Preliminary Look at Public Perceptions of and Responses to Warnings in the 27 April 2011 Tornado Outbreak, Kim Klockow, University of Oklahoma; and Stephanie Mullins and Elise Schultz, UAHuntsville.
Use of Dual-Polarization Radar to Assess Low-Level Wind Shear in Severe Thunderstorm Near- Storm Environments in the Tennessee Valley Christina C. Crowe, NOAA/National Weather Service, Huntsville, AL; Christopher J. Schultz, UAHuntsville; Matthew Kumjian, CIMMS NWS/OAR/LCI, Norman, OK; Lawrence D. Carey, UAHuntsville; and Walter A. Petersen, NASA Marshall Space Flight Center, Huntsville, AL.
Observations and Operational Importance of Wave Like Features Interacting with QLCS, Todd A. Murphy, Ryan A. Wade, Timothy A. Coleman and Kevin R. Knupp, UAHuntsville.
High Impact Weather Forecasts and Warnings with the GOES-R Geostationary Lightning Mapper (GLM) Steven Goodman, NOAA/NESDIS/GOES-R Program Office, Greenbelt, MD; Richard Blakeslee and William Koshak, NASA/MSFC, Huntsville, AL; and Douglas Mach, UAHuntsville.
Poster presentations included:
An Overview of the Total Lightning Jump Algorithm: Past, Present and Future Work. Christopher J. Schultz, UAHuntsville; Walter A. Petersen, NASA Marshall Space Flight Center, Huntsville, AL; Lawrence D. Carey, UAHuntsville; and Wiebke Deierling and Cathy Kessinger, Research Applications Laboratory, NCAR, Boulder, CO.
Analysis of May 15, 1998 Iowa/Minnesota Derecho. Wesley Terwey, University of South Alabama, Mobile; and Ryan Wade, UAHuntsville.
C-Band Dual-Polarimetric Radar Signatures of Hail. Matthew E. Anderson, NOAA/National Weather Service, Topeka, KS; Lawrence D. Carey, UAHuntsville; Walt A. Petersen, NASA Marshall Space Flight Center, Huntsville, AL; and Kevin R. Knupp, UAHuntsville.
External Mesoscale Effects on Mesocyclones and Tornadoes. Timothy A. Coleman and Kevin R. Knupp, UAHuntsville.
Preliminary Observations of Convective Initiation and Mesocyclone Interactions with Atmospheric Waves on 27 April 2011. Todd A. Murphy and Kevin R. Knupp, UAHuntsville.
Severe Weather Summary for Central Alabama on April 27, 2011. Jessica N. Talley and Kevin B. Laws, NOAA/National Weather Service, Birmingham; and Kevin K. Fuell, UAHuntsville & NASA/SPoRT Center.
The Kinematic, Microphysical, and Electrical Characteristics of the 27 April 2011 Cullman EF-4 Tornadic Thunderstorm. Elise V. Schultz and Christopher J. Schultz, UAHuntsville; Walter A. Petersen, NASA Marshall Space Flight Center; and Lawrence D. Carey and Kevin R. Knupp, UAHuntsville.
Evaluation of Dual-Polarimetric Radar in a Physically-Based Lightning Cessation Nowcasting Application. Elise V. Schultz and Lawrence D. Carey, UAHuntsville; and Walter A. Petersen, NASA Marshall Space Flight Center, Huntsville, AL.
Demonstration of RGB Composite Imagery at NOAA National Centers in Preparation for GOES-R. Kevin Kenneth Fuell, UAHuntsville & NASA/SPoRT Center, and Dr. Andrew Molthan, NASA/SPoRT Center and MSFC, Huntsville, AL.
NREPS Applications for Water Supply and Management in California and Tennessee. Patrick Gatlin, Mariana Felix Scott and Lawrence D. Carey, Earth System Science Center, UAHuntsville, and Walter A. Petersen, NASA Marshall Space Flight Center, Huntsville, AL
Objective Validation of Satellite-Based Convective Initiation Algorithms Using Radar. Valliappa Lakshmanan, University of Oklahoma & NOAA/OAR/NSSL, Norman, OK; Robert Rabin, NOAA/OAR/NSSL, Norman, OK; Justin Sieglaff, CIMSS University of Wisconsin at Madison, Madison, WI; John Walker, UAHuntsville; and Gary Wade, NOAA/NESDIS/STAR, Madison, WI.
Severe Storm Identification with the Advanced Microwave Sounding Unit (AMSU). Ralph Ferraro and Chi Quinn, NOAA/NESDIS, College Park, MD; and Daniel Cecil, UAHuntsville.
The SUVI On-Orbit Calibration Underflight Program: A Feasibility Study. Linda Habash Krause, Amy R. Winebarger, and Jonathan W. Cirtain, NASA Marshall Space Flight Center; Ken Kobayashi and Brian M. Robinson, UAHuntsville; and Steven D. Pavelitz, NASA Marshal Space Flight Center, Huntsville, AL.
HUNTSVILLE, Ala. (Oct 13, 2011) - As the world's foremost space professionals gathered in Cape Town, South Africa last week, students, faculty, and research staff from The University of Alabama in Huntsville (UAHuntsville) demonstrated the strength and breadth of the university through the contribution of more than 20 papers to the annual International Astronautical Congress (IAC).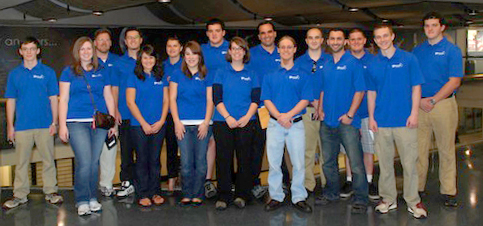 A contingent of UAHuntsville students traveled to Capetown, South Africa for the 2011 International Astronautical Conference.

The IAC is the world's largest annual gathering of space professionals from nearly all areas of expertise, including the heads of the world's space agencies, senior policy and decision-makers, as well as leading scientists, engineers, program managers, and explorers from around the world.
The UAHuntsville group consisted of 16 undergraduate and graduate students, along with 10 faculty members and research staff. The students participating had each submitted an original research abstract several months ago, and were selected through peer review to complete the research, author a paper, and present their work in person to a large audience of experienced managers, astronauts, leading engineers, historians, and policy-makers from around the world.
The sessions, which took place at the week-long conference in Cape Town, covered space related topics including propulsion engineering, earth science and remote sensing, high-energy particle measurements in the atmosphere, environmental control and life support for human spaceflight, space policy, and space history.
While attending the conference, UAHuntsville students were also honored to take part in private breakfasts with: NASA Administrator Charlie Bolden; Thomas Reiter, former Astronaut aboard Soyuz and Space Shuttle, and current Head of Human Spaceflight and Exploration at the European Space Agency; Mr. Jean-Jacques Dordain, Director General of the European Space Agency; Professor Johann-Dietrich Woerner, Executive Director of the DLR; and Dr. David Kendall, Director of Science and Technology for the Canadian Space Agency. These meetings, arranged through the UAHuntsville Office of the Vice President for Research (OVPR), added additional value to the students' experience, giving them first-hand access to many of the world's most prominent space leaders.
"To be a university student, and be afforded the opportunity to have in depth conversations with the head of NASA, the European Space Agency, and other incredible leaders, was simply amazing," said mechanical engineering major Brandon Setayesh, who says he has found a renewed energy for pursing his career after attending the conference. "I will never forget the opportunity that UAHuntsville has provided me, and know that the connections I made in Cape Town will have an impact on my future."
Student participation was facilitated through a grant from OVPR, and organized by the Coordinator for Student Research Programs, Mr. David Cook.
Dr. Christina Carmen, a faculty member in the Department of Mechanical and Aerospace Engineering, served as faculty advisor to several of the involved students on their research projects, and her paper, titled "Integration of a NASA ESMD Faculty Fellowship Project Within an Undergraduate Engineering Capstone Design Class" was also selected for the conference. Additional UAHuntsville papers were contributed at the IAC in heavily attended sessions involving Dr. Elizabeth Newton, Dr. Richard Fork, Dr. Richard Tyson and Dr. Michael Griffin.
"The IAC is the world's biggest annual space conference. As we continue to raise the profile and contributions of our university to the world community, the IAC is a place where we simply must be very visible, as a leading research university based in a deeply rich spaceflight community. It is very encouraging, and incredibly satisfying, to see our students interacting in one-on-one situations with some of the world's pre-eminent leaders from all facets of space," said Dr. John Horack, Vice President for Research at UAHuntsville. "Our students derive a greater sense of confidence in their abilities, expand their professional network, and raise the level of their professional capabilities, while building a much better idea about what their future may have in store."
For additional information, go to the UAHuntsville Research facebook page at www.facebook.com/UAHResearch.
HUNTSVILLE, Ala. (Sept. 27, 2011) - A system that uses data from satellites to predict "pop up" thunderstorms has been incorporated into the weather forecasting software used to plan thousands of airline and commercial airplane flights in the U.S. every day.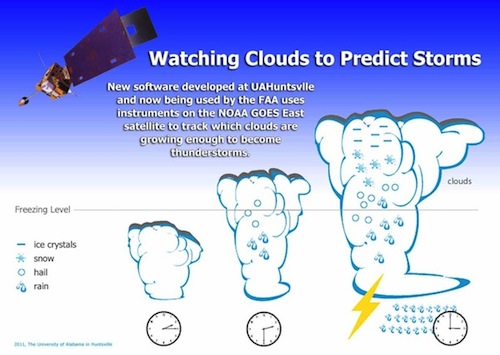 Developed at The University of Alabama in Huntsville, the Satellite Convection AnalySis & Tracking (SATCAST) system uses data from NOAA's GOES East weather satellite to monitor cumulus clouds as they develop, move and grow before they become thunderstorms. Using satellite data over the eastern two-thirds of the United States, SATCAST works with other forecast technology to give 15-minute to two-hour warnings of convective thunderstorms before they develop.
"The problem of predicting when convective storms will form is huge," said
Dr. John Mecikalski, the system's creator and a UAHuntsville Associate Professor of Atmospheric Science. "Thousands of cumulus clouds form every day and only about 1 percent of those develop into storms. The challenge was to find a way to predict which clouds are about to turn into storms."
After a seven-year development program, SATCAST went live as part of the Federal Aviation Administration¹s Corridor Integrated Weather System (CIWS) this summer. CIWS is an automated forecasting system used by air traffic flow managers, airlines and other people responsible for flight planning.
CIWS combines data from U.S. and Canadian weather radars with satellite data, surface observations and numerical weather models. The system provides several weather analysis and forecast products to the aviation industry.
"CIWS does fine when it knows where the storms are," Mecikalski said, "but Doppler radar by itself only mostly tells you us what is happening now, not what's going to happen an hour into the future."
For more than three years UAHuntsville scientists operated SATCAST for the National Weather Service's forecast office in Huntsville, and more recently for NWS offices in Florida. During that time it was accurate in its storm forecasts between 65 and 75 percent of the time. It was also tested at the FAA's air traffic control center for New York City.
Although the SATCAST algorithm was successful at the local level, it had to be massaged to make it ready for use by the FAA. When MIT Lincoln Laboratory evaluated SATCAST using an expanded coverage area, the system took as much as 20 minutes to run through one cycle. MIT LL software engineers and scientists cut the run time to two minutes or less.
Early in the development process, Mecikalski's team determined that an important factors in predicting thunderstorm formation are cloud top temperature change, in addition to and determining when the tops of cumulus clouds turn to mostly ice, which these factors can be monitored using multiple satellite sensor channels. The temperature at the top of a cloud is related to its altitude, with temperatures dropping as you go higher. If the top of a cloud cools by 4 C (about 7.2° Fahrenheit) or more in 15 minutes, that means the cloud is growing quickly enough, and there is a rising to raise the probability of rain beginning within 30 minutes to an hour.
SATCAST uses data from the GOES East visible and infrared sensors to track changes in cloud temperature every 15 minutes. Other infrared sensor channels help identify the size, depth and longevity of a new storm's main updraft, which is tied to its overall intensity.
In the future, as new weather satellites come on line, the SATCAST coverage area can be expanded to give warnings of growing thunderstorms over the western U.S. and the North Pacific. At present, the GOES East satellite is the only satellite over the U.S. that has the instrumentation that SATCAST needs using data from additional, more sophisticated satellites, giving pilots nationwide (including extended oceanic locations) additional warnings of growing thunderstorms before they occur.
While SATCAST is part of a sophisticated robust and extensive network of weather monitoring systems in the U.S., it is expected to have its greatest impact value in regions where storm forecasting and monitoring systems have been limited or non-existent. The SATCAST system is relatively inexpensive to install and operated, since it uses freely available weather data from existing satellite sensors.
In areas where Doppler radar networks do not exist, SATCAST might be used to track storm systems and provide severe weather warnings that are not now available, Mecikalski said. "This makes SATCAST and satellite-based rainfall predictions very relevant in developing countries where ground-based radar is absent but high-quality satellite data are in place."
Organizations evaluating SATCAST's potential include the European
Organization for the Exploitation of Meteorological Satellites, meteorological satellite agency and the South African Weather Service, whereas the NASA's Short-term Prediction Research and Transition Center (in Huntsville) is helping to train National Weather Service forecasters on its forecasting capabilities.
The UAHuntsville team is also working on a next generation SATCAST, which will take advantage of improved sensing systems on NOAA's forthcoming GOES-R satellites starting in 2016. Sensors on those satellites will collect data in more channels, more often and at higher resolution.
SATCAST development was supported by grants from NASA's Applied Sciences Program, and from the National Oceanic and Atmospheric Administration and the National Science Foundation.
HUNTSVILLE, Ala. (August 17, 2011) - The University of Alabama in Huntsville has reached a major milestone in its quest to become one of the nation's leading research universities.
The Carnegie Foundation for the Advancement of Teaching has announced that UAHuntsville has been classified in the "very high" research category, placing it among an elite group of only 73 public universities in the United States. UAHuntsville's new classification was based on data from 2008, according to the Carnegie Foundation.
Malcolm Portera, President of UAHuntsville and Chancellor of the University of Alabama System, said the classification affirms the importance of research to the university.
"We are extremely proud of the world-class research that defines our campus," Dr. Portera said. "Achieving classification in this premier category recognizes the accomplishments achieved by our faculty, researchers, students and staff, and reflects the growth in the university's impressive research portfolio."
UAHuntsville had been classified as a high research activity institution for numerous years, but this new ranking puts the university at the highest category attainable in the Carnegie Foundation rankings. The classification is based on various criteria: R&D expenditures in science and engineering as well as non-S&E fields; science and engineering research staff; doctoral conferrals in the field of humanities; and social sciences as well as STEM areas.
A "very high" research activity classification places UAHuntsville in the top 3 percent of the almost 2,000, four-year accredited degree-granting colleges and universities in the United States. Only two Alabama universities are in this classification - UAB and UAHuntsville.
"The Carnegie ranking is extremely significant, and we are very proud to have achieved this level of research, especially when one compares the size of UAHuntsville to the other universities in our group," said Dr. John Horack, UAHuntsville's Vice President for Research. "And while it is an important milestone, it is not the objective. The goal is to bring UAHuntsville to the status of an exceptional research university. This ranking is an important external validation that our research faculty are doing the right things, moving UAHuntsville forward, and serving our students, our city, our region, and the people of Alabama."
The ranking is noteworthy in that it recognizes the high level of cutting-edge research being conducted by our faculty and researchers as well as the quality of our doctoral students, and will bring additional acclaim to the campus and could provide momentum in recruiting higher quality students and faculty, according to Provost Vistasp Karbhari.
He notes that recognition from the Carnegie ranking could assist the university by:
Attracting higher ranked students to our undergraduate and graduate programs
Bringing recognition to innovative and leading academic programs directed by our faculty that merge cutting edge research with leading edge classes, thus keeping our students at the forefront of science, technology, innovation and creative activity.
Assisting further in providing recognition for and enhancing our faculty's reputation, which will assist them in being even more competitive for national level grants/contracts and awards
Providing external recognition of our faculty's excellence and reinforcing that we are on the right track in enhancing our reputation and ability to join the top ranked universities in the nation.
UAHuntsville excels in numerous research areas that include: Earth system science and climate research, severe weather research, computer science and information technology, information assurance and security, astrophysics and space plasma physics, aerospace and systems engineering, electrical and computer engineering, optics, modeling and simulation, business, logistics and supply chain management, biotechnology and nursing. Major research funding at UAHuntsville comes from NASA, the Department of Defense, NOAA, the National Science Foundation, the state of Alabama, among others.
The Carnegie Classification was created to assist those conducting research on higher education, and provide a way for colleges and universities to be compared to institutions of similar qualities. The full database of universities and their Carnegie Classification can be found at http://classifications.carnegiefoundation.org.
For more information,
contact Ray Garner
256.824.6397
(256.UAH.NEWS)
ray.garner@uah.edu

HUNTSVILLE, Ala. (August 4, 2011) - University of Alabama in Huntsville (UAHuntsville) history professor Samuel S. Thomas has written about the history of midwifery for historical journals, and in the coming year he will explore the subject in fiction as well.
The book, a work of historical fiction is tentatively titled The Midwife's Story: A Mystery will be published next fall by St. Martin's Press. Thomas's book tells the story of Bridget Hodgson, an elite midwife in 17th century York, England. While Hodgson is a gentlewoman by birth, and thus is close to the most powerful families of York, her work as a midwife takes her far beyond of her elite social circle.
Thomas discovered the historical Bridget Hodgson more than a decade ago, while conducting research for his doctoral dissertation at the Borthwick Institute for Historical Research in York, England.
"By pure chance, I opened a box of wills from December 1685, and saw the words, 'I, Bridget Hodgson, of the City of York, Midwife …' at that moment I knew that I had found a remarkable document," Thomas said. "While I'd read hundreds of wills, I'd never found one by a woman who described herself as anything other than "widow" or "spinster." Bridget chose to define herself not by her marital status, but by her profession."
Thomas is at work on a sourcebook in the history of medicine, as well as a sequel to The Midwife's Story. In addition to writing historical fiction, Thomas has written a book and several articles on subjects ranging from girls' education in British East Africa, to religious politics in the Glorious Revolution, to the rise of the male midwife in the 18th century.
Thomas's areas of teaching specialty and research include early modern Europe, history of medicine and midwifery, women's and gender history and the history of Africa. He has received the following fellowships and awards the National Endowment for the Humanities Summer Stipend, Newberry Library/British Academy Exchange Fellowship, Wellcome Trust Research Travel Grant, and a Research Mini-Grant from The University of Alabama in Huntsville.
His book publications include Creating Communities in Restoration England: Parish and Congregation in Oliver Heywood's Halifax (manuscript complete and under review). And, The History of Medicine in Europe from Hippocrates to Harvey: A Sourcebook (under contract with Pearson Education).
Thomas received a undergraduate degree in history from Pomona College (Claremont, Calif.), master's degree in history from The University of Rochester (Rochester, New York), A.M. and Ph.D., degrees in history from Washington University (St. Louis, Mo.).
For more information
Joyce Anderson-Maples
(256) 824-2101
maplesj@uah.edu
HUNTSVILLE, Ala. (July 18, 2011) - It sounds like the makings of a gripping film noir - a man is convicted of a crime based on eyewitness testimony, only to have his sentence overturned when the eyewitness identification is proven to be faulty.
But far from being the plot of a Hollywood movie, false convictions based on faulty eyewitness identification is an alarmingly common occurrence in our criminal justice system.
Why? It's hard to say.
There are two main types of identification that are used: show-up and lineup. With show-up identification, the eyewitness is shown one person at a time, whereas with line-up identification, the eyewitness is shown several people at once. Yet although show-up identification is used more than lineup identification, it is considered by many to be less reliable. But are line-ups are any better? As of yet, there's no definitive way to know, says Dr. Jeffrey Neuschatz, an associate professor of psychology at UAHuntsville.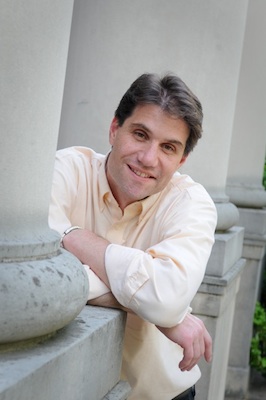 Image of Dr. Jeffery Neuschatz
"There's very little research on show-ups, and what's done suggests that show-ups are more biased," says Neuschatz. "But I'm not convinced by the data."
He resolved to address the gap in the literature by not only applying the old platitude that two heads are better than one, but improving upon it. He decided to partner with two other colleagues from across the country, Canisius College's Dr. Charles A. Goodsell and University of Oklahoma's Dr. Scott Gronlund, to study "whether show-ups really are more biased, and if not, whether they're better or worse than lineups." The three then applied for - and were awarded - a three-year grant from the National Science Foundation (NSF) to carry out their research project, entitled "Collaborative Research: Show-ups vs. Lineups: A Comparison of Two Identification Techniques."
Exactly how these three scholars from disparate parts of the country came to be working on the same project takes some untangling. Neuschatz, who got his master's from SUNY Cortland before earning his Ph.D. from SUNY Binghamton, shared a professor with Goodsell, who was at SUNY Cortland as an undergraduate student. Goodsell then went on to earn his master's from UAHuntsville, where Neuschatz would end up teaching, and his Ph.D. from the University of Oklahoma - the same school where Gronlund was working on his Ph.D. That convoluted nexus eventually resulted in the 2008 publication of a paper, authored by the three, entitled, "The Effect of Mug Shot Commitment and Choosing on Line-Up Performance in Young and Older Adults." And that paper, in turn, formed the foundation for the group's collaborative proposal to the NSF.
However, to actually get the grant, says Neuschatz, "I thought we were going to have to come up with a more theoretical approach to exploring this issue, including modeling the behavior data." That's where Gronlund and Goodsell could help. "I knew Gronlund and Goodsell knew how to do the modeling, so I asked them to get involved with that aspect," he says. "That way, I could come up with the behavioral aspects and they could do the modeling so that we could see the different mechanisms involved in identifying people."
Once they finalized the approach, the trio began the proposal process. "We started working on it in February of 2010 and we submitted it in August of 2010," says Neuschatz. Helping them was Stacy Wetmore, a UAHuntsville master's student who will be pursing her Ph.D. from the University of Oklahoma. "I learned quite a bit about the proposal process," says Wetmore. "Not many students get a chance to work on such an in-depth proposal for the NSF. It took quite a while!"
The group's proposal was just one of 11 that were ultimately accepted by the NSF, which received a total of 130 proposals. The three-year grant began June 1,of this year and will fund three phases of research involving four experiments.
The first phase will be dedicated to developing the stimuli and will form the basis of the first three experiments. In essence, explains Neuschatz, it will consist of "a video of someone robbing a bike shop." Once that is completed, the second phase will begin, wherein thousands of people - "from UAHuntsville, from the University of Oklahoma, from Canisius College, and from the Internet" - will watch the video and try to identify the criminal based on either a show-up or a lineup. The fourth experiment will be similar, says Neuschatz, but "we'll use other manipulations like clothing bias. Does that influence their choice? We think it will be more exaggerated in a show-up, so we will need to make different stimuli in which the clothing worn by the people is varied." The third, and last, year of the project will be dedicated to modeling the data.
The ultimate goal, says Wetmore, is to "identify the best practice that could be used in eyewitness identification."
If the group is able to accomplish this, they may one day be able to influence public policy. After all, says Neuschatz, "I think the reason everyone who does this kind of research is to inform public policy and public opinion."
For the time being, Neuschatz knows their focus needs to be on the short-term rather than the long-term. "Although it would be nice if we could come up with a set of procedures to make eyewitness identification unbiased," he says. "My immediate goal is to see what's going on before we make any suggestions about how people ought to do these things."
For more information,
contact Ray Garner
256.824.6397 (256.UAH.NEWS)
ray.garner@uah.edu">ray.garner@uah.edu

HUNTSVILLE, Ala. (June 8, 2011) — The southeastern U.S. might be uniquely equipped with the right combination of natural resources to meet the nation's growing demand for farm products.
"The Southeast may be in a sweet spot," said Dr. Richard McNider from The University of Alabama in Huntsville. "We are one of the few places in the country with both the water and the land that will be needed to substantially increase farm production.
"That could become very important in the near future, as California and other western states continue to struggle with escalating water shortages. Southern New Mexico, for instance, recently set an all-time record for consecutive days without rain."
Supported by a $2.2 million grant from the U.S. Department of Agriculture, McNider leads a team that will spend the next four years studying the environmental and economic impacts that widespread expansion of irrigated agriculture might have in the Southeast. The test region includes Alabama, Mississippi, North Florida, Georgia and South Carolina.
"If the forecasts for climate change are accurate, the dry western states will get drier and the wet states will get wetter," said McNider, a professor emeritus of atmospheric science at UAHuntsville. "Whether we have climate change or not, the western region is very likely to return to the 'normal' climate of the previous 500 years, which is much drier than the climate of the past 100 years.
"In either case, the impact on our food, fiber and now energy security will be significant. Now is the time to start thinking about how we deal with these issues, instead of waiting for the crisis that we can see coming at us."
The research team includes climate and weather modeling experts at UAHuntsville, ecologists at The University of Alabama (Tuscaloosa), agricultural economists at the University of Georgia, crop modelers at Washington State University, water policy experts at California State University at Long Beach, and hydrology modelers at the U.S. Forest Service.
The study's goals include determining how much surface water is available for irrigation, and how much is needed for optimum farm production. The team will look at the environmental impact of taking water out of local ecological systems and whether large-scale irrigation can be sustained over long periods of time.
Several factors in addition to climate change may be coming together that will make irrigation-assisted farming in the southeast more economically attractive, McNider said. Rising fuel costs are raising the price of shipping across the country fruits and vegetables that once were raised east of the Mississippi River. The growing demand for alternative fuels, especially ethanol and biodiesel, means droughts or flooding in the Midwest might cause drastic swings in prices for both food and gasoline in the future.
"We have made ourselves vulnerable to drought in the Midwest, at the same time we deal with almost inevitable water shortages in the West," McNider said.
For more information:
Dr. Dick McNider, (256) 961-7756
Cameron Handyside, (256) 961-7824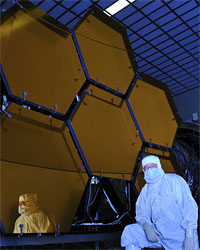 HUNTSVILLE, Ala. (July 24, 2011) -- The mirrors that Dr. James Hadaway and his associates will soon test for NASA's next great space observatory look pretty much like he thought they should look 15 years ago.
Dr. James Hadaway is shown inside the vacuum chamber at NASA's X-Ray and Cryogenic Facility with six mirrors destined for the James Webb Space Telescope. (Jake Lewis, Ball Aerospace & Technologies Corp.)
Scheduled to arrive at NASA's Marshall Space Flight Center 's X-ray and Cryogenic Facility (XRCF) on Monday, July 25, six gold-coated mirrors for the James Webb Space Telescope (JWST) must be tested at temperatures mimicking the extreme environment of space ions to ensure that the mirrors will be smooth and focused when they are put to work most of a million miles from Earth.
A principal research scientist at the University of Alabama in Huntsville's Center for Applied Optics, Hadaway leads the optical testing of the Webb telescope's 18 primary mirrors. Subcontractors through Ball Aerospace, he and Dr. Patrick Reardon are part of a team working to insure that the Webb telescope sees everything it should see. The observatory was designed to look at stars and galaxies on the distant edges of the universe.
Dr. James Hadaway, left, and Dr. Patrick Reardon are with the instruments they use to test primary telescope mirrors for the James Webb Space Telescope. (Phillip Gentry, Catalytic PR)
The mirrors arriving this week are the second of three sets. The first six mirrors all passed their tests in April and May, despite MSFC losing electric power following the April 27 tornadoes.
"We had six mirrors in the vacuum chamber and we were at the cold temperature -- 45 Kelvin (about 378° F below zero) -- and we had finished measurements on three mirrors by that Wednesday afternoon," recalled Hadaway. "It was a pretty critical time. It takes a lot to get and keep these mirrors cold.
"We knew something bad was happening outside, but we had to focus on what we were doing."
UAHuntsville's optical measurement team headed for home about 5:30 that afternoon, just before the power went out at MSFC. That included power to the (XRCF) where the mirror testing is done.
"Fortunately, the XRCF has a diesel generator to keep things running in a power outage," Hadaway said. "That night they e-mailed us, 'We're still good,' so for the next three days we were out there taking data. They only had enough power for the instruments and to maintain the chamber, so by Saturday it was up to 85 inside the building. But we ended up getting all of our data as planned, on budget and on schedule.
"The real story on this is the people who run the (XRCF) ) facility. They're the ones who did the heroic job, arranging for enough diesel fuel, liquid nitrogen, liquid helium and all the other things needed to keep us running. They did a great job of keeping everything going."
Once they are cooled to the temperature of deep space, the extraordinarily smooth mirrors have to be warmed slowly over a period of several days to avoid damage, distortion or condensation, which could leave behind deposits on the polished gold surface.
Hadaway has been part of the Webb telescope program from its beginning, when he led the optical design team that came up with the initial layout for the telescope. With a mirror that is about seven times bigger than the mirror on the Hubble Space Telescope, the Webb will collect infrared radiation (energy that our bodies sense as heat) from the most distant stars and galaxies ever viewed.
"The final optical design is basically the same as my original design," Hadaway said. "The optics weren't too difficult to design. The hard part was making lightweight mirrors that will survive launch loads and then deploy properly." The mirror development team led by Ball Aerospace included UAHuntsville, Brush Wellman of Elmore, Ohio, Axsys Technologies of Cullman and L-3 Tinsley of Richmond, Calif.,
The next step would be building and testing mirrors, starting with engineering mockups and continuing with flight hardware.
What would have been routinely challenging was complicated by the observatory's working environment. Infrared energy includes the same wavelengths created when sunlight warms a spacecraft. To avoid polluting weak infrared radiation from galaxies on the edges of the universe with heat absorbed from sunlight, the Webb telescope will be shaded from the sun. Sitting in that shade, the mirrors will operate at temperatures about 45 degrees Celsius above absolute zero.
When the mission was proposed, no one knew how telescope mirrors built on Earth at room temperatures might bend and distort at temperatures that cold. During a meeting at NASA's Marshall Space Flight Center, officials wondered where they might find someone with the special knowledge and skills needed to organize and conduct a mirror testing program under those extreme conditions.
Hadaway stuck up his hand.
"We can do that," he said. After working with NASA to develop specialized mirrors used for X-ray telescopes, Hadaway was confident the CAO team could develop the tools needed to test mirrors designed to collect energy at the other end of the electromagnetic spectrum.
A house-sized cryogenic chamber in the XRCF, a facility built for testing the Chandra X-ray Observatory's optics, was adapted for testing Webb mirrors at extremely cold temperatures.
Using techniques that they developed, "we measured to see how each mirror deforms when it 'goes cold,'" Hadaway said. "We send what we find to Tinsley Laboratories in Richmond, California, which polishes opposite distortions into the mirrors. If it was a bump when it was cold, they polish in a hole. Now it looks bad at room temperature, but it's perfect in the cold."
Perfect? The average imperfection allowed is the height of about 200 hydrogen atoms.
Testing mirrors in a massive insulated chamber requires Hadaway and his team to be flexible. "If it gets cold at 3 a.m., you go in at 3 a.m.," he said. "You go when they're cold. We try to work with the guys at Marshall so things work out in the daytime, but you just have to be there when it's time."
The mirror-testing program is scheduled to end by the end of this year, although Hadaway expects to be involved in the Webb telescope's ongoing testing, development and preparations for a possible launch in 2015. In the 15 years he has been involved in the program, Hadaway's team has received more than $5 million in NASA funding to support UAHuntsville's work.
"I was part of this program from day one," he said. "My goal is to be there when it's on orbit and certified to be operational."
For more information,
contact Ray Garner
256.824.6397
(256.UAH.NEWS)
ray.garner@uah.edu