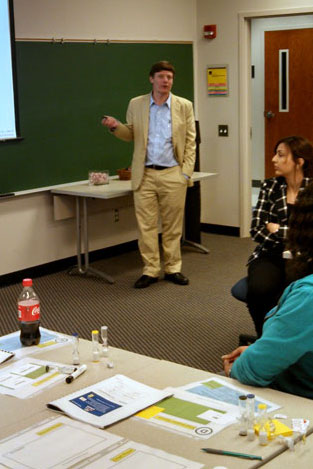 HUNTSVILLE, Ala. (April 11, 2014) - The University of Alabama in Huntsville (UAH) is on "the leading edge of higher education institutions nationally" by combining its research, educational and training functions to offer Lean process instruction to healthcare practitioners, says a nationally known Lean instructor.
Dr. Hugh McManus, senior special projects engineer at Metis Design and associate director of the LAI (Lean Advancement Initiative) Educational Network (EdNet), travels extensively to train the trainers who will be giving instruction in Lean principles.
Dr. McManus was on campus April 3 for a course to familiarize university staff, graduate students and Huntsville Hospital representatives with the one-day training so they could instruct others. UAH is a charter member of EdNet, which was founded at and collaborates with the Massachusetts Institute of Technology (MIT).
"UAH has worked with LAI for 10 years. Our initial interface with LAI was expanding the Lean concepts into the aerospace and defense market," said Dr. Kenneth Sullivan, a Research Institute principle research engineer and founding director of the UAH LAI center.
UAH's Research Institute has a cooperative agreement with Huntsville Hospital to train its employees in Lean principles and will be integrating EdNet's Lean Healthcare simulation into the UAH Lean Healthcare curriculum in conjunction with student-led projects and applied research. The instruction is also available for other interested healthcare practitioners and entities.
"The basic purpose of this course is to introduce healthcare providers to these Lean concepts using their own language," Dr. McManus said. "There's a necessity to translate some of the concepts themselves into terms that healthcare workers find familiar."
Originally developed and used in manufacturing settings, the higher demand for healthcare services and less money to pay for them have created a great need for the efficiencies Lean can offer the medical field, Dr. McManus said. Measures of patient satisfaction with their treatment experiences and outcomes are also becoming more important, he said, as competition for patients among healthcare providers rises.
A lot of these principles are the very same ones we have used with Lean instruction in manufacturing and supply chain improvements.
Joe Paxton
Principal research scientist
UAH Research Institute
"There is a lot of inefficiency in healthcare in this country, which makes applying these principles very rewarding," Dr. McManus said. "There is a lot of opportunity to make things better."
UAH faculty, undergraduates and graduate students from the colleges of engineering, business administration and nursing joined staff from the UAH Research Institute at the course. They will collaborate to teach Lean principles to Huntsville Hospital employees and other area healthcare workers.
"A lot of these principles are the very same ones we have used with Lean instruction in manufacturing and supply chain improvements," said Joe Paxton, a Research Institute principal research scientist and a principal investigator for the Lean Healthcare activity.
"Today we are setting the groundwork to teach this to area healthcare providers, then by working with the industrial training people at the Research Institute, we will work on implementing Lean with the area's healthcare institutions," said Dr. Sampson Gholston, an associate professor in Industrial & Systems Engineering and Engineering Management who has done research on applying Lean to healthcare with Dr. M. Peggy Hays, associate professor in the UAH College of Nursing, who was also present.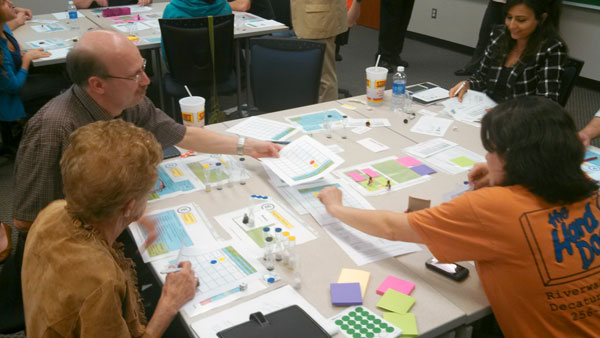 "Also, we'd like to add this as a course in the curriculum. What we're hoping to do is get nursing students to take this as an elective," Dr. Gholston said. "That way, they will have this concept and be able to apply it to healthcare when they leave UAH."
Among the course participants was Richard Ivey, manager of performance measurement at Huntsville Hospital, who is a proponent of applying Lean in hospitals.
"I'm here to learn how we can apply Lean principles across a variety of settings at Huntsville Hospital," said Ivey. "My role will include helping train our staff by incorporating simulation and other hands-on activities in order to practice core concepts of Lean."
---
You may also be interested in: