Fun helps nursing students prepare for exams, study says
HUNTSVILLE, Ala. (July 9, 2013) - Mixing fun with fundamental lessons may help nursing students retain more knowledge in preparation for exams, a case study at The University of Alabama in Huntsville (UAH) indicates.
To ready for their final exam, UAH nursing students reinforced what they had learned about fundamental nursing by playing a game called "Nursopardy," based on the TV game show "Jeopardy." They were later surveyed using a five-point Likert scale, the most widely used approach to capture the intensity of feeling about items in survey research.
"Millennial students, born after 1981, have grown up in a world with a lot of technology and expect instantaneous responses," said Lisa Boctor, a clinical instructor in the College of Nursing at the university. "Games are one way to reach these students by giving them an active learning experience."
Results of the anonymous survey showed students found the game to be enjoyable and beneficial to their learning processes, she said. ("Active-learning strategies: the use of a game to reinforce learning in nursing education. A case study"; Boctor, Lisa, National Library of Medicine, Nurse education in practice 13.2; March 2013: 96-100)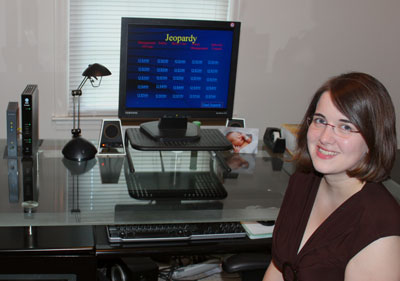 University of Alabama in Huntsville
Lisa Boctor, a clinical instructor in the UAH College of Nursing, invented "Nursopardy," a game based on the TV game show "Jeopardy," to help students review material in preparation for exams.
"The game was a useful teaching strategy that received positive evaluation by students," said Boctor. "This learning method allowed us to review a large amount of material in a relatively short amount of time."
Besides fun and friendly competition to keep students involved and attentive, Boctor said the game provided time to review the rationale for the correct answers, when needed, after a team answered a question. "I think that allowing time to examine rationales is essential for learning and easy to incorporate into a quiz-style game," she said.
Boctor began by giving students a learning style assessment at the beginning of the semester that showed that the majority were kinesthetic learners. "Kinesthetic learners prefer a hands-on approach to learning," she said. "It also showed that 70 percent of the students are global learners, making group work a great educational tool.
"I came up with the idea for a game when looking for a way to review Fundamentals of Nursing course material prior to students taking a standardized exam at the end of the semester," she said. "I thought that students would appreciate an active-learning activity to review material as opposed to a lecture for review."
Utilizing the National Council Licensure Examination (NCLEX), the U.S. nursing licensure test, the game has five categories and 26 questions. The categories used were inspired by the NCLEX-RN Detailed Test Plan and included management of care, reduction of risk, safety and infection control, basic care and physiologic adaptation.
"The game was implemented using PowerPoint and students were divided into teams," Boctor said. Thirty-nine students from five clinical groups played the game. Each clinical group functioned as a team that discussed and decided on answers together. "The teams could pick a category and dollar amount from $100 to $500 and were given a multiple choice question to answer. The final round allowed teams to wager some or all of their winnings."
Future study should implement a control group and could focus on larger sized student groups using the game.
"Future research should look at learning outcomes and will need a comparison group," Boctor said. "There is generally a lack of empirical evidence in nursing literature regarding the outcomes of various active-learning strategies, including games."
---
You may also be interested in: