Innovation grant will drive growth in research; educate future aerospace workforce for Alabama
HUNTSVILLE, Ala. (February 22, 2013) — The University of Alabama in Huntsville has received an innovation grant that will be instrumental in advancing propulsion technology and maintaining Alabama's status as one of the leading states in the nation in aerospace and propulsion research.
UAH received a $300,000 grant as one of 15 research, innovation and job creation projects from Gov. Robert Bentley's Alabama Innovation Fund.
The grant will be used to support a massive research device unveiled today by Gov. Bentley and officials from UAH, Marshall Space Flight Center and The Boeing Co.
These dollars are part of the first round of state-funded grants to support research and economic development. The projects were chosen based on the likelihood of successful commercialization, additional research and job creation.
"The Alabama Innovation Fund supports high-tech research and innovative ideas that will lead to more jobs in our communities," Gov. Bentley said. "By investing in innovation and research, we are investing in opportunities that will benefit people for years to come. UAH is a leader in research and innovation, and I am proud to support this project because of the benefit it will have on the surrounding community."
UAH President Robert Altenkirch said the scope of research conducted by the university's faculty and students demonstrates the leading-edge technologies that are being developed in Alabama.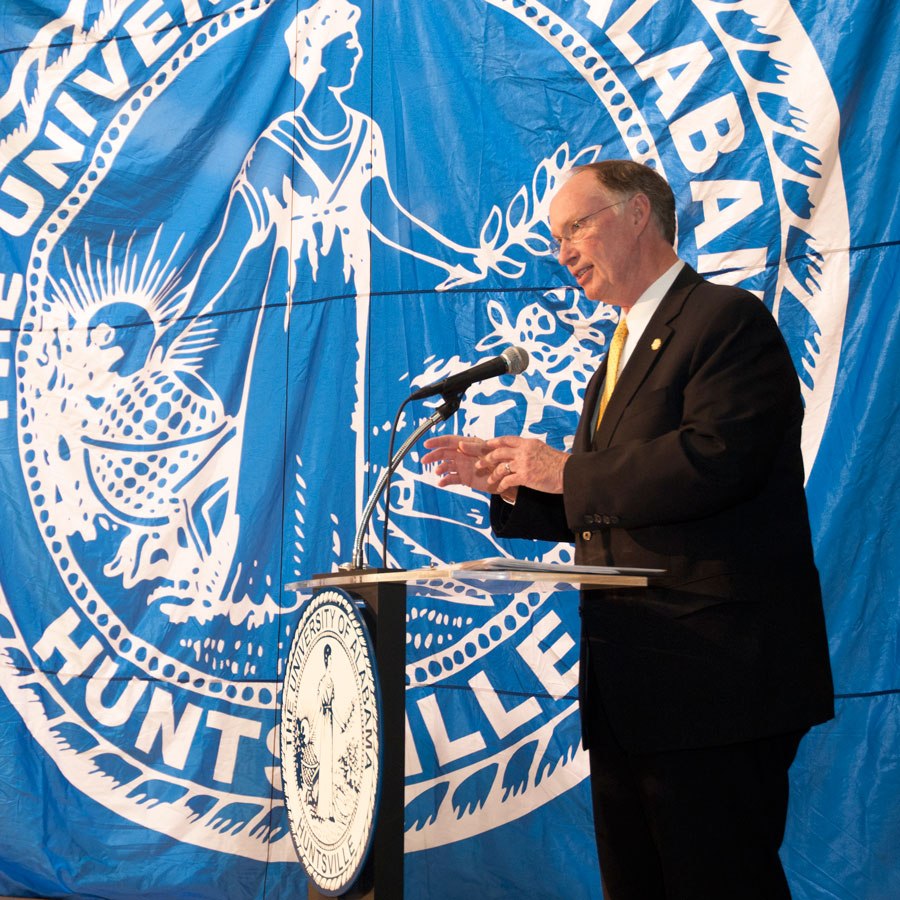 "Propulsion is one of those disciplines that has driven this community's growth for more than a half century," Altenkirch said. " Gov. Bentley's support of this project ensures that we will continue to expand research in propulsion technologies, and also allow us to remain at the forefront of educating the future workforce for NASA, Marshall Space Flight Center, and the many companies located in Alabama that support our nation's aerospace activities."
A team of scientists and researchers from UAH's Department of Mechanical and Aerospace Engineering, Boeing and MSFC's Propulsion Engineering Lab has assembled the machine named the "Charger 1 Pulse Power Generator" at the university's Aerophysics Research Center on Redstone Arsenal. The device will be a key element in furthering the development of fusion technology to drive spacecraft into space beyond low-Earth orbit.
"We are pleased to contribute to innovative efforts that further the state-of-the-art in propulsion technology," said Greg Hyslop, Boeing Vice President for Research & Technology, the company's advanced central research-and-development organization. "Amazing new technologies are being generated from the pursuit of safe, affordable, reliable access to space. The challenge, the knowledge, and the learning that will result from this grant are the very reasons we seek to explore beyond Earth."
Reassembling several huge pieces of the equipment, the components were delivered in five shipments to Redstone Arsenal from San Leandro, Calif. The unit will tip the scales at nearly 50 tons, and will be "the largest, most powerful pulse power system in the academic world," according to university officials.
Refurbishment will include replacement of about 100 large resistors, and securing 15,000 gallons of transformer oil for the Marx tank, which holds the capacitors and prevents arcing between them.
Research using the Charger 1 Pulse Power Generator could change the way rockets are propelled and revolutionize space travel, according to UAH engineers.
"We're interested in deep space exploration," said Jason Cassibry, a faculty member in UAH's mechanical and aerospace engineering program. "Right now humans are stuck in low Earth orbit, but we want to explore the solar system. We're trying to come up with a system that will demonstrate 'break even' for fusion pulse propulsion."
Since the dawn of spaceflight, the world's rockets have relied on chemical reactions of various fuels, such as kerosene or liquid hydrogen, to provide the thrust needed to launch and propel spacecraft. Launch vehicles have to be designed to carry thousands of tons of fuel, and rocket engines that could lift these massive loads along with the relatively lightweight payloads.
Fusion pulse propulsion would reduce fuel needed to a few tons instead of thousands of tons. It could reduce a trip to Mars to six weeks instead of six months, which reduces bone density loss and other effects of prolonged weightlessness on crew members.
A launch of such a system would be somewhat like assembling the international space station. Multiple launch vehicles would put the required components into orbit, where the spacecraft would then be assembled. The pulse fusion engine would then launch the spacecraft from this higher Earth orbit. After achieving mission velocity, the engines would be turned off and the spacecraft would coast to its destination.
Crew members would feel the power as a series of pulses like a light tapping – not the common misconception of a full-throttle acceleration that would keep them pinned to the backs of their seats.
UAH graduate student Ross Cortez describes the fusion principle as "taking two light atoms and smashing them together, which releases massive amounts of energy." Similar to the process used by the Sun for billions of years, atoms of heavy hydrogen, or deuterium, combine with isotopes of lithium to release the energy required for thrust.
Another way to look at it, Cortez says, is to liken it to a lightning strike, when an electrical current blasts through the fuel to compress the atoms, which achieve the reactions needed.
Those pulses come from a bank of large capacitors, known as a Marx bank, which stores electrical charges for release on command. The wires, some composed of lithium 6 and others of lithium deuteride, provide the power pulses.
"We plug the wire array into this machine," explains Cortez, "and a massive jolt of energy is fed into the array, which vaporizes into a plasma which we collapse into a Z-pinch."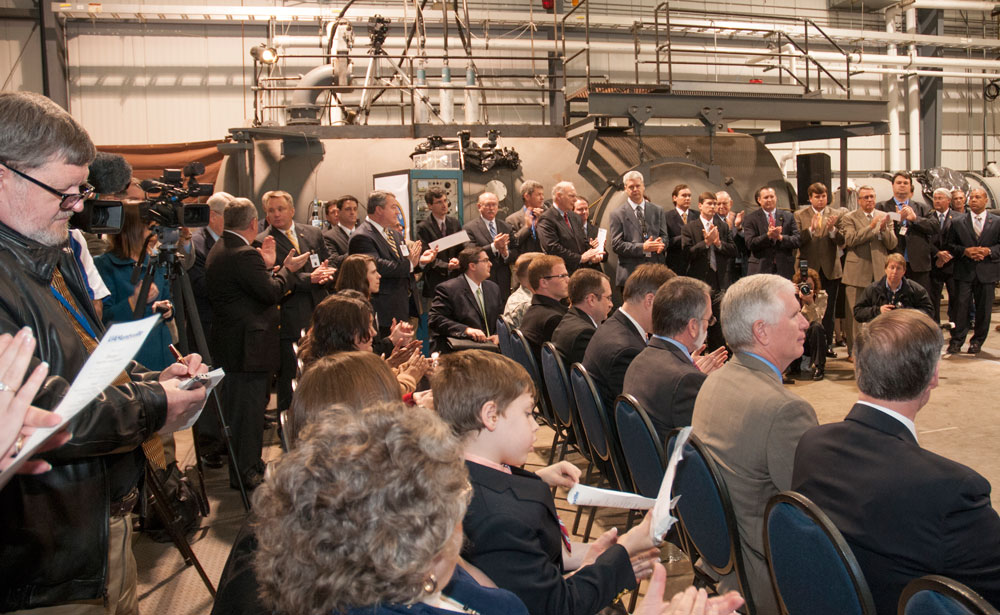 The Z-pinch effect, he explains, is the compression derived from the plasma's own magnetic fields. Cassibry says the Z-pinch is "the equivalent to 20 percent of the world's power output in a tiny bolt of lightning no bigger than your finger."
Energy gain is another important factor in fusion pulse propulsion where, Cortez says, "we need to get more energy from the reaction than we use to initiate it."
That would be a major breakthrough, but Cassibry said an important milestone will be to simply achieve "break even" – the point where the energy derived from the pulse system equals the energy put into it.
Though this propulsion concept has been around for decades, Cortez said it has only been recently that engineers have been able to create the necessary reactions and the ability to control them.
"This has been the Holy Grail of energy propulsion technology," Cortez said. "The massive payoff is that energy gain, where we get more energy out of the reaction than we put in. This is what everyone has pursued since the time we first started thinking about this propulsion concept."
The researchers say Charger 1 is an important tool that will help them ultimately achieve the goal of practical fusion propulsion.
"Charger 1 won't come close to break even, but will give us ability to conduct experiments that optimize fusion energy output," said Cassibry. "Our ultimate goal is to build a break even fusion system that will propel humans throughout the solar system."
For more information, contact:
Ray Garner
256.824.4688
ray.garner@uah.edu
---
You may also be interested in: