UAHuntsville graduates find opportunity; develop software to search patent database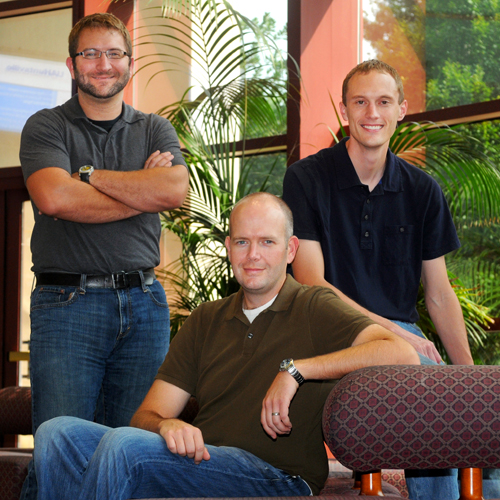 Arch Data founders are, from left to right: Jason Martin, Tony Rainoldi, and Brad Chassee.
HUNTSVILLE, Ala. — It was conversations with lawyers, engineers, and inventors, when a trio of graduates of The University of Alabama in Huntsville discovered that the same frustrations kept coming up.
Entrepreneurs Jason Martin, Brad Chassee and Tony Rainoldi, the founders of ArchPatent, despite the critical role that intellectual property plays in the current business environment, there was simply no easy, low-cost way to navigate the enormous database of patent information or be confident that you were identifying the most important results.
"We found that people were relying on free search tools offered by Google and others, but were frustrated that they didn't do enough," says ArchPatent CEO Brad Chassee. "They had a lot of ideas about what functionality they needed to save time and money. We listened and set out to build something better."
Chassee says there is no secret formula to launching a successful product. "You just need to seek honest, straightforward feedback from people who understand the market space and then execute on their input. We knew early on that the insights of industry experts would be crucial to developing a better patent search tool."
One early advisor was David Lucas, former general counsel of Intergraph -- now at Bradley Arant Boult Cummings LLP. They reached out to Lucas based upon the breadth of his patent experience – having defined strategies that resulted in more than $1 billion in royalties from litigation and licensing from such notable companies as Intel, IBM, HP, Texas Instruments, and Sony.
In recounting his involvement with the ArchPatent team, Lucas said, "The Arch team was not just looking to develop a competitive patent search tool, but one that was significantly more useful than was otherwise available. We spent a lot of time working through capabilities that I had relied on in my practice, but which historically required multiple programs and trained personnel to achieve. Arch came back with a prototype that reflected most of those key capabilities in a single program, and then continued to incorporate my feedback with each release, ultimately, crafting a search architecture that generated results faster and in a more useful way."
Lucas is no longer just an advisor, but a customer as well – and Arch continues to seek and incorporate input from him and others at Bradley Arant to advance the capabilities of ArchPatent.
Another early advisor turned customer is Kannan Grant, Director of the Office of Commercialization (OTC) at UAHuntsville. The three founders are alumni of UAHuntsville and identified Grant as someone in a unique position to offer valuable input – he directs the school's efforts to commercialize the cutting-edge research being produced as part of its $100 million research budget.
Grant recalls the early meeting between him and the ArchPatent team. "I remember the first conversations we had about the difficulty in using the USPTO patent search site and other commercially available sites for a project the OTC was doing at that time. We were pleased that the ArchPatent team listened and understood our frustrations, and are very impressed that they have since created a tool that is as intuitive as it is easy to use. I can see this as a valuable tool to many individuals, academic institutions and companies."
First Steps: Creating ArchPatent
"Our first goal was to build the best free tool for searching U.S. patents," said Chassee. "We wanted it to be something that was intuitive and could be used by everyone, even those who had never conducted a patent search before."
ArchPatent was launched last year with a number of unique features:
A facetted filtering architecture that provides the right set of targeted, comprehensive results in less time with less effort.

A set of highly valuable workspace tools for keeping track of past searches and important patents

A way to identify the patents most frequently referenced by patents appearing in one's search results
The next step: ArchPatent Pro
The ArchPatent founders were the recent recipients of funding from the Alabama Launchpad competition. That funding would be used to turn ArchPatent from an expensive hobby for the founders into a profitable endeavor by launching ArchPatent Pro, a premium subscription product.
"Our initial objective with this $25 a month offering is to achieve success through sales within Huntsville and throughout Alabama by providing a tool that adds value to the businesses here where we started," said Chassee. "ArchPatent users can sign up for a free trial of the subscription product and let us know what they think. There is no other product in the market right now that provides these features at such a reasonable cost."
One feature that is only available to ArchPatent Pro subscribers is integrated patent reassignment data. If you go to any of the popular free patent search sites you are not able to see the history of the patent assignment, or the current owner, if it has been changed with the United States Patent Office. This type of information is highly valuable for anyone trying to understand the patent landscape.
For example, Patent #6323846 was found using the search string "multi-touch screen" in reference to an attribute that should be familiar to anyone with a smart phone. The original patent assignee was the University of Delaware. All free patent search sites will provide this information since it was available when the patent was issued. But, with ArchPatent Pro, you are able to see the full patent assignment history, which reveals that this particular patent is now owned by Apple Inc.
ArchPatent Pro also includes a feature called ArchMonitor that allows users to set and receive alerts about changes to patents they saved or when saved searches turn up new results. The U.S. Patent Office releases thousands of updates to patents every week, including published applications, granted patents, and assignee changes. Recently, Microsoft spent $1 billion to buy over 800 patents from AOL. By utilizing ArchMonitor to track the patents of companies such as these, users will be able to stay current with any changes occurring within their market space.
A Path Ahead
The team behind ArchPatent is committed to further developing their products based on the suggestions and feedback of users, they said. "We know that users will keep telling us what they need to be successful," said Chasse. "Our goal is to continue to make improvements that meet these needs. It is so rewarding to know that people are using what we've developed to be more productive and better informed."
For more information,
contact Ray Garner
256.824.6397
(256.UAH.NEWS)
ray.garner@uah.edu