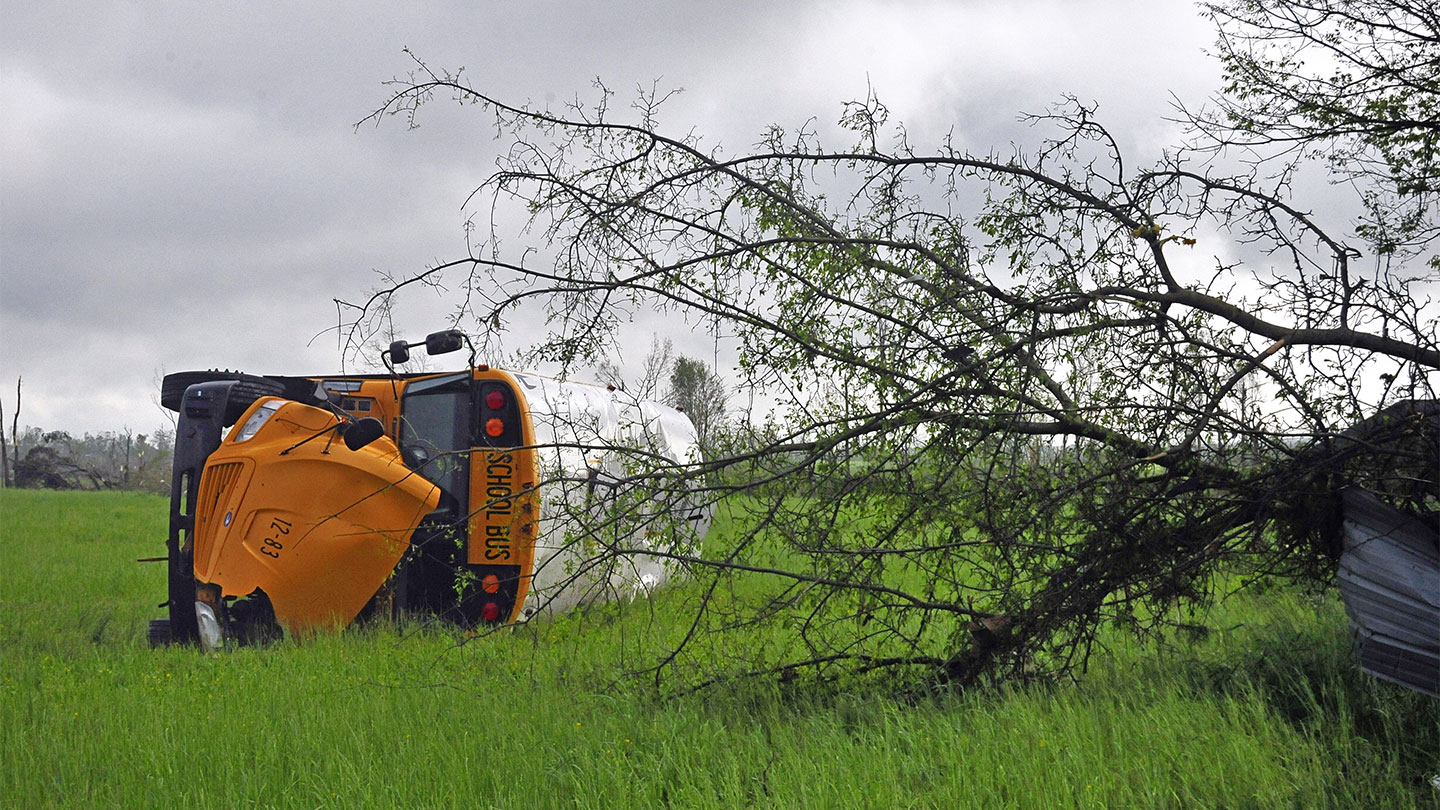 HUNTSVILLE, Ala. (June 16, 2014) — About one thousand dollars each. That's what South Lincoln Elementary School (Lincoln County Tennessee) teachers lost in educational supplies and materials on Monday, April 28, when an F-3 tornado hit the school causing significant damage.
And, while it may not seem like a lot of money to most people, "teachers spend more than $1,000 at a minimum on stocking their classrooms with supplies, books, tables, bookcases, decorations, and educational tools," said Joshua Blackburn, a junior education student at The University of Alabama in Huntsville (UAH). "It truly is a small fortune that teachers pay out of their own pockets to give our children the education they deserve. In addition to the educational supplies, teachers lost valuable lesson plans, that required hours of individual research time developed over the course of their teaching careers."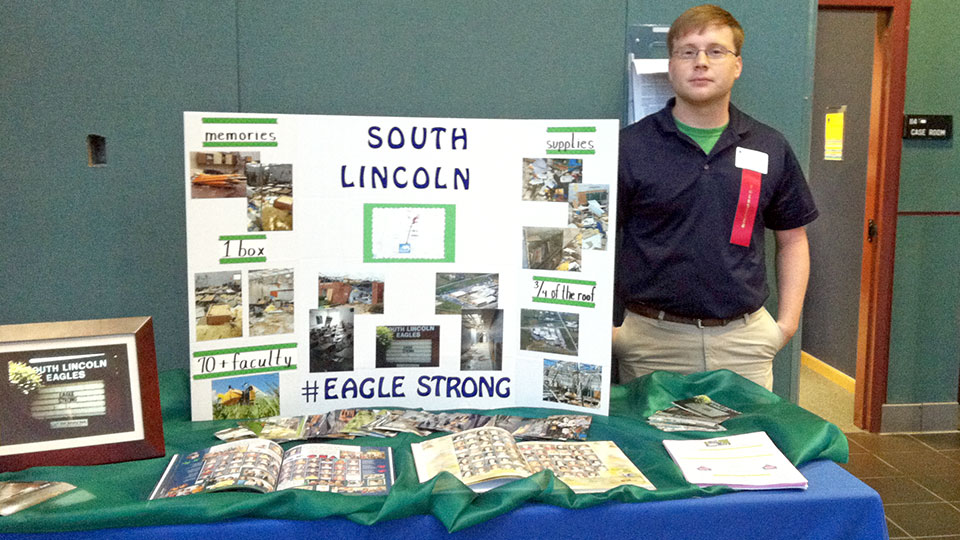 Blackburn was able to view the extent of the damage to the school within 48 hours of the storm. "I made it my personal goal to raise funds, and to replace books and other supplies for the teachers who lost everything in their classrooms. The school suffered a great deal of structural damage. Three-fourths of the roof was torn completely off the building, rendering everything in the K-3 wing a total loss including books, appliances, materials and the personal property of school employees. Additionally, the gymnasium roof was torn off in big sections, ruining the hardwood floor."
Blackburn became acquainted with the school last fall, when he completed his first set of field observations, as part of his UAH education coursework. "I was given the privilege of observing Mrs. Kim Monk's kindergarten classroom through the course of the semester. And, the saying is true, 'you learn everything you need to know in kindergarten.'"
Assisting in Blackburn's effort to replenish supplies at South Lincoln are faculty, staff and students in the UAH Education Department.
"The department was able to donate all their surplus teaching materials and books to South Lincoln," he said. "It was a blessing to see professors, staff members and my fellow students in the university's Education Department support me in my efforts to replenish classroom supplies. Every teacher at South Lincoln receiving supplies donated by UAH, expressed their sincere gratitude towards the faculty, staff and students of the university."
But, the donations don't stop there.
Before the storm damage to the school, several teachers from Lincoln County Tenneesee (some from South Lincoln) were registered to attend an educators workshop sponsored by UAH, and presented by internationally renowned educators Harry K. and Rosemary Wong, and UAH alumna, Chelonnda Seroyer. When the famous educators found out about the cancellations, they began making arrangements through UAH for the teachers to receive their best selling book, How to Be an Effective Teacher: The First Days of School.
When Blackburn, a Lincoln County High School (honors) graduate began his studies at UAH in fall 2010, he was on the fast track to a degree in acquisitions management. "Since the university has strong connections with Redstone Arsenal and NASA, it was the perfect fit for pursuing such a degree."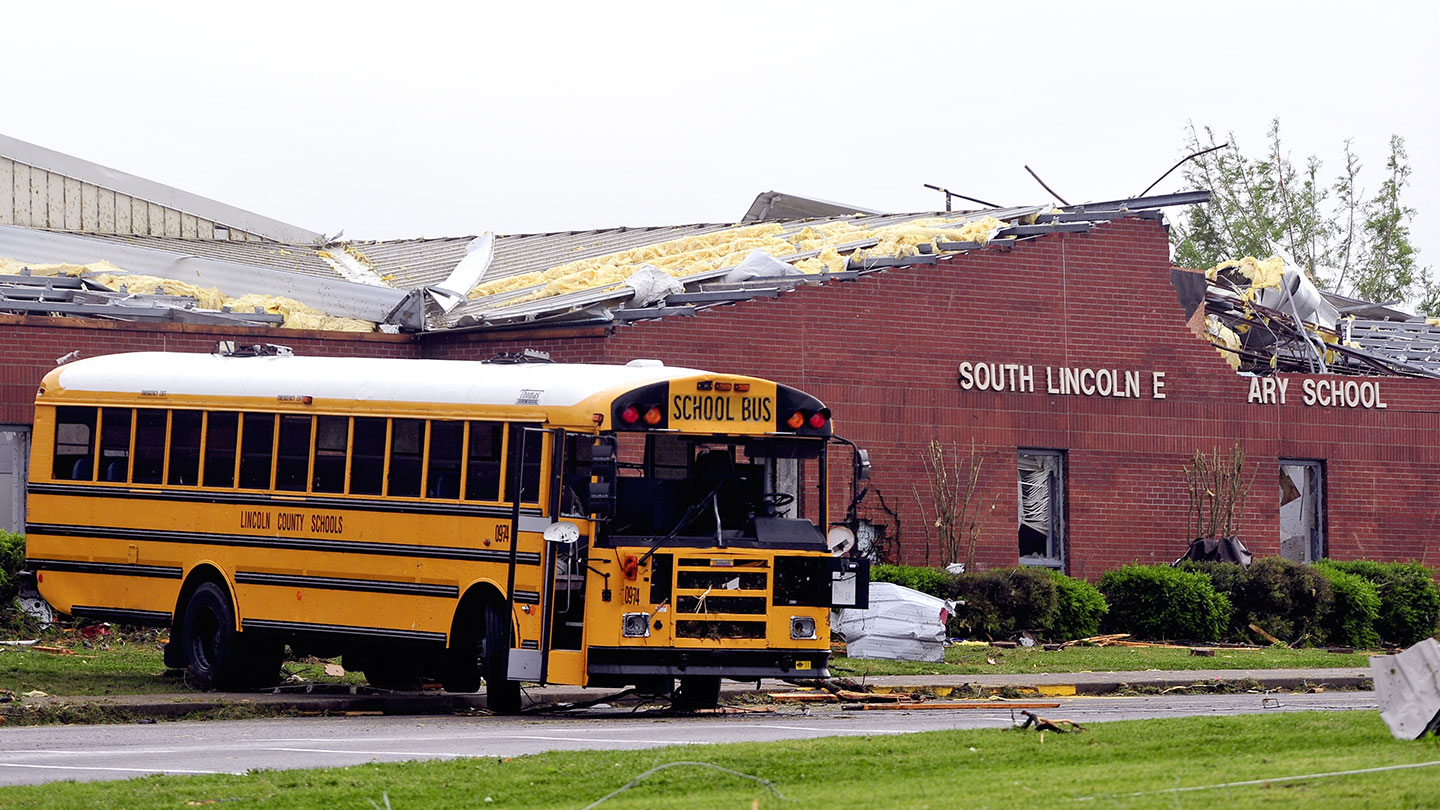 But two years later, he changed his major to elementary education with double minors in collaborative education, and business administration. "I have always wanted to be a teacher…yet when I became a 'grown up' it seemed more important to me to pursue a career that would include substantial pay compared to teaching," Blackburn reflected. "College can be a period of 'second guessing yourself' frequently throughout a semester or over the period of a year. This was true for me, I had to decide whether I wanted to choose a career, where I would be happy for the rest of my life, or trade happiness for money. I chose happiness."
Like most college students Blackburn is often stressed out. But, he says, the education faculty serve as a buffer to help students de-stress and concentrate on academic requirements. "Each faculty member has their own expertise and are well educated in their fields, and it is apparent when taking one of their courses. I have learned boundless amounts of valuable information that I feel I would not have received at any other institution."
As Blackburn prepares to graduate from UAH next spring, he has no regrets about changing his major.
"In my opinion, teaching is a 'calling.' Not all people are born to be teachers, just as not everyone can build a rocket that will make it to the moon. I believe the low enrollment for men in the profession of education is connected to money.
"As I said earlier, I started in the business field because my ultimate goal was to earn a degree and make 'the big bucks.' While society is changing, men are still expected to be the breadwinners and make the more substantial income for their families," Blackburn noted. "When a man signs up to teach he is doing the complete opposite. Teachers do not receive the largest paychecks compared to other government employees, yet most of them would not trade their salaries or leave the education profession."
His advice to high school students contemplating a career in education is to "go with their gut feelings about what they truly want to do 'when they grow up.' Do not let anyone else decide your life for you, because in the end it is your happiness and well-being on the line not theirs. Choose a profession that you believe you will find enjoyment in and do not let the paycheck guide your career path."
Blackburn graduates from UAH next spring, after obtaining his certification, he is looking forward to securing a teaching position in South Tennessee, or in North Alabama schools.
*** EDITOR'S NOTE: Donations may be made to the South Lincoln School Donation Fund at any Redstone Federal Credit Union Branch.
---
You may also be interested in: